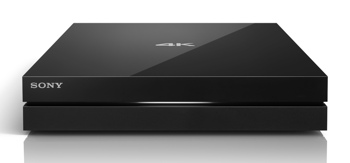 The 4K video revolution is about to begin. Today, Sony announced its first 4K Ultra HD Media Player, an internet enabled box that streams and stores 4K video content for play on a 4K-enabled Ultra HD TV.
The new box will be able to store up to 1TB worth of downloaded movies and access streaming 4K content from Netflix. It'll also be able to access over 200 titles on Sony's own Video Unlimited 4K, some of which are available free of charge.
To be able to watch 4K content, you'll need more than just this Sony media player – you'll also need an expensive new television capable of displaying 4K video. You'll also need a home broadband plan without a data cap. Video in 4K resolution streams at 15 megabits per second, or about 6.6 GB per hour.
Sony's new 4K Ultra HD Media Player (FMP-X10) will be available on store shelves in July for $699, though you can save $200 on the device if you pre-order by July 15, 2014. For more details, visit the Sony Store website.