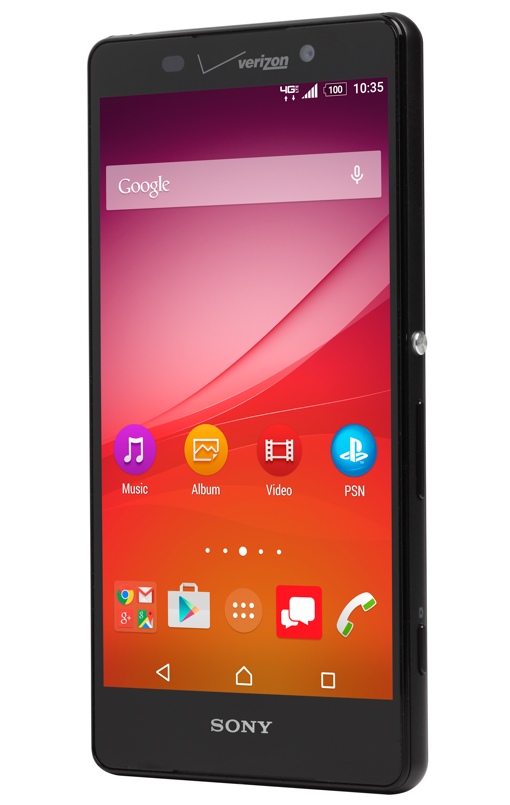 Sony today took the wraps off its latest flagship phone. The Sony Xperia Z4v is a waterproof, dust-tight 4G LTE Android device with a 5.2" quad-HD Triluminos display. It boasts a powerful processor, stunning image quality, a high-resolution camera, PlayStation 4 Remote Play capability and a whole lot more.
What's inside the phone? For starters, expect to find an upgraded Qualcomm Snapdragon 810 octa-core 64-bit processor (hopefully without overheating issues). You'll also find 32 GB of internal storage, expandable via SSD to 128 GB. The 3,000 mAh battery, meanwhile, features quick charge capability and 27-hour life in low-power Stamina mode.
Sony Xperia phones have always had a strong, high-resolution camera, and the Z4v is no different. Like the Sony Xperia Z3v, the Z4v has a 20.7 MP rear camera that intelligently adjusts to help you take perfect snapshots. The front-facing camera is getting an upgrade to 5 MP, and features a low-distortion, 25mm wide-angle lens. This smartphone can even shoot video in 4K resolution, giving your home movies a crisp look on ultra high-definition televisions.
The Sony Xperia Z4v smartphone will be available this summer from Verizon Wireless in both black and white colors. Pricing has yet to be announced, but you can likely expect it to sell for $199.99 on a two-year contract like past Xperia models have. For more information, visit the Sony Xperia Z4v page at Verizon Wireless or visit www.xperiaz4v.com.
[Image credit: Sony]