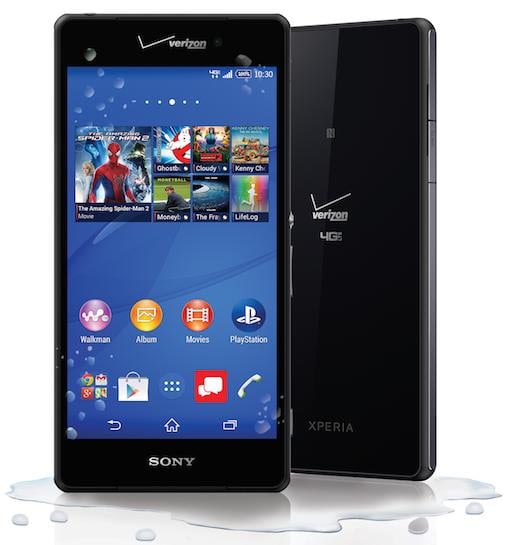 The folks at Sony Mobile are preternaturally happy these days. After years of trying to break into the U.S. carrier market, last year the company finally placed its Z1s with T-Mobile. And come October 23, you'll be able to buy Sony's next-generation Xperia Z-series (or "zed" as the Sony people pronounce it) phone, the Xperia Z3v at America's largest carrier, Verizon, for $199.99 on a two-year contract.
For Verizon customers, the Sony Xperia Z3v will be a new experience. It's got a different design gestalt than any other smartphone extant and four "wow" features – it's even more liquid dunkable than the comparatively stodgy Samsung Galaxy S5, like some of Nokia's Lumia models it's got built-in wireless Qi ("CHEE") charging, it's battery boasts "more than a day" of usage (26 hours according to Sony officials), and it's the only phone (other than the previous Sony Xperia Z-series phones) that has PlayStation 4 remote capabilities.
So, if you're a Verizon customer looking for a new Android phone, is the Z3v worthy of your attention? I got a chance to futz with the Z3v at its New York City launch event yesterday. Here are my thoughts.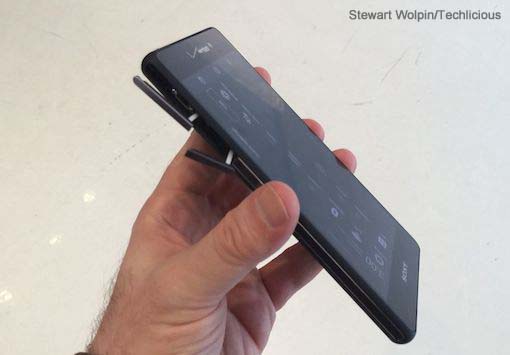 Z3v Look & feel
Like its Z-series predecessors, the tongue-twisting Z3v is sandwiched between two glass panels front (the screen) and back. In addition to the series-signature piano black, the Zv3 will be available in white as well.
Around the perimeter are flap-covered microUSB, SIM card and microSD card openings, which all have to be securely closed before you submerge the Z3v; by comparison, the waterproof Samsung Galaxy S5 has only one flap that needs to be secured before swimming with it.
More disturbingly, Sony hasn't moved arguably the two most used controls from their often awkward Z-series positions: the button on/off/sleep key, which is placed in the middle of the right perimeter, which makes it a bit too easy to accidentally hit when just grabbing the phone, and the short toggle volume bar, located underneath the button on/off/sleep button. If you don't accidentally hit the on/off/sleep button, this short volume toggle bar is too short and almost too flush to find and adjust accurately by feel. The Z3v also has a dedicated camera shutter release at the end of the right perimeter.
Sony's most welcome design improvement in the Z3v is the rubberized frame surrounding these perimeter slots and toggles, which makes the otherwise slippery Z3v FAR easier to grab and grip than its Z-series predecessors.
Even with the addition of Qi charging, the Z3v is a hair thinner than the Z1s (8.6mm v. 7.3mm) and a hair lighter (152 grams v. 162 grams).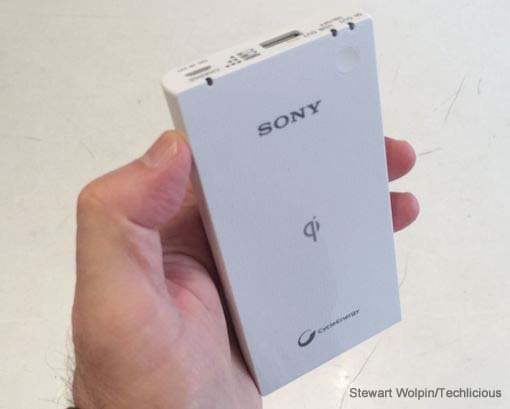 Specs
Many of the Z3v's capabilities are virtually unchanged from the Z1s – a nearly identical 20.7 MP camera with 1/2.3 sensor, the same Triluminous 5.2-inch 1920 x 1080 pixel 424 pixel-per-inch density as the Z2, the same PS4 remote capability.
The Z3v does have a slightly more powerful quad core 2.5 GHz Snapdragon 801 processor (2.2 GHz Snapdragon 800 in the Z1s), can shoot 4K video in addition to 1920 x 1080p HD, improves the front camera to 2.2 MP from 2.0 and with a slightly wider lens to squeeze more folks in your selfie, and includes a slightly more capacious battery – 3200 mAh vs 3000 mAh in the Z1s. Sony says the Z3v caches static display images to cut down on battery burn.
A major disappointment is Sony's not including a Qi charger in the box, but neither does Nokia for its Qi-enabled Lumias. You will be able to buy a 5000 mAh portable battery-slash-Qi charger for $60, but the glass-reared Z3v slides all over the portable battery's slippery surface.
Inside the Z3v are the same 32 GB of usage storage as the Z1s, but you'll get an extra GB of RAM – 3 GB – of memory so more open apps can run more efficiently.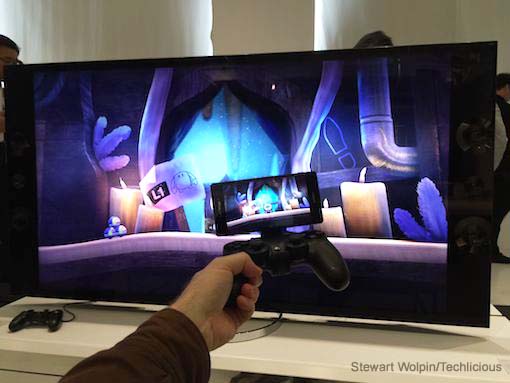 Sound & Vision
Even though equipped with essentially the same rear camera as the Z1s, Sony has added in a number of cool photo capabilities in the Z3v. The two most interesting are pause/resume while video shooting so you get one long highlight reel instead of a series of frustratingly short clips (most cameras don't have a "pause," just "record" and "stop"), and the ability to simultaneously capture footage from both the front and rear cameras, just like the new HTC Desire Eye (that's right, HTC now has an Eye phone). Sony says the Z3v is the first phone with 12800 ISO, meaning better low-light performance.
Sony is also boosted the audio from the Z3v, with built-in digital noise cancellation and its Hi-Res audio feature. Both require headphones compatible with these features. I listened to Z3v loaded with the company's essentially lossless Hi-Res audio tracks through the company's new MDR-1A headphones and – yeah, wow, the Z3v delivers excellent sound.
Using Wi-Fi Direct, the Z3v can wireless play games from a PS4 – the phone clips onto a Sony DualShock 4 PS4 Wireless Controller ($60) and a GCM10 Game Control Mount ($40) controller. I'm not a gamer, but I can see how this set-up would be a ridiculously useful feature in homes where there are constant fights over how the TV is used by who.
Summary
The Z3v is an arresting-looking phone, especially the glossy black version. It is the most waterproof of all of Verizon's smartphones (excepting varying Kyocera models), could have the best battery life and one of the best smartphone cameras – we'll have to wait to put it through its real world usage paces before drawing final conclusions on these two features, and the PS4 functionality alone makes it worth the price of admission for Verizon-subscribing PS4 owners.