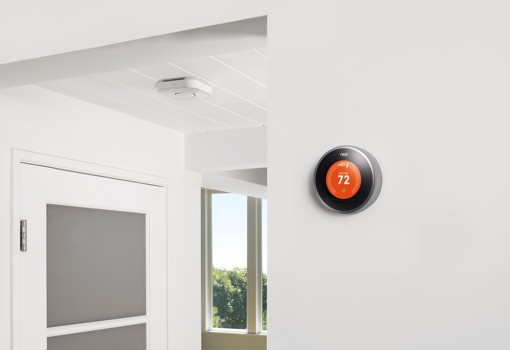 Nest Labs, makers of the Nest smart thermostat and smoke detector, has opened its software platform to parent company Google and third-party companies alike, allowing for seamless integration with the Google Now service as well as a number of connected home devices that you may already own.
The new initiative, termed "Works with Nest," has a number of exciting possibilities – some of which are launching today. Your Nest thermostat can now interface with your Jawbone UP24 fitness band, for example, automatically turning on the heat when the band detects you're waking up. Your thermostat can also connect to your Chamberlain MyQ WiFi garage door opener to automatically enable an energy-saving away mode when you leave home. And if you're just sitting on the couch watching TV, you can use your Logitech Harmony Ultimate remote to turn on the air conditioning. In total, over 5,000 developers have expressed interest in working – and connecting – with Nest.
The opening up of the Nest platform is, essentially, Google's shot across Apple's bow. Earlier this month, Apple introduced its coming iOS 8 HomeKit feature, which aims to consolidate all your home's connected devices into one app. Google is essentially doing the same with Nest, turning the $3.2 billion company into a home automation juggernaut.
You can learn more about Nest's connected home partners and the possibilities of the Works with Nest initiative by watching the short promotional video below.