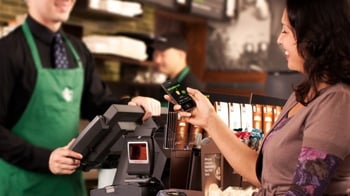 Starting March 19, you'll be able to use the Starbucks App for iPhone to tip your barista.
"As more and more customers are using their phone to pay, they have also asked for a convenient and meaningful way to show their appreciation to store partners," said Cliff Burrows, group president, U.S., Americas and Teavana. "We're proud to offer digital tipping as an option through the updated Starbucks for iPhone® app for customers in the U.S."
When you complete a purchase in-store using the updated app's mobile payment function, you'll receive a push notification asking if you'd like to add a tip. Gratuities can be added in denominations of $0.50, $1 and $2. According to Engadget, tips can be adjusted up to 2 hours after your visit.
Now that you can add a tip to your Starbucks order, should you feel obligated to? No, say the etiquette experts at the Emily Post Institute. You should, however, "tip occasionally if your server or barista provides a little something extra or if you're a regular customer."
The app is also adding a new "shake to pay" function that brings you to the main payment screen simply by shaking your phone. It's a welcome addition, given how easy it can be for us caffeine junkies to get lost in the app.
The Starbucks App for iPhone is available for free on the Apple App Store. An Android version is also available for free on Google Play, but without a tipping function. More details about the coming update to the app are available on the Starbucks website.