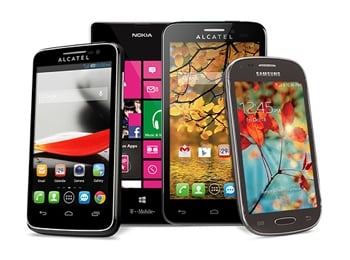 Wireless carrier T-Mobile today unveiled its new Simple Starter Plan, an attractive new no-contract offering that provides unlimited text, calling and 500MB of high-speed 4G data for just $40 a month, with no overages.
"We are freeing consumers from the predatory practices of traditional US wireless companies and that includes these plans that start with a low price and a low data limit, but then hit you with insane fees if you send one too many emails," said T-Mobile CEO John Legere. "I personally want to drive those ridiculous schemes out of this industry."
Certainly, few (if any) of us consumers actually enjoy the wireless carrier shell game where bargain plans can quickly become anything but. Both AT&T and Verizon currently offer low-cost smartphone plans with small data allowances – $45 for 300MB and $60 for 1GB ($50 for Verizon Edge customers) respectively. Go over those data caps, however, and you'll be hit with overage rates far higher than with the companies' traditional plans.

With T-Mobile, hitting your data cap simply means your speed will be throttled to ancient 2G speeds for the rest of the month. It's inconvenient, sure, but it beats seeing huge surprises on your monthly bill.
T-Mobile's new Simple Starter Plan officially launches on April 12. For more details, visit the company's website. To compare T-Mobile's deal against other carriers, check out our convenient wireless carrier plan comparison chart.