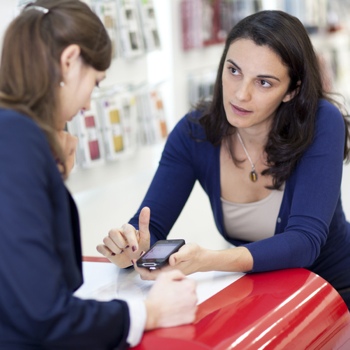 There has never been a better time to be shopping around for a new cell carrier. Verizon and AT&T recently announced new, less-expensive plans. Contract-free providers like Aio and U.S. Cellular made price drops too, as did Sprint and T-Mobile. Everyone, it seems, is falling over themselves to offer a better deal.
But with plans varying so widely between carriers, how can you compare between them? To do just that, Techlicious contacted all the major U.S. cell carriers and asked them to make us their absolute best deals for individual and family plans. We demanded unlimited calling and unlimited text. We also asked them to price out a separate set of plans to make sure all smartphones get at least 1GB per month of data. Here's what we found.
Note: Before you switch carriers, Techlicious recommends you do your research to find out which has the best cell reception in your area. You can use an app like Glove or OpenSignal to help compare coverage with other people in your area.
Individual Plans
If you want to stay loyal to one of the big four U.S. cellular providers, you'll find the absolute cheapest individual smartphone plan at AT&T. There, $45 a month buys you unlimited calling, texts and 300MB of data. That's a slightly better deal than T-Mobile ($50 for 1GB), Sprint ($55 for 1GB) and Verizon ($55 for 250MB). T-Mobile is now the least expensive major carrier, with a $40 for 500MB of data deal currently in play. Both Verizon and AT&T offer $45 plans with less data. Sprint's least expensive plan will run you $55, but that comes with a larger, 1GB data allotment.
Bumping your data allotment up to at least 1GB per month gets incredibly expensive, at least on Verizon. Their customers pay $70 per month. Better deals are at T-Mobile ($50 for 1GB), Sprint ($55 for 1GB) and AT&T ($65 for 2GB).
If you're willing to venture beyond the more familiar names, you can find an even better deal. Regional carrier MetroPCS has a 500MB smartphone plan for $40 and a 2.5GB plan for $50. Boost Mobile, meanwhile, offers a plan with 2.5GB of data that starts at $55 monthly and drops as low as $40 after making 18 on-time payments.
Want even better deals? Zact Mobile offers highly customizable, inexpensive plans if you're willing to give up unlimited calls and text. A plan with 500 minutes, 1000 texts and 1GB data costs about $35. A plan with 250 minutes, 400 texts and 200MB costs about $17 per month. And, you can go even lower. FreedomPop offers free cell phone service, though naturally, there are a few catches involved.
Family Plans (2 Smartphones, 2 Feature Phones)
Feature phones are quickly disappearing from the marketplace, with some carriers discontinuing them entirely. But if you have small kids, finding a clamshell phone is worth the effort. It could save you a bundle every month.
Of the carriers we surveyed, MetroPCS has the absolute cheapest 4-line plan that includes feature phones. Just $70 buys you unlimited talk, text and 500MB of data per smartphone. Bump the data allotment up to 2.5GB per line and the cost rises to $90 per month.
If you want a major carrier, AT&T has a 4-line plan for $130 that offers a 2GB shared data pool for the smartphones. Verizon's MORE Everything offers the same size plan, albeit at a cost of $190 per month.
Family Plans (4 Smartphones)
Of the major carriers, T-Mobile offers the most compelling deals for families: Four smartphones, each with 1GB of high-speed data, can be had for just $100 per month. Increase each phone's high-speed data allotment to 3GB, and the price climbs to just $140. It's the best family smartphone deal out there, and that's before you consider the company's offer to buy you out of your current contract.
If you need to use your phone as a hotspot, AT&T's newest family deal offers a 10GB pool of data shared amongst 4 smartphones for $160 per month. Again, Verizon is the most expensive, charging $230 per month for 4GB of shared data. Update (4/14): You can get the same $160 for 10GB of shared data offer at Verizon via a MORE Everything with Verizon Edge plan.
Cell Phones Plans by Carrier – Prices & Data Allowances Valid as of Feb. 21, 2014****

AT&T
Verizon
Sprint
T-Mobile
MetroPCS
US Cellular
Virgin
Boost
Indv. Plan
with some data
$45
300MB
$45 ♦
250MB
$55
1GB

$40 ♦
500MB

$40
500MB
$50
500MB***
$55
2.5GB***
$55**
2.5GB***
Indv. Plan
with 1 GB data

$65****
2GB

$70 ♦
1GB
$55
1GB

$50****
1GB***

$50
2.5GB
$60
2GB***
$55
2.5GB***
$55**
2.5GB***
Family Plan
with some data
(2 smartphones/
2 feature)
$110****
300MB*
$155
250MB*
$70
500MB/line
$155
300MB
Family Plan
with 2GB data
(2 smartphone/
2 feature)
$130****
2GB
$190
2GB
$90
2.5BG/line
$190
2GB
Family Plan
with some data
(4 smartphones)
$160
10GB
$160 ♦
10GB
$160
1GB/line
$100****
1GB***/line
$140
500MB/line
$175
300MB
Family Plan
with 4GB data
(4 smartphones)
$160
10GB
$160 ♦
10GB
$160
1GB/line
$100****
1GB***/line
$180
2.5GB/line
$230
4GB
Additional cost
per month to
use smartphone
as a hotspot
$0
Included
$0
Included
$10
1GB
$0
Included
n/a
$0
Included
$15
$10
Note: Chart shows the least expensive plan available to meet the criteria set forth: unlimited text, unlimited calling and specified data package. Prices provided by carrier, with exception of T-Mobile and Sprint, whose most recent prices were pulled from their website February 21, 2014. Pricing based on you bringing your own device, where possible. Some carriers do not support feature phones.
* Plan offered, but not recommended by carrier
** Price drops $5/mo. after 6 months of on-time payments until $40/mo.
*** Amount of high-speed data in plan. Speed reduced to 2G thereafter without overage charges.
**** UPDATE (3/10): New pricing for AT&T and T-Mobile announced March 7-10.
♦ UPDATE (4/15): New pricing for Verizon announced. New pricing for T-Mobile also added.

[Woman in cellular phone shop, Feature phone in hand via Shutterstock]