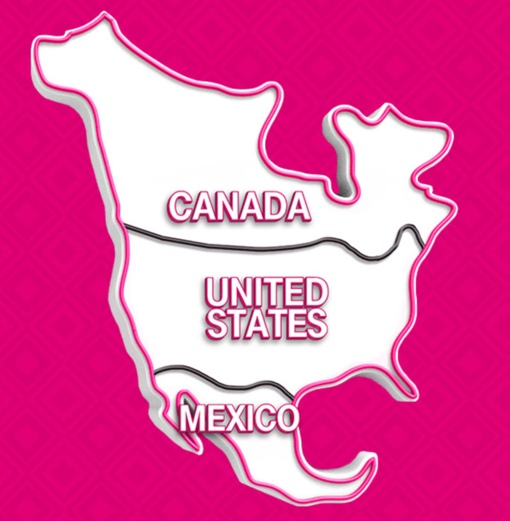 Mobile carrier T-Mobile is taking all the pain out of traveling to Canada and Mexico with your cell phone. Today, the company announced a new feature being added to its Simple Choice plans called "Mobile without Borders" that allows you to travel and place calls across all of North America with no added costs or charges.
"After spending billions buying up Mexican telecoms, AT&T's CEO is promising 'the first seamless network covering Mexico and the U.S.,' something 'unique' that 'nobody else will be able to do for the consumer.' So much for that. They won't be the first. And they won't offer Canada for free," says T-Mobile CEO and President John Legere. "We've done this the Un-carrier way − reaching across borders, partnering with leading providers offering the best LTE networks, creating a simple solution right now − then not charging a penny more for it."
The new Mobile without Borders feature will be added to all Simple Choice plans at no added charge starting July 15. It fully covers calls and texts to Canada and Mexico that originate in the United States, and fully covers calls, texts and 4G LTE data while traveling to Canada or Mexico.
Currently, individual carriers have a mess of different plans and options for those who want to make calls or travel around North America. Verizon, for example, has a 1,000 shared minutes add-on for calls to Canada and Mexico for an added $10 per month. Otherwise, you can expect to pay $0.20 per minute. International travel can be extraordinarily expensive on AT&T – without a $5 per month Canada and Mexico plan, expect to pay $1.00 per minute roaming charge calling home from Canada.
T-Mobile's Simple Choice plans include unlimited talk, text, free music streaming and data rollover. A 3GB plan is available for $60 per month, though you'll need to purchase or lease a phone through the carrier too. Unlimited international calling to over 100 countries is also available as a $5 add-on to Simple Choice plans. To learn more, visit t-mobile.com.
[Image credit: T-Mobile]