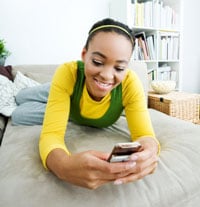 Facebook today made a potentially upsetting announcement to parents concerned about their teen's privacy on the Internet. Starting immediately, Facebook users aged 13 to 17 will be able to set posts and pictures to "public" on the social network, opening their lives up to hundreds of millions of people worldwide.
The move is plenty controversial, but it should come as no surprise. Facebook has been aggressively pushing its users to be more public with the advent of hashtag functionality and the expansion of its powerful Graph Search tool. And certainly the site has no qualms about profiting off of minors: Just last month, a controversial change to the site's Terms of Use Policy would have allowed Facebook to use your teen's name and likeness in advertisements on the site.
You'll likely want to have a discussion with your teen about staying safe on social networking sites before they set their Facebook posts to public. After all, it's important for teens to understand that once something is publicly available on the Internet, there's no going back. It's also important to know that public posts and pictures can attract attention from anonymous cyberbullies as well.
If you'd like to learn more about the site's new functionality for teens, visit the official Facebook blog. You may also want to check out the comprehensive guide to Facebook privacy settings to learn how to better control who sees what your teens post online.