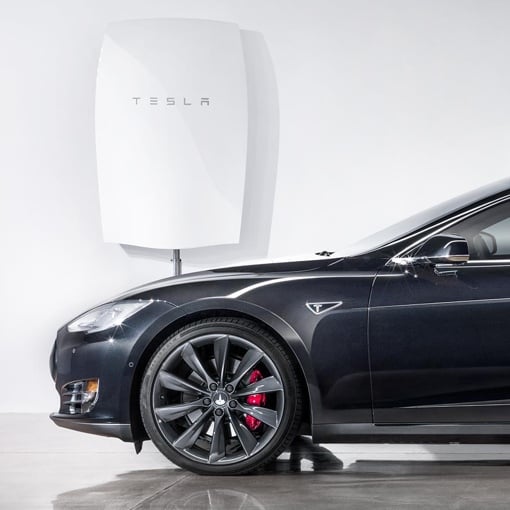 When you think of the company Tesla, you likely think about its beautifully designed electric cars. But Tesla also has a lot of battery know-how too. After all, the battery is the key limiting component behind how far Tesla vehicles can be driven. This week, Tesla announced that it was creating a new arm of its company called Tesla Energy to focus on other uses for its advanced battery technology, starting with a battery designed to help power your whole home.
Tesla Energy's first consumer product is called the Powerwall Home Battery. The large 220-pound device is mounted to a wall by an electrician (ideally, in your garage) and draws power directly from solar panels installed on your home. The smart battery can power your home during blackouts and be used in conjunction with standard electricity service, working to reduce your electric bill best it can. You can even have it charge itself from the grid during low rate periods for use during higher rate periods.
Naturally, a battery big enough to power your whole home doesn't come cheap. Tesla will be selling a 7 kWh Powerwall battery for $3,000; a 10 kWh battery will be available for $3,500. That may sound expensive, but it does represent a significant drop in the cost of the technology. One battery should be sufficient to power most homes, but if you have more intense energy demands, you can connect up to nine together. (The average U.S. home uses 909 kWh per month.)
There's a definite convenience and money-saving aspect to owning such a powerful backup battery for your home. But there's a big green lure here, too – the more electricity we pull from the sun, the less we need to rely on fossil fuels and other polluting sources. It could also be a big boon for the developing world, where grid service is unreliable or non-existent. If the Tesla Powerwall really does catch on, and if the company can continue to drop the price point of powerful battery technology, this truly could be a device that changes the world.
If you're interested in owning a Tesla Powerwall battery, pre-orders are now open at the Tesla website. The battery will begin shipping "this summer."
[Image credit: Tesla]