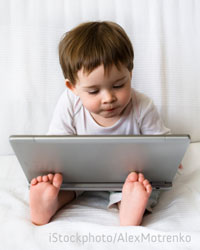 It's never been easier to buy things using your mobile phone. But is it too easy these days? Paul Stoute can be forgiven for thinking so: After all, his 14-month old Sorella recently used his phone to purchase a car on eBay without his knowledge.
Stoute had been using the eBay app on his phone to look through a number of different classic cars for sale. When he left it unattended for a few moments, his daughter picked up the phone, tapped the screen in the right place, and wound up buying a 1962 Austin Healey. Stoute learned about the purchase only after getting a congratulatory email from the auction site.
Fortunately, this particular story has a happy ending. The car itself was only $225 and located just 20 miles away, so the family decided to keep it. Stoute plans to restore the classic as a gift for Sorella's 16th birthday.
"I'm just glad she didn't buy the $38,000 Porsche I was looking at," joked Stoute.
Having a baby purchase a car on your behalf is a pretty rare occurrence, even with today's technology. Still, it is far too easy for an unattended youngster to rack up bills on your behalf through similar in-app purchases. Taking a moment to disable in-app purchases on your device now could save you a lot of headache down the road.