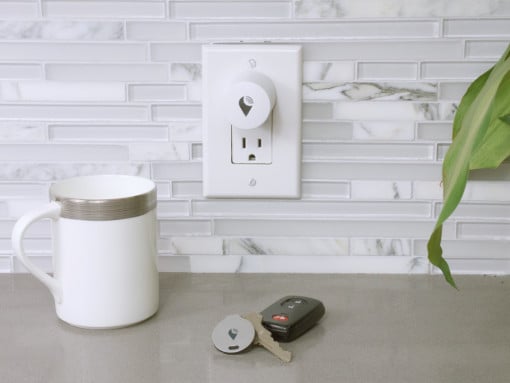 Misplaced keys, lost wallets, missing purses, disappearing necessities — it happens even to the best of us, eating away at our precious time. The TrackR Atlas works like a personal home assistant to monitors your Bluetooth-tagged items and notify you of their whereabouts when you can't find them.
TrackR Atlas works hand-in-hand with the TrackR Bravo, an electronic tag you attach to belongings such as your key ring or purse that allows you to monitor its location at any time. The Atlas is also compatible with most major third-party Bluetooth trackers similar to the Bravo. Just plug a TrackR Atlas into a wall outlet in each room of your house to start monitoring your keys, purse, pets, phone or any item tagged with the Bluetooth tracker.
When you lose a tagged item, fire up the TrackR companion app on your iOS or Android device. The app will find the item and tell you which room it's in. You can also tell the TrackR Bravo to ring to help you locate the item within a room.
Powered by Amazon's Alexa Voice Services, the TrackR app also supports voice commands. Ask your phone, "TrackR, where are my keys?" or "TrackR, where is my purse?" and hear the app tell you which room your missing key are hiding in. For now, voice commands work only on iOS, but they're also coming to Android.
If your phone is the item you've lost, as long as it's tagged, you can use the TrackR Bravo system on the Web to remotely locate your device.
You can even use the TrackR Atlas to create a secure zone in the house. Whenever a tracked object enters or leaves the defined zone, TrackR Atlas will notify you. If you've tagged your bike, for example, you'd know the moment your friend takes it out of the garage. If you've tagged your dog's collar, you'd know when he returns home.
TrackR's Crowd GPS network can help you locate lost items over a wider area. For instance, if you dropped your tagged purse at the park, you'd be unable to pinpoint its location because it's not within the signal of your TrackR Atlas at home. But, the Crowd GPS network can save the day. If your tagged purse comes within 100 feet of a TrackR user's phone, the TrackR Bravo attached to your purse will report its GPS location to you via the Crowd GPS network, helping you find it.
Preorder your TrackR Atlas at Indiegogo for $39; shipping will begin around the second quarter of 2016. Or try the TrackR Bravo, available now for $29.99 at TheTrackR.com.
[Image credit: TrackR]