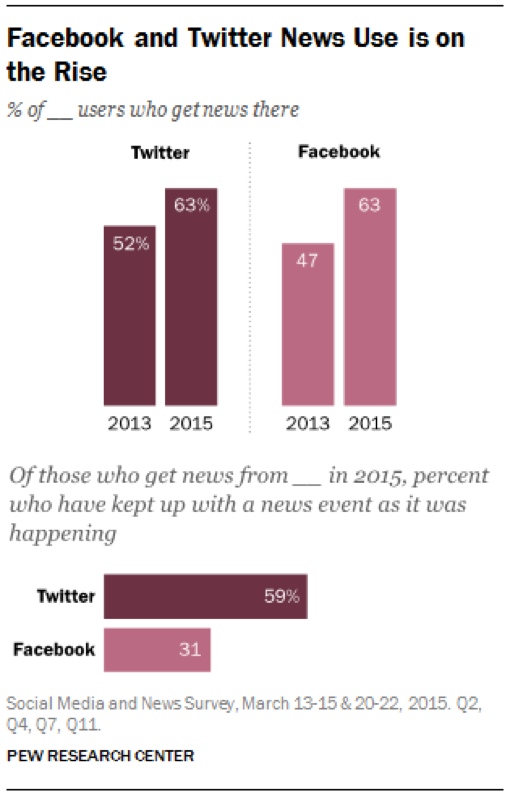 Do you still get your news from the television or the newspaper? A new report from the Pew Research Center suggests that Americans these days are employing a more high-tech and up-to-the-second method of getting news: social media.
Pew's Social Media and News Survey, conducted in March 2015, reveals that 63% of Twitter users get news through the social network. 63% of Facebook users similarly report that they get news through the site. That's up from 52% and 47% in 2013, respectively.
"As social networking sites recognize and adapt to their role in the news environment, each will offer unique features. These different ways of connecting with news have implications for how Americans learn about the world and their communities, and for how they take part in the democratic process," says Pew Director of Journalism Research Amy Mitchell.
The numbers further show that Twitter, more so than Facebook, is a platform for live news updates and reaction. Of those who got news from Twitter in 2015, 59% say they kept up with it as it was happening. This compares to just 31% on Facebook. That's not too surprising – many news organizations post breaking headlines on Twitter as soon as they have the information. Facebook has made efforts to capture more online news discussion lately with its own in-app news search engine, a feature currently in testing.
For more information on the Pew Social Media and News Survey, visit the Pew Research Center blog.

[Image credit: Pew Research Center]