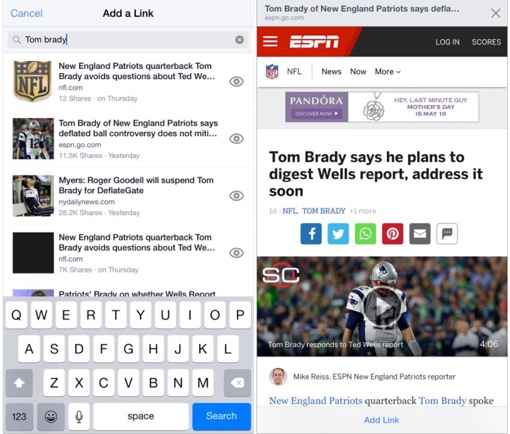 Social network Facebook is testing a new feature that makes it easier to share news articles. TechCrunch is reporting that some users of the iOS Facebook app called "Add a Link" that lets you search the net for popular links that match up to the status update you're writing.
Say you're writing a status update about the recent news of New England Quarterback Tom Brady's four-game suspension for cheating. When you tap "Add a Link," Facebook will offer potential links to news stories about the incident, each with data about how many people have shared it on the social network. You can then preview the article, and if you think it's relevant to your friends, it can be attached to your update with a tap of the finger. All of this is accomplished without leaving the Facebook app, so you don't need to do the Googling for news articles on your own.
Certainly, the new feature will be nice for those of us who share news articles on Facebook simply for the convenience factor. Still, we have a few concerns about Facebook taking even more control over what gets shared and seen. Facebook is currently pushing a plan to host news content for sites, and its own "Add a Link" search engine could easily be used to favor its own content. Further, the feature will likely favor larger sites over smaller, independent ones, making it harder for these smaller outlets to compete for page views. Facebook's News Feed algorithm already filters out news stories based on your political affiliation, making it unduly difficult to discover worthwhile new content that may otherwise be outside your comfort zone.
Like most of Facebook's new features, Add a Link is being rolled out to a limited number of users as a test. If it proves successful, the feature will likely be used to help build a database of what sites and content you prefer so it can better tailor your News Feed algorithm.
Want to see more of the new features that Facebook is working on? Check out the new connected home product the site introduced at its F8 Developers Conference. You should also check out Hello, Facebook's new telemarketer-blocking Caller ID app for Android phones. The site also now lets you name a digital heir to your account, has added suicide prevention tools, and started taking action against hoaxes and other misleading news stories.
[Image credit: Facebook]