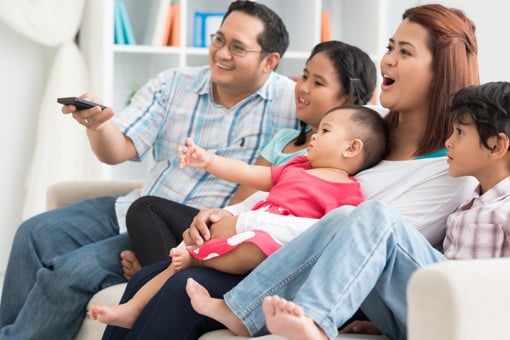 Ever wonder why your cable bill is so darn high? A big part of the problem is channel bundling. Virtually ever provider in the country packages cable channels together in a small handful of bundles. Your family may just want to watch ESPN and Nickelodeon, for example. But to get them, you'll likely have to purchase a pricey bundled package with a ton of channels you have no interest in watching.
That's starting to change, though. There's been a lot of movement toward more consumer-friendly cable packages over the last year or so. Case in point: This weekend, Verizon will launch a new promotion for its FiOS TV service that lets you choose genre-specific channel packs rather than the traditional "a little bit of everything" offerings.
Verizon's new customizable cable package starts by giving all subscribers a full slate of local channels as well as AMC, CNN, Food Network and HGTV – 35 channels in all. From there, you choose two of Verizon's new themed channel packs. There's a Kids Channel Pack (Cartoon Network, Nick, Disney), a Pop Culture Pack (E!, MTV, Comedy Central), a Lifestyle Pack (Animal Planet, Bravo, LMN), an Entertainment Pack (USA, TBS, TNT), a News & Info Pack (MSNBC, CNBC, Fox News), a Sports Pack (ESPN, Fox Sports, NBCSN) and an expanded Sports Plus pack (NFL Network, Golf, MLB Network).
Cable-only packages start at $54.99 per month. A "Double Play" package with 25/25 Mbps Internet service starts at $64.99; a "Triple Play" package with home phone service starts at $74.99. Channel packs can be switched out from month to month, and additional packs can be purchased for an extra $10.
Sure, this new Verizon channel pack offering isn't quite the full unbundling we'd like to see. It is a step in the right direction, though. You can certainly save a lot of money over standard cable packages if you pick out a few channels you'd like to watch live and supplement those with a subscription to a streaming video service like Hulu or Netflix.
Verizon's new custom TV packages will be available starting this Sunday, April 19. New and existing customers can learn more by visiting the Verizon website at that time.
[Family watching TV via Shutterstock]