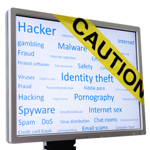 Childnet International, a non-profit working to keep kids safe on the Internet, has issued a stern warning to computer owners today: Hackers can take over webcams without your knowledge, so keep them covered up when not in use.
Once your computer is infected by a Trojan virus – often acquired by visiting the wrong website or by opening malicious email attachments – criminals can control your webcam without your knowledge. These types of hackings are rapidly becoming big business: The BBC has uncovered an entire industry centering on the buying and selling of access to compromised webcams, especially those owned by women.
Ultimately, your best protection against such a hacking is to make sure your computer is running up to date anti-virus software. But there are other computer safety precautions you can take as well. "Pointing your webcam at a wall or covering it up can be good practice," explains Childnet Chief Executive Will Gardner. He also recommends shutting laptop lids when they're not in use, as cameras are often found immediately above laptop screens.
Independent computer security experts are urging people not to panic over the report, but otherwise confirm that there's no harm in a little bit of added security to protect your privacy. "The idea of sticking a piece of paper over your webcam is reasonably common among the more paranoid members of the hacker community," said Josh White, a researcher at the Oxford Internet Institute, to the BBC. "But it's not necessarily paranoid. It's useful to be aware."