We may earn commissions when you buy from links on our site. Why you can trust us.

4 Cheaper Alternatives to the Apple Watch
Just after midnight on Friday, April 10, Apple officially started taking pre-orders for the Apple Watch (to be released April 24). The device has garnered a lot of interest from shoppers and the media alike. But let's be honest – the new Apple Watch isn't for everyone. You need an Apple iPhone to use it, so Android smartphone owners are out of luck. The device is brand new and hasn't been battle tested. And with a price range that starts at $349 and runs all the way up to $17,000, it's certainly not a bargain, either.
Good news, however: There are plenty of worthy Android and iPhone-compatible smart watches that don't share these very specific Apple Watch weaknesses. To prove the point, we've compiled this list of great Apple Watch alternatives below that are definitely worth a look.
---
Pebble Time Steel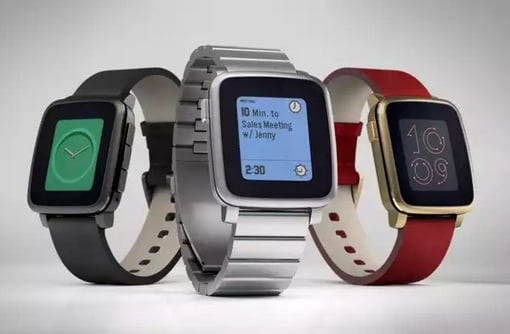 If you haven't taken a look at the Pebble smart watch since its black-and-white e-paper formative days, you owe the company a second look. It's latest watch, the Pebble Time Steel, has an upgraded 1.25" color e-paper display, a 3D accelerometer, compass and a mic for voice commands. The Steel connects to your iOS or Android smartphone via Bluetooth to control music and receive emails, messages and texts. Plenty of third-party apps are available for the watch, as well (Runkeeper, Weather Channel). The best feature of the Pebble Time Steel may be its battery life, however – it can go a full 10 days without a full charge.
The main downside to the Pebble Time Steel is that it's running neither an Apple-based nor an Android-based operating system. That's not a huge problem – there are plenty of solid third-party apps available for the Steel, from Runkeeper, Misfit, Weather Channel and more big names. But it simply won't have the same kind of intense third-party support that giants like Apple and Google can command.
The Pebble Time Steel is coming this July with a price of $299 in brushed stainless, matte black and gold finishes.
---
Samsung Gear Fit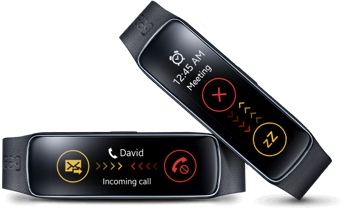 At first glance, you might not immediately recognize the Samsung Gear Fit as a fully featured smart watch – its long, 1.84" AMOLED digital screen looks like it belongs on an activity monitor. But really, that's what the waterproof Gear Fit is – it's an activity monitor for fitness fanatics that doubles as a smart watch. It features an accelerometer, gyroscope and heart rate sensor to accurately track all your exercise. But it also has the smart watch features most buyers are looking for, like receiving emails and SMS messages, displaying call notifications and more. And it does it all at a killer price point.
The lightweight Samsung Gear Fit works with most Samsung Galaxy branded Android smartphones and tablets. You can find the Gear Fit at Amazon.com for just $133.37.
---
LG G Watch R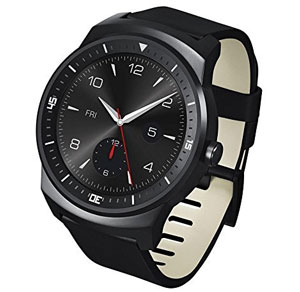 Looking for a smart watch with a more classic analog watch look? Check out the LG G Watch R. Like the Apple Watch, the water-resistant G Watch R tracks calories burned, sleep quality and other important health and fitness metrics. It runs Android Wear wearable operating system, so it runs a multitude of apps, including Google Maps, Edmondo Running and Facebook Messenger.
The sporty LG G Watch R is compatible with the Android phones running Android 4.3 and higher. It is available on Amazon.com for $299.
---
Moto 360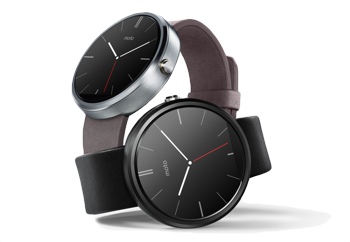 The Motorola Moto 360 is a beautiful smart watch that pairs with Android 4.3 smartphones and higher. It features a scratch-resistant, 1.5" circular touch screen, plenty of fitness tracking functions and face customization options, 512MB of RAM and the Android Wear wearable operating system. It can receive call alerts, text messages, social media updates, GPS directions and more. You can even send short messages via voice command.
The Moto 360 charges at night, though be forewarned – its battery life is less than stellar, especially if you use it often. Many owners complain that their Moto 360 dies before the end of the day (10 to 12 hours). Still, if you can handle this notable shortcoming, you can get this great smartwatch for just $179.00 on Amazon.
[Image credits: Pebble, Samsung, Withings, Motorola]
---
Discussion