We may earn commissions when you buy from links on our site. Why you can trust us.

5 Spooky Halloween Gadgets and Decorations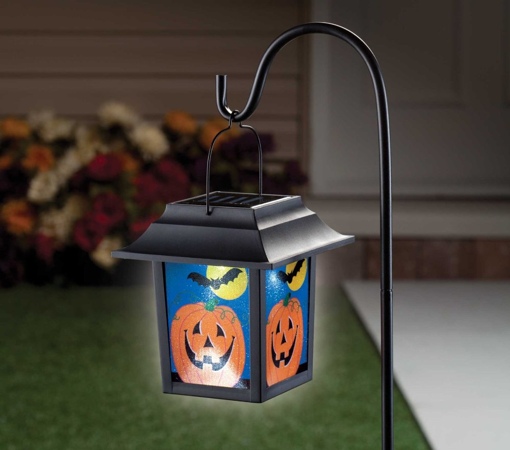 My family has always loved Halloween. It's a major holiday around our house with plenty of spooky decorations, flashing lights, scary sounds and fun-sized candy bars at every turn.
We put out plenty of fake spiderwebs, tombstones and plastic skeletons and boost the effect with a few fun tech gadgets. The right lights and sounds can add just the perfect amount of atmosphere to your holiday no matter how little — or how much — you decorate for it. Here are five of our favorite electronic Halloween picks.
Halloween Pumpkin Solar Lantern
Want a fun, simple Halloween decoration that doesn't require extensive wiring or expensive batteries? Then take a look at the Halloween Pumpkin Solar Lantern Stake by Miles Kimball Company. Just stick the included 23" metal pole where you want it – presumably along your walkway – and then hang the 6-inch high lantern on it. It'll charge via solar during the day and give off a gentle glow at night to reveal its whimsical Halloween scene. An included on/off switch lets you save up the energy for when you need it.
The Halloween Pumpkin Solar Lantern Stake is available on Amazon.com for $16.02.
Screaming Doormat
Want to give a good-natured holiday scare to both trick-or-treaters and the UPS guy? Check out the battery-operated Screaming Doormat. You hide the small, pressure-activated device under your own favorite Halloween doormat. When guests arrive, they'll be greeted with the sound of thunder and screams – plus a mysterious voice that beckons to "Enter at your own risk!" and "Welcome to the Haunted House!" Two AA batteries are included.
The Screaming Doormat Halloween decoration can be found on Amazon.com for $17.45.
Flashing Eyes Halloween Lights
Having a pair of mysterious eyes on you can most definitely be a spooky experience. Thankfully, the posable Peep n' Peepers Flashing Eyes Halloween Lights are more treat than spooky trick. These weather-resistant cartoon eye decorations hook onto the bushes or in a tree outside your house and are powered by a standard electrical outlet (extension cord likely required). Each "cute" pair of eyes lights up on a random schedule, giving your landscaping a fun, haunted look.
You can find the Peep n' Peepers Flashing Eyes Halloween Lights at Amazon.com for just $14.95 each.
Wireless Speaker
Adding spooky sound effects of a Halloween-themed soundtrack is as easy as screwing in a light bulb with the Sengled Pulse Solo. This dimmable LED light bulb has built-in Blueooth speakers for easy music and sound effects streaming. The bulb screws into regular light bulb sockets to draw power, so you could swap out your regular porch light's bulb on trick-or-treating night. The Pulse Solo is not water-resistant, though, so you would not want to keep it there indefinitely.
You can find the Sengled Pulse Solo on sale at Amazon.com for just $53.99.
Orange LED Flashlight
If you have older kids that go out trick-or-treating after dark, you'll want to use extra caution to make sure they stay safe. That's why we like the Cree Bonfire X LED Flashlight. The super bright (350 lumens) light comes with a wrist strap, making it easy to carry, whether it's being used to light up the path ahead to avoid trips and stumbles, or to get an early look inside that bag of treats.
You can find the Cree Bonfire X LED Flashlight in a variety of colors, including Halloween orange, at Amazon.com for $23.95.
...don't forget the extension cords!
There's no shortage of fun outdoor Halloween decorations that require plugging in. For these, we recommend you invest in a solid outdoor extension cord like the Woods 2466. The inexpensive three-outlet cord is rated weatherproof for safety, while the green color blends in with your landscaping to keep it from being an eyesore. Both 8-foot and 25-foot versions are available.
You can purchase an 8-foot Woods Outdoor Extension Cord for $6.99 on Amazon.com. The larger 25-foot version is available there for $15.13, as well.
[Image credits: Miles Kimball, Peep n' Peepers, Sengled, Cree]
---
Discussion