We may earn commissions when you buy from links on our site. Why you can trust us.

Android versus iPhone: Which is Better?
Phones just keep getting better. These days, choosing your next smartphone isn't so much a matter of picking the best phone, as picking the one that's best for you specifically. If you're thinking of upgrading your phone, you may be wondering if you should switch between Android and iPhone. Or if you're a (rare) Windows Phone user, with Microsoft having announced the end of updates for its mobile operating system, perhaps you're on the market for a new smartphone running on one of these two dominant OSes.
Both Android and iOS offer slick technology that has been honed over the years to deliver that seamlessly powerful experience we now all expect from our palm-sized devices: accurate mapping, cameras that are at least decent (if not outright impressive), and a plethora of apps for everything from social media to productivity and mindfulness.
However, there are still some key differences between the Android and iOS user experiences, including less visible factors such as how your data is managed by the corporates involved with that smartphone in your hand.
Below, we've laid out how Android and iOS stack up on various aspects of the smartphone experience. Decide which are the most important to you to inform you whether you should switch.
And, before taking the plunge, remember that you won't be able to take your apps with you, so will need to download them all over again (and re-purchase any paid-for ones).
Ease of use: Android vs. iOS
The major differentiator in smooth-as-silk OSes these days is gesture-based navigation. Apple introduced an entirely touch-screen based navigation on the iPhone X back in 2017, when it did away with its physical home button in favor of swipes of varying length to launch apps, switch apps and return home. This style of navigation initially takes a bit of getting used to – but not much: when I switched from Android from iOS recently (I'd also switched to Android from iOS a few years previously), I found this new system fluid and easy to learn. The iPhones X, XS, XS Max, and XR feature it – and when iOS 13 launches this fall, it will bring a universal undo/redo gestures to phones from the iPhone 6s and newer.
Though Google trialed gesture-based navigation in a beta version of Android 9.0 Pie, full gesture-based nav is available only for Android Q phones, which currently includes the Pixel 3.
Winner: iOS.iOS, especially if you're springing for one of the phones launched in the last two years. It may be the end of the year before Android Q is widely available, reducing the choice available right now.
However:It's worth noting that both OSes are sleek and easy to use across the basic metrics of opening apps, multitasking, accessing all apps, going back one step and organising the homescreen with app folders.
Apple App Store versus Google Play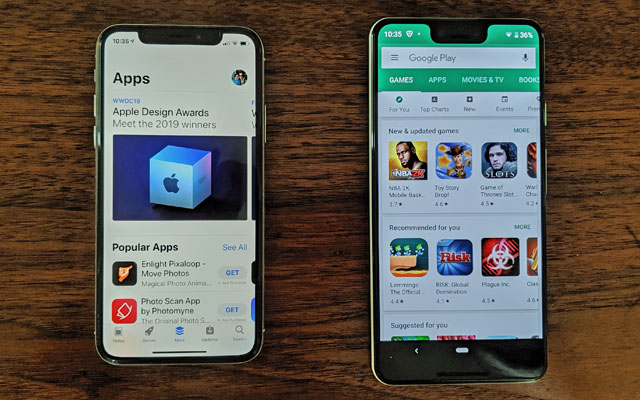 Not much separates the two main resources for people to get their smartphone apps. There are 2.1 million Android apps on Google Play and 1.8 million iOS apps on Apple's App Store, while the most popular apps – such as messaging, social media, those cool workflow apps, say – tend to be available on both stores.
iOS edges Android slightly in terms of high-quality mobile games, with a few great titles – such as the sleeper hit Papers, Please – only available for iOS.
Perhaps most of note though is Google Play's ongoing malware issue, which has seen over 1 million people download a fake WhatsApp app, banking apps infiltrated by phishing malware, and regular reports of malware and adware spreading through the store. In comparison, Apple's stricter vetting policy and restrictions on what permissions apps can access have largely prevented similar things happening on the App Store.
Winner: iOS. iOS by a whisker. Though both app stores offer a similar range of high-quality apps, the prevalence of malware on Google Play could be a deciding factor for those who download a lot of apps.
However: Good cyber hygiene can minimise your risk of downloading malware-ridden or fake apps from the Play Store: look up app titles online, and double-check the sources of download links you may come across in your browser or messaging apps.
Privacy: Android vs. iOS
In recent times, Apple has been vocal about its pro-privacy stance and how iPhones fit into that. According to the company's privacy policy, iOS doesn't collect and sell identifiable data such as search queries and Siri questions, nor log identifying details about Apple Pay transactions. More data is stored on-device and less sent back to Apple servers for analysis. The data Apple does collect, it says, is anonymised and used to improve the user experience. As well, Safari by default scrubs browsing data of identifying markers including browser 'fingerprints' (the specific makeup of a user's device), making it more difficult for advertisers to track users around the web. And, just yesterday, Apple announced "Sign in with Apple," which allows you to sign into services without sharing any personal data, including your email address.
Android, as part of Google's web-encompassing reach, is designed to collect as much data as possible – all, Google says, in the name of personalising the user experience, including the ads it serves across its vast network of advertiser sites and the recommendations it might make on its other platforms such as YouTube. Naturally, the company promises to protect your data from abusive practices, so it depends on how you view the idea of being decoded by Google's algorithms. (It's also worth remembering that on Android, your data will also be subject to the privacy policies of the device manufacturer such as Samsung or Huawei.)
Winner: iOS. A bonus point goes to the built-in password generator in Safari on iOS 12, which automatically comes up with strong passwords for new accounts, and flags weak ones across apps and sites in your keychain.
However: The level of personalisation Google offers may be scarily accurate, but it also turns up irresistible articles in the Newsfeed screen on Android phones.
Storage: Android vs. iOS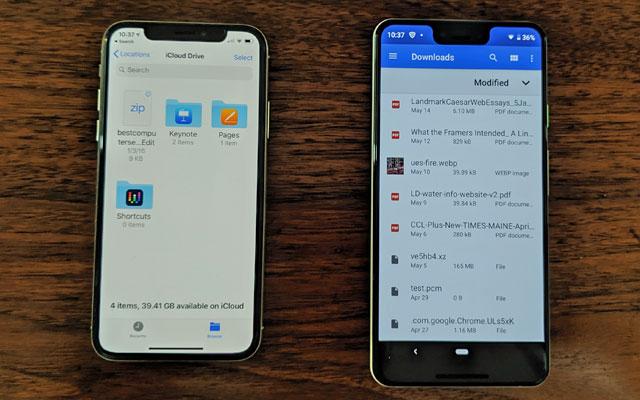 The more we do on our phones, the more critical the issue of storage becomes. No wonder then that flagship devices like the iPhone Xs and Samsung Galaxy S10+ come in 512GB variants – half that of many standard laptops.
However, the price of these top-tier phones won't be viable for everyone – which is where cloud storage comes in, backing up generated content such as images and videos as well as files. (Apps are stored on-device for both OSes.)
iPhones come with an iCloud account and a paltry 5GB of free storage that is shared between all of your iOS devices. If you're taking pictures or videos with both your iPad and iPhone, say, this goes fast. Once you go over 5GB, the most recent photos or videos take precedence in iCloud, with the rest disappearing from your online storage. They're then only saved on your device – which at some point will also run out of space. At this point, you would need to start paying for storage at $0.99/month for 50GB or $3.99/month for 200GB.
Android phones, on the other hand, offer unlimited photo storage on Google Drive (photos are compressed but high-quality enough for any web publishing and small hard-copy prints), plus 15GB of storage that can be used by Google Drive files and full-resolution photos. Pixel users additionally get unlimited photo storage for full-res pictures. If you need more storage, you can get a Google One membership and pay from $1.99/month for 100GB, $2.99/month for 200 GB and $9.99/month for 2TB, which can be shared between five family members.
Winner: Android Android wins for its unlimited space for photos and generous amount of free storage.
However: Free services, as the old tech saying goes, are often paid for by users' data. If you're concerned about the information that Google is gathering on you, you may prefer to pay the iCloud fee (or get meticulous about backing up your iPhone regularly to a hard drive).
Smartwatch compatibility: Android vs. iOS
Times have moved on since the Apple Watch was the only reasonable option for a smartwatch. Android Wear, the OS powering smartwatches that work with Android phones, offers a good range of watch apps to track fitness, weather and more, while recent Samsung efforts such as the Galaxy Watch and Watch Active are matching the Apple Watch on style and comfort fronts.
Plus, at $199, the Watch Active compares favourably to the $399 Apple Watch and even the $329 Galaxy Watch (though this more traditional, lux-looking timepiece also has a rotating bezel and great battery life). (Note: Watches running on Android Wear will work with most iPhones, but Apple Watches only work with iPhones.)
Winner: Tie. You'll want the smartwatch that works best with your phone, which means Apple Watch for iPhone owners and Android Wear for Android phone owners.
However: All that said, Apple has stated that its moving toward making Apple Watch more autonomous from the iPhone, which could mean that it will be a viable option for Android users in the future.
Affordability: Android phones vs. iPhones
One side-effect of the ongoing sophistication of new smartphones, particularly the flagship models, is the steady inflation of their cost. The iPhone 7 is currently Apple's entry level phone at $449. And the top-of-the-line iPhone Xs Max clocks in at $1,099 for its baseline 64GB model (remember the point about storage above) and an eyewatering $1,449 for the 512GB behemoth.
In comparison, though Android phones like the top-end Samsung Galaxy S10+ clock in at similar figures with $999 for the 128GB version and $1,249 for its 512GB version. But there is a wide variety of lower-cost high-spec devices starting at under $300 from manufacturers such as Honor and Motorola.
Winner: Android. There is a huge range of manufacturers and price points to pick your Android device, giving you more options for scaling up or down with future phones (while keeping your apps!).
However: Apple's only 'budget' phone, the iPhone SE, is available on its clearance site for $249.
Parental Controls: Android vs. iOS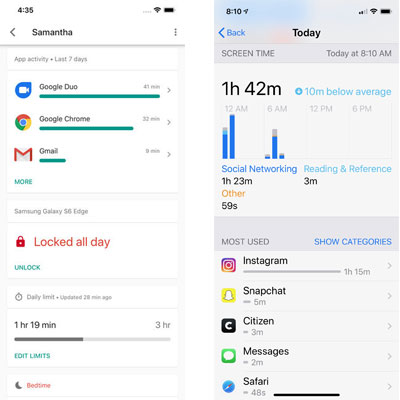 Parental controls have come a long way for both Android (shown left above) and iOS (shown right above) devices. Both have content restrictions by age, the ability to restrict the ability to download apps and make purchases without parental approval, and set time limits by app, app category, and time of day. You can see how much time your child spends on their phone and how much time is spent by category and by app. And, you can see when they're using their phones. Is your child on Snapchat at 1AM? You'll know.
The biggest difference is that the controls reside primarily on the child's device when it's an iPhone and on the parent's device for Android phones. Also, for iPhones, the parent needs to have an iPhone or Mac to create a child account. After the child acount is set up, parents can only check on usage remotely.
For Android phones, all setup and management of parentals controls are done through the Family Link app, which is available for iOS and Android. And, once the parental controls are set up, parents have full access remotely.
Winner: Android. While both iOS and Android have fairly robust parental controls, it's better to have those controls housed on the parent's device instead of the child's.
However: If you have an iPhone, it may be easier to stay within the iOS ecosystem, instead of having to learn how to use an Android phone.
[Image credit: Techlicious, Google, Apple]
---
Discussion