The Best Free Photoshop Alternatives
Techlicious editors independently review products. To help support our mission, we may earn affiliate commissions from links contained on this page.
Adobe Photoshop is widely accepted as one of the most powerful photo editing tools for photographers, photo editors, and graphic designers. And, it's the go-to tool for professionals for manipulating and retouching the images you see every day in ads and commercials.
However, most of us are not professional photo editors or photographers. And, a complex and comprehensive tool like Photoshop may be overkill, especially since you have to pay at least $9.99 per month for it.
While there are advantages to investing in paid applications, like a cleaner user interface, included cloud services and a wider variety of tools and effects. However, there are a lot of open source programs that offer just as good – if not better – features than Photoshop for free. Here are our three favorite free alternatives to Photoshop.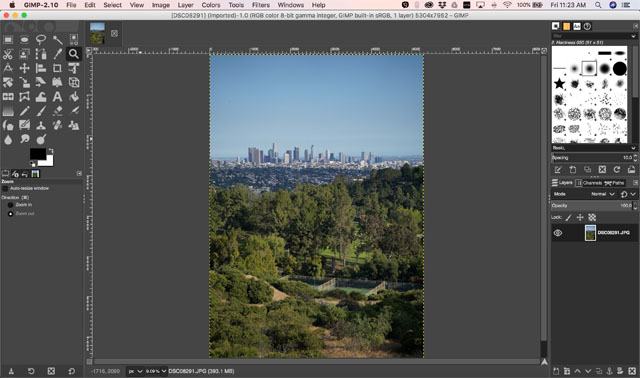 Best overall free photo editing software: GIMP

GIMP, or GNU Image Manipulation Program, is more than just a photo editor. It also has sophisticated image manipulation tools, which will appeal to pros as well as regular uers.
GIMP has the expected assortment of basic features, including cropping and straightening to adjusting brightness, contrast, and color balance to name a few. Plus it has more advanced tools, like layers, content rescaling, and animation, plus the ability to add blur, noise, and distortion, among other effects.
In fact GIMP offers most of the features that Photoshop has, even if it is missing things like other color modes besides RGB and the capability for non-destructive editing. Even better, GIMP's interface is very customizable, and its features are expandable. Since it is open source, GIMP community members can create plugins, and they often do, sharing them to the rest of the community for free.
For: macOS and Windows 10 users on Gimp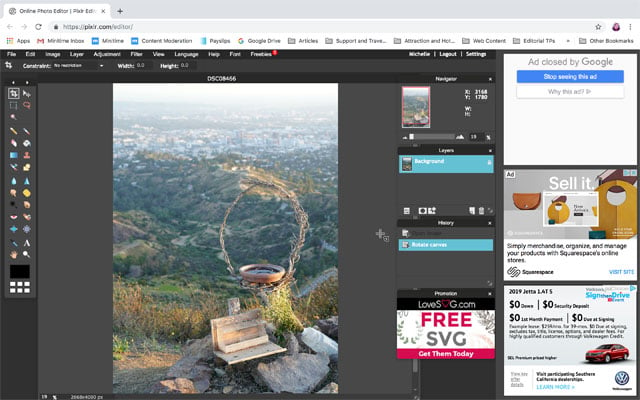 Best free photo editing software for under-powered computers: Pixlr Editor
If own an old, under-powered system or are using a computer with limited storage, like a Chromebook, Pixlr Editor is a great photo editing tool. And it has enough features for those who are looking to create graphics as well as edit exiting files.
Pixlr supports layers, masks and has a plethora of filters, including blur, noise, sharpen and tilt shift. And for basic editing, it has everything users need, from controlling brightness, contrast, shadows and highlights to adjusting hue, saturation and vibrance. You'll also find tools like spot healing, dodge, burn, bloat and pinch.
Its interface is more minimalist than Photoshop, so it doesn't look intimidating to folks who don't have a lot of photo editing experience. But that interface is also reminiscent of Photoshop, so folks who are familiar with Photoshop will have no problem transitioning to this tool.
It might not be as comprehensive as Photoshop. For instance, it doesn't support the RAW format, for example, which is essential for more advanced photo editing. And, it's missing a few manipulation and retouching tools like Liquify. However, Pixlr has certainly more than enough to cover most people's photo editing needs.
For: macOS, Windows 10, and ChromeOS users on Pixlr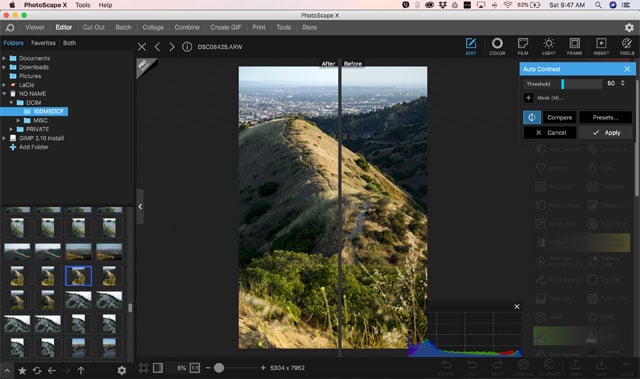 Best free photo editing software for beginners: PhotoScape X
PhotoScape X has a beautiful interface for a free photo editor. It starts with opening images. When you select a folder full of photos, you'll see thumbnails of each image in a bin. Highlight the one you want and it appears in the editing window. When you want to move on to the next image, you simply reveal the bin showing the folder full of images and select the next one.
The editing interface is nicely labeled and accessible without being cluttered. Whenever you select a tool or setting, like sharpen or shadows/highlights, the application automatically analyzes the photo, adjusts it for you, and then shows you how you can further tweak that particular setting. A before and after slider lets you see exactly how changing the setting will affect the original shot before committing.
To top it off, PhotoScape supports RAW files so more advanced photographers who are ready to take that step up to RAW don't have to switch to a different photo editing tool to edit their RAW. Professionals may want to step up to the PRO version ($39.99, Windows 10 only), which adds extremely useful tools like levels, curves, clone stamp, chromatic aberration and lens correction to the mix. But for beginners, PhotoScope X is a great free photo editing tool and an amazing tool for learning how to become a better photo editor.
For: macOS and Windows 10 users on Photoscape
[Image credit: laptop and camera via BigStockPhoto, screen shots: Michelle Rae Uy/Techlicious]
Discussion