We may earn commissions when you buy from links on our site. Why you can trust us.

The Best Workout Headphones
Working out is easier when you have an uptempo music mix to keep you moving. But your average headphones — like the ones that came in the box with your smartphone — aren't well-suited to working out. Whether you go jogging or hit the gym, you need a good set of workout headphones. That means headphones that stay securely in place and are resist sweat so they'll survive serious workout sessions. Unfortunately, that's more than most headphones can handle.
There are a ton of headphones on the market with "sports" tacked onto their name, and grabbing the first pair you see on the shelf may leave you with lousy headphones. So how do you find the perfect headphones? Let's start by narrowing down the kind of headphones you want.
In-ear vs. on-ear headphones
In-ear headphones are your traditional earbuds while on-ear headphones sit on top of your ear, and you may like the fit of one over the other. On-ear headphones are typically bulkier and less secure, so they aren't our favorite workout option. If they're your personal preference, make sure to get a pair that fit securely — if you can go to a store to try them on, it's a good idea. Earbuds are smaller and more portable, but it's important to get the right fit. You aren't going to find a store that will let you try on earbuds, so if you're going this route, look for earbuds that come with different sizes, materials and/or styles of tips and stabilizers for a secure, comfortable fit. (For more on finding the best earbud fit, check out our guide to getting your earbuds to fit perfectly.)
Wired or wireless?
Wired headphones can tangle or tug, but can be cheaper and have better sound. On top of that, wireless headphones have limited battery life. If you buy wired, you'll need to consider cable management (see our earbud fit guide for suggestions), but if you buy wireless, you'll need to remember to charge them. You can find wireless headphones with great battery life (so be sure to consider it when you're shopping). It's a trade-off, so it's a matter of picking which convenience is more important you.
Wireless or true wireless?
"Wireless" just refers to headphones that aren't connected to an input device via a wire, but these can take a few forms. On-ear headphones simply skip that cable, but earbuds may be connected to each other with a band or cable, while some are individual earbuds. Going wire free can be really nice, but you may find completely wireless earbuds easier to lose — and because of their tiny size, their battery life may not impress.
Figuring this out is especially important as you may want your workout headphones to be your only headphones. While you can get solid headphones on a budget, good headphones can be an investment. If you have your heart set on a top-of-the-line model, you probably won't want to spend cash on good exercise headphones and good everyday headphones. That makes finding a pair that suits your needs in the gym and out crucial.
When you're shopping for any headphones, you know you need comfort, sound quality, and, if they're wireless, good battery life. However, there are a few sports-specific features to look out for:
A secure fit. While this is important for all headphones, it's especially important for headphones that you're going to wear while working out. We mentioned earlier that it's a good idea to try out on-ear headphones to be sure they fit securely and look for earbud-style headphones with multiple types of tips and stabilizers that hook into your ear so you get a good fit. Earbuds can also have a few extras to help keep them in place, with fins that wedge them in your ear or hooks that loop behind your ear. As with tips, earbuds that come with multiple options are a good choice.
Sweat resistance. Electronics don't play well with water, and that includes sweat. Be sure your headphones are water resistant so they'll hold up to your workout. (And, if you're a swimmer, you can find waterproof options, too.)
Situational awareness. When you're out running or biking, you don't want headphones that completely cut you off from the outside world. If you're exercising outdoors, avoid noise-canceling or noise-isolating models. Some headphones have specific features that let outside sound in so you can still hear what's happening around you.
Then there's one feature which you may or may not be interested in: fitness tracking. Some sports-centric headphones will have built-in heart rate monitors, motion sensors or even workout coaching programs. If you don't have another fitness tracker, some or all of these may be must-have features. But if you have a tracker already (or just don't think you need one), you can skip spending the cash.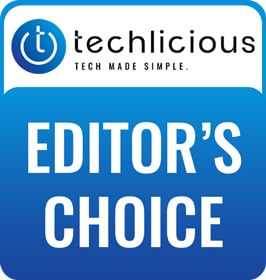 We considered all of these features and found eight great pairs of headphones, and one of them is sure to fit your needs. Let's take a look at your best workout headphone options.
Best true wireless workout headphones: Jabra Elite Sport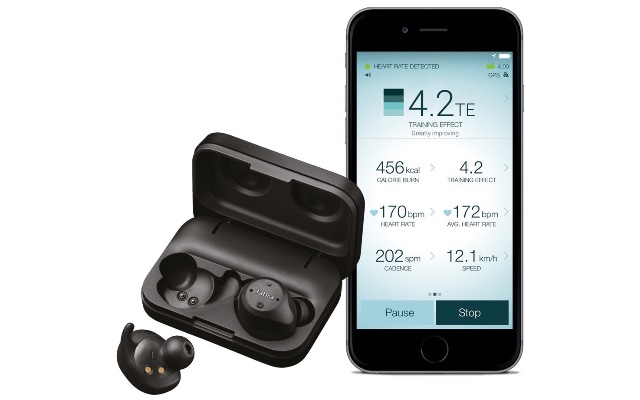 If you're looking for a great pair of sports headphones, the Jabra Elite Sport earbuds do it all. They're completely wireless, so there isn't a single cord to get tangled in. And, with three different sets of wings to hold them in place, they fit snuggly enough to wear while you're out running. If you are out running, you can keep an ear open for outside sound by wearing just one earbud. Battery life isn't a problem, either, as they'll keep playing for 4.5 hours and come with a charging case that will give them another 9 hours. That's more than enough time to have a run and then tuck them into their case to charge, without needing to find the nearest power outlet.
They have impressive fitness tracking features, too. They can track reps at the gym and pace, as well as monitor your heart rate and offer personalized fitness coaching. They're also sweat-proof, with a three-year warranty against sweat damage. In short, they have everything you need.
If you're interested in something that's a little more all-purpose, the Elite 65t add an hour of battery life and support for Alexa, Google Assistant and Siri. However, they lose all of the fitness tracking features. But if you're looking for smaller earbuds for workouts and everyday listening, they're a better choice. The Elite Active 65t straddles the line between the two options, with voice assistant support and a motion sensor for fitness tracking, but no heart rate monitor. They should be on the market soon.
Price: Jabra Elite 65t for $169.99 from Amazon, Jabra Elite Sport for $179.99 from Amazon
Best headphones for running: Aftershokz Trekz Air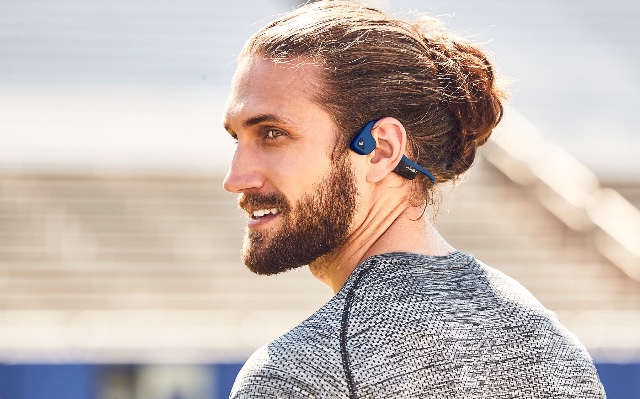 Instead of blasting sound in your ears, the Aftershokz Trekz Air headphones use bone conduction technology to produce sound. The headphones send vibrations through your cheekbones to your inner ear, where they're translated into sound. That means that they don't touch your ear itself, leaving you able to hear ambient sound without interference — meaning you can stay completely aware of the world around you. (Plus you don't have earbuds stuck in your ear, which aren't always comfortable.)
The headphones sit slightly outside your ears, with a band that loops over your ears and behind your head to keep them in place — and the design is about as lightweight as you can get at just 1.03 ounces. They're also water-resistant, so sweat isn't a problem. The battery lasts six hours, though unlike earbuds with a charging case, you'll have to plug them in when the six hours is up. Still, these sleek headphones have unique advantages to put them at the top of our list.
Price: $179.95 from Amazon
Best workout headphones on a budget: Anker SoundBuds Slim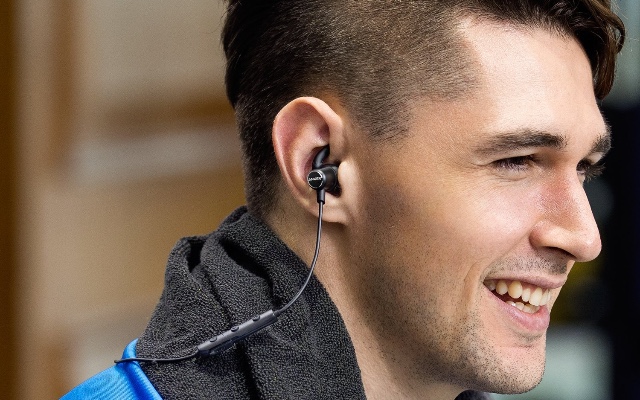 So far, we've only talked about pricey, high-end headphones — but you don't have to spend a ton to get high-quality wireless headphones. Anker's SoundBuds Slim cost just $20, and while they may not have the clear sound quality of more expensive models, they have all the features you need (plus good sound) at a budget-friendly price.
These lightweight earbuds are connected by a cable, with a magnet in each earbud to hold them together so you can loop them around your neck like a necklace when you aren't wearing them — this makes them hard to lose. A range of different tips and hooks come in the box so you can experiment until you find the perfect fit. Like all sports headphones, they're water-resistant so sweat or rain won't be a problem. But the best feature is their seven-hour battery life, which is well beyond most wireless earbuds.
Price: $20.49 from Amazon
Best over-ear workout headphones: SOUL Electronics X-TRA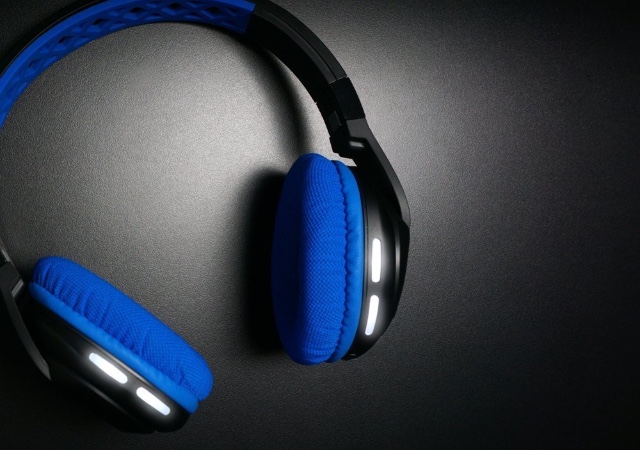 If you're not a fan of earbuds, the X-TRA wireless headphones offer a range of fitness-friendly features with an over-ear design. Though they won't be as lightweight as a pair of earbuds, but at 6.98 ounces they're lightweight for a pair of over-ear headphones. And, they feature a breathable headband and moisture-wicking (and washable) ear pads.
For visibility, the headphones have bright LED lights on the sides. You can set them to flash or stay on so you can be easily seen. (However, we'd keep the volume down if you're running or biking on a busy street.) Battery life is great, too, with up to 24 hours on a charge with the lights off or 12 hours with the lights on. And if you forget to charge them, a 15-minute fast charge will give you 150 minutes of playtime.
Price: $149.00 from Amazon
Best for headphones for swimmers: Sony Walkman NW-WS623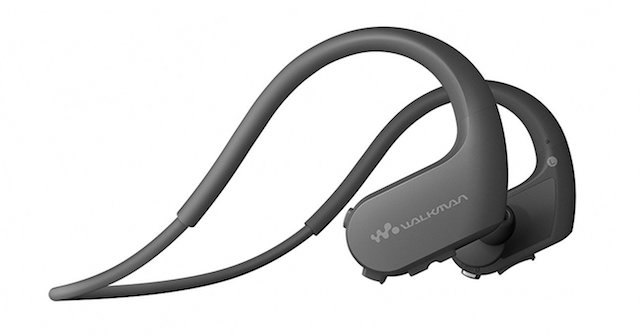 While the headphones we've mentioned so far are water resistant to handle sweat or the occasional rainstorm, none of them are built for swimming. For that, you'll want the Sony Walkman NW-WS623, which is designed to be completely submerged (up to about six feet). While these will stream music from your phone over Bluetooth, water isn't phone-friendly, so you can also store up to 4GB of music directly on the headphones.
But these are great headphones even if you aren't a swimmer. Beyond being waterproof, they're dustproof, so they won't have issues with sand on the beach or the dirt you might kick up hiking. They'll work in temperatures from 23F to 113F, so you can wear them whether you're on the ski slopes or hiking Joshua Tree National Park. And if you're in an urban area, they have an ambient sound mode that uses built-in microphones that let you hear the world around you while you're listening to your music. That's perfect for running or biking in busy areas. Rounding out the features is a solid 12-hour battery life.
All in all, these are excellent headphones for any purpose.
Price: $118.00 from Amazon
Best headphones with heart rate monitor: Bose SoundSport Pulse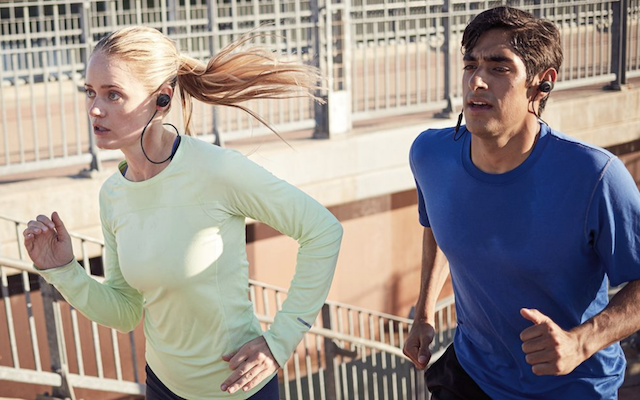 Bose is known for superior sound quality, and the company's fitness-focused SoundSport Pulse headphones don't disappoint. But these earbuds offer more than good sound. They also have a built-in heart rate sensor that's as accurate (or more accurate in many cases) than your average fitness band. All you have to do is pop these headphones in your ears and they'll track your pulse automatically — no extra equipment required. Though they're a bit bulky, the earbuds have a firm fit, with three sizes of tips and stabilizers to hold them securely in your ears. They have water resistance to survive both sweat and weather.
The SoundSport Pulse have a modest 5-hour battery life, which is more than enough for most workouts. An optional charging case which will add 18 hours of battery power, but it will set you back an extra $49.00. Still, if you want the best sound possible, paired with a heart rate sensor, these are a very good (if not budget) buy.
Price: $199.00 from Amazon
Best headphones with a motion sensor: Jabra Sport Coach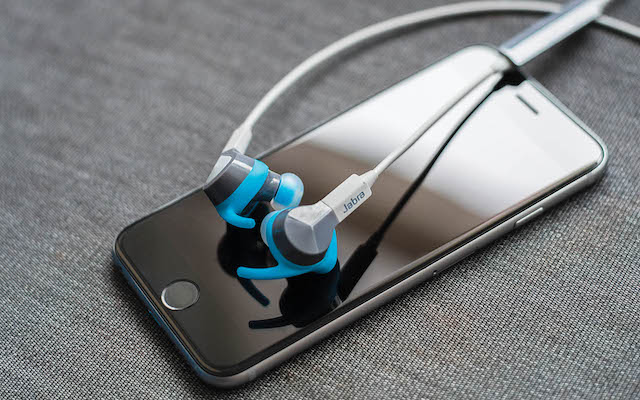 We really like the coaching and rep tracking that the Jabra Elite Sport offer, but they're a bit pricey — and depending on what you need, the Jabra Sports Coach may serve you just as well for a more modest $80. These earbuds aren't completely wireless but connected by a thin cable, which you may prefer since it makes them easier to keep track of. They come with three different sizes of tips and stabilizers so you can find the perfect fit to keep them in your ears and they're water resistant. Their five hours of battery life isn't impressive but offers plenty of power.
It's the motion sensor (which the aforementioned Elite Sport also offers) that's the standout feature here. It can count reps, distance, pace, steps and more, doing the job better than the average fitness tracker. It also offers personalized coaching and can walk you through more than 50 exercises. The coaching feature is a bit better suited to the gym than the great outdoors, but if that's what you want, these headphones are perfect.
Price: $80.71 from Amazon
Best headphones with real-time coaching: LifeBEAM Vi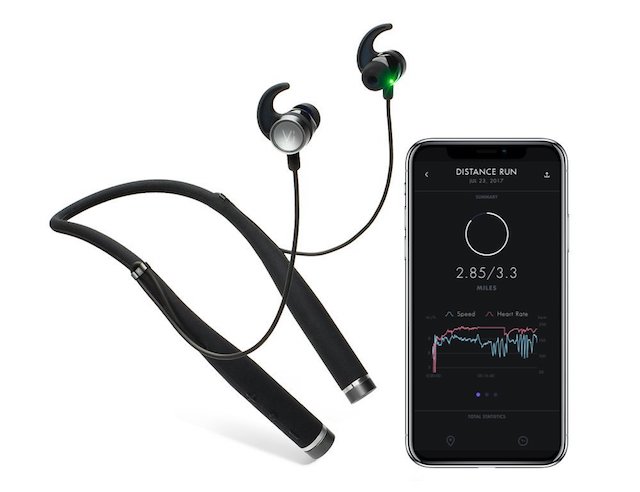 We've mentioned several pairs of Jabra headphones that can count reps and offer basic coaching, but the LifeBEAM Vi headphones take digital coaching to a new level. These headphones have a whole suite of fitness trackers, keeping tabs on heart rate and movement — and use that data to provide real-time coaching with a voice-activated AI personal trainer. Set your fitness goals, and Vi will help you get there, walking you through workouts, pushing you to work harder, and making sure you warm up and cool down to prevent injuries. Regular updates to the Vi app keep adding new workout features — making Vi the smartest fitness tracker on the market.
Physically, these are basic earbuds connected to a band that loops around your neck. Though the band houses enough battery power to give these headphones an impressive all-day battery life. The earbuds' Harmon Kardon sound is great, too.
These are the most expensive headphones on our list at $250, but if you're looking for a personal trainer, they're worth it. If you're not sure, you can try Vi for 90 days and return them if you aren't happy — no questions asked.
Price: $249.00 from Amazon
[Image credits: Jabra, Aftershokz, Anker, SOUL Electronics, Sony, Bose, LifeBEAM]
---
Discussion