Updated on 7/21/2023 with new products
Even the best in-ear headphones, or earbuds, can sound awful and quickly become uncomfortable if they're too loose, too tight, or aren't seated well in your ear. So get the most out of your earbuds by following these tips to achieve the proper fit.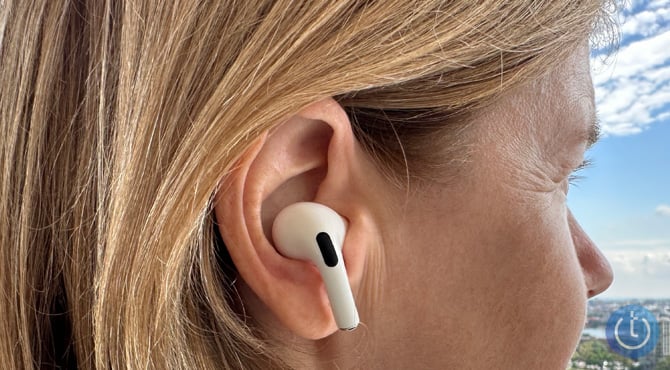 1. Choose the right size and material for your eartip
The key to a proper earbud fit is using the right size ear tip. So try the various sizes of foam and silicone tips that come with your earbuds. Foam tips are more forgiving for size differences, so they are a good option for hard-to-fit ears. If you have a large ear canal or are looking for enhanced passive noise canceling, try out double-flange silicone eartips.
For comfort and a better fit, you can also buy specialized tips. To block out sound and prevent wax buildup, I like the foam Sound Isolation Plus ($19.99, check price on Amazon). For all-day wear that's maximized for comfort and to prevent wax buildup, I recommend the foam Comply Comfort Plus ($19.99, check price on Amazon).
If you're not a fan of foam, SpinFit makes medical-grade silicone replacements that have a unique core that flexes at the top up to 40 degrees so you can more easily seat it at the correct depth comfortably. The SpinFit CP100 Plus ($13.99 for two pairs, check price on Amazon) come with inserts so they can fit narrow and medium 3mm to 5mm nozzles. They also make a double-flange model, the SpinFit CP240 ($11.49 for one pair, check price on Amazon), which come with inserts to fit 3-5mm nozzles.
Also, one ear may be slightly larger than the other, so you may need to use a different size tip for each ear. Before investing in new tips, check the fit with the tips that come with your headphones to see if you'll need more than one size.
If you can't get a good fit with standard-size tips, you can buy custom-fit tips from Snugs. With SnugsGo, you take pictures of your ear using the company's app, and they make a custom pair of eartips for your earbuds. If the fit isn't perfect, they will remake them, and if they still don't fit, you can get a refund. At $119.95, they're expensive and will only work with one pair of earbuds, but if you have hard-to-fit ears, it may be worth it.
2. Seat the eartip firmly
To get the best sound, you need to seal your ear canal with the eartip. So simply pushing an eartip into your ear often isn't enough to create a proper seal. (For foam tips, you'll need to compress the foam before quickly inserting your earbuds.) Instead, try gently pulling on the outer rim of your ear to ease the tip into a comfortable position. You should notice a drop in ambient noise when the tip is seated correctly. And when you're listening to music, you'll notice more range, especially bass.
Some manufacturers, including Amazon, Jabra, and Samsung, have an earbud fit test that checks to make sure that you have a good seal – that you're using the right size eartips, and that they are correctly seated. Consult the app from your earbud manufacturer.
AirPods Pro owners can access the Ear Tip Fit Test by going to Settings > Bluetooth and then tapping the "i" next to the AirPods in the list of devices. Then select "Ear Tip Fit Test" > Continue > and tap the Play button. If your AirPods aren't fitting properly, you'll be prompted to make adjustments.
3. Secure the tip for sports
Getting headphones for working out to fit well is particularly tricky. The constant pulling on the eartip as you move can loosen even well-inserted eartips.
Make sure to use any stabilizers that may have come packed with the earbuds. These plastic pieces wedge the eartip into place to keep it from wiggling as you move. You can also try a generic stabilizer, like the BudLocks Earphone Sport Grips ($10.95, you can buy them on Amazon). For Apple AirPods gen 1 and 2, there are EarBuddyz 2.0 ($10.95, check price on Amazon), for AirPods gen 3, there are EarBuddyz ($12.95, check price on Amazon), for AirPods Pro gen 1 and 2, there are Proof Labs ($14.95, check price on Amazon) that you can attach to help them stay in place. If you prefer a hook, there's also the Elago for Apple AirPods and Airpods Pro ($10.99, check price on Amazon).
If you don't like the idea of stabilizers but are worried about losing your AirPods or AirPods Pro, you can try GOGOSODU Compatible Airpods Strap ($13.99, you can buy them on Amazon). It's a silicone sports neckband with straps that attach to your Airpods, so you won't lose one if it falls out. It's also handy when you want to pop out your AirPods for a few minutes. If that's too bulky for you, the Anti Lost Cord Sport Lanyard ($10.99, check price on Amazon) is a simple strap with magnets that turn your headphones into a necklace when not in use.
For earbuds that come with double or triple-flanged eartips, you may find they stay put better than the regular tips. And check to see if your earbuds are compatible with Comply TrueGrip Pro ($24.99, you can buy them on Amazon), which prevents slipping when you exercise and moisture from getting in your earbuds.
Still using corded earbuds? Try looping the cable that connects them behind your head and around the top of each ear. For eartips that are angled to fit in the ear canal, swap them to place the side marked "L" in your right ear and the side marked "R" in your left ear.
And if you're simply ready to upgrade to something better, find out why we called the Technics EAH-AZ80 the perfect earbuds for music lovers.
[Images: Techlicious, Keybudz]
For the past 20+ years, Techlicious founder Suzanne Kantra has been exploring and writing about the world's most exciting and important science and technology issues. Prior to Techlicious, Suzanne was the Technology Editor for Martha Stewart Living Omnimedia and the Senior Technology Editor for Popular Science. Suzanne has been featured on CNN, CBS, and NBC.