Boost Your WiFi with a Range Extender
Techlicious editors independently review products. To help support our mission, we may earn affiliate commissions from links contained on this page.
You love using Wi-Fi at home. You have your laptop, your smartphone and your tablet hooked up to it so you can surf the web from anywhere in the house. Well, almost anywhere.
The Wi-Fi box (the router or gateway provided by your Internet Service Provider) may be installed towards the back of your place and the further you go towards the front of the house, the worse the signal. If you try to do much more than check email, it takes forever. Streaming YouTube or Netflix is out of the question.
Fortunately, this is why they make wireless Wi-Fi range extenders. These are small boxes that can extend the range of your Wi-Fi signal by boosting it and retransmitting it.
What to buy
When looking for a wireless Wi-Fi range extender of your own, you don't need to buy from the same manufacturer as your Wi-Fi box (though it doesn't hurt, either.) Here are the features you should be look for.
Two-button set up
If you aren't especially tech savvy, you'll want to stay away from extenders that require you to fiddle around with its internal settings through a web browser. The easiest set up is if both your Wi-Fi box and the extender have WPS (Wi-Fi Protected Setup). Pushing the WPS buttons on both your Wi-Fi box and your extender at the same time allows the systems to talk to each other and take care of the setup without you having to muck around with the settings.
Dual-band frequency
Is your Wi-Fi box running on a 2.4 Ghz, 5Ghz or, most likely, both bands? Make sure the extender matches. Boosting a 2.4Ghz signal will go further, but boosting the short-range 5Ghz signal will be stronger. Invest in a dual-band extenders cover both. Some extender are tri-band, meaning they have a dedicated band for communication between the router and extender in addition to 2.4Ghz and 5Ghz for your devices. This speeds up communication in general for the "extended" portion of your network.
Seamless roaming
To make it easy to roam seamlessly within your home, you'll want an extender that can be set to the same network name as your main Wi-Fi network. It should also automatically switch between your Wi-Fi router and the extender/s for the best signal. Your extender should act as if it were part of a mesh whole-home Wi-Fi system.
Multi-user, multiple-input, multiple-output (MU-MIMO) extender
Extenders that support MU-MIMO allow multiple devices in your home communicate with your router simultaneously. This decreases the wait time for all your devices, which will make your Wi-Fi network faster.
Signal strength indicator
How do you know where to put your extender for the best signal boost? Too close to your Wi-Fi box and you won't get the best coverage. Go too far and the weakened signal won't do you any good. Look for extenders that give an indication of signal strength so you can find just the right spot.
---
The best wireless extender


Netgear's Nighthawk AC2200 Nighthawk X4 EX7300 WiFi Mesh Extender ($149.99, check price on Amazon) is fast, simple to use and has all the bells and whistles you need — seamless roaming, WPS one-button setup, MU-MIMO, tri-band (one dedicated band between your router and the extender plus a 2.4Ghz band and 5Ghz band) and AC2200 speed. Plus, it's highly rated by PCMag, getting impressive throughput speeds in testing, and consumers love it, giving on the extender an average of four stars on Amazon, Best Buy and NewEgg. The Nighthawk X4 plugs directly into a wall outlet, leaving room for a second device, there's an Ethernet jack for devices that need a hard-wired connection, and there are easy-to-read LED indicators on the front for network health strength.
One caveat: If you are a Comcast Xfinity XFi customer with a 2017 model gateway, you have an easier way to extend your Wi-Fi. Your gateway has mesh networking built-in, so extending your network is as simple as plugging in a tiny xFi Pod. They come in a 3-pack for $119.00 on Comcast.
With a repeater in place, you can be streaming music in your garage or checking Facebook on the porch in no time. But what if an extender can't get the Wi-Fi to the room you want? Then it's time to consider a wired alternative.
---
Wired extender alternative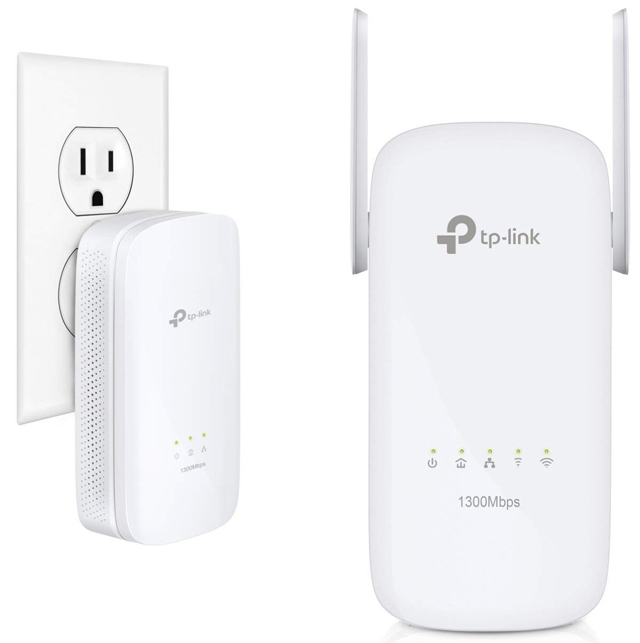 A powerline adapter creates a wired connection from your router box to the room you need it without having to run a cable between the two areas. It does this by using the existing electrical system already built into your house.
It's as simple as plugging one adapter into a power outlet next to your router and using an Ethernet cable to connect them. Then plug the second adapter into an electrical socket in the room where you need Wi-Fi coverage or a wired Ethernet connection (for a game console or smart TV). Pair the two adapters by pressing the buttons on the front of them and you're good to go. The extender will clone your Wi-Fi network, so you can seamlessly roam around your house without noticing that you're switching between your main Wi-Fi network and the extender.
If this sounds like the option for you, we recommend the TP-Link AV1300 Powerline Adapter ($119.99, check price on Amazon). The AV1300 is easy to use and gets top marks from Wirecutter, as well as 4-5 stars from consumers on Amazon and Newegg. You can easily add more coverage by plugging in extra adapters. And if you find the blinking lights on the extender annoying, you can turn them off. The TP-Link AV1300 Powerline Adapter provides a simple and effective solution to Wi-Fi dead zones in your home.
[Updated 6/27/2019 with new products]
[Frustrated woman image via Shutterstock, Netgear, TP-Link]
Discussion