We may earn commissions when you buy from links on our site. Why you can trust us.

Great Apps for Pet Owners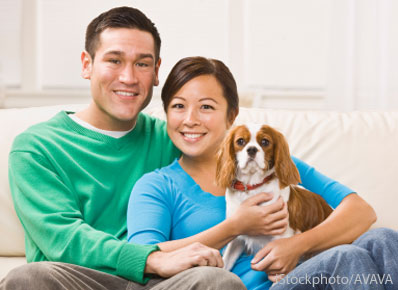 I have many fond memories of the beagle we had when I was growing up. She really was the sixth member of our family, providing loving companionship for us all during the 14 years of her life.
Along with the many wonderful benefits of having a pet, come the responsibilities—grooming, training, exercise, feeding and medical care. Today there are apps that make it easier to be a good pet parent by helping you track vital health information, keeping first aid information on hand, ensuring your pet gets plenty of exercise and eat properly and even providing entertainment.
Health records & first aid
Pet Master Pro
Whether it's a routine vet visit or an emergency, you'll have all of your pet's medical history at your fingertips. Track medications, allergies, vaccinations, insurance information, registration microchip and other vital stats. Plus, you can track regular appointments with the groomer, trainer or dog walker.
Price: Free on iTunes and Google Play
Windows Phone users should try Pet Buddy ($0.99 on Windows Phone Marketplace) and BlackBerry users should check out My Pets Pro ($3.99 on BlackBerry App World).
PetTech PetSaver
From an emergency pet help locator to a first aid kit checklist to a poison directory, PetTech PetSaver has your cat or dog covered in event of an accident or illness. You can even catalog symptoms and vital stats like temperature or breathing rate.
Price: $4.99 on Google Play and Windows Phone Marketplace
Pet First Aid
Consult videos and illustration while you learn how to give your pet first aid. Advice covers cuts, bruises, choking and CPR, among other topics. You can also use the app to track your pets' medical history.
Price: $3.99 on iTunes
Pet training & care
Dog Whistler Pro
Turn your smartphone into a training tool, a dog whistle to can be set to the frequency your dog will best respond to.
Price: $.99 on iTunes and $1.26 on Google Play
For BlackBerry, try Human to Cat ($0.99 on BlackBerry App World)
iPottyTrain
You'll find all sorts of tips to help you housebreak your puppy. Plus, you can schedule reminders to take your dog out for a scheduled potty break.
Price: $0.99 on iTunes
iKibble
Before you hand table scraps to your dog, take a quick check on iKibble to make sure your human food won't make you dog sick. You can also search for healthy foods that are good to feed your pet.
Price: $0.99 on iTunes
Pet Food Recall
Find out if your pet's food has been recalled. Data is pulled from the FDA
Price: $1.99 on Windows Phone Marketplace
petMD Pet Services Finder
If you're looking for a pet professional, the PetMD Finder can tell you who's close by. Pick from dog sitters, dog walkers, emergency clinics, daycare centers and vets.
Price: Free on iTunes
Pet play
PetSnap
This fun iPhone apps makes noises to get your pet's attention while you snap its picture. Comes with sounds that are attractive to cats and dogs.
Price: $1.99 on iTunes
App For Cats
Your cat will have fun trying to capture the critters darting across your smartphone screen while App for Cats is running. You can swap out backgrounds and creatures to find the combo that will make your cat want to pounce.
Price: $0.99 on iTunes
Pet travel
Petcentric
Knowing where your pet will be welcomed makes travel a whole lot easier. So the next time you're traveling, be sure to pull up listings of pet-friendly places, including restaurants, beaches, parks and hotels.
Price: Free on iTunes, Google Play and BlackBerry App World
Dog Parks Plus
With more than 6,000 dog-friendly venues, 1,000 dog-friendly rest stops and 12,000 dog-friendly restaurants in its database, Dog Parks Plus is a must for pet parents on the go. You'll also get user ratings, fenced and un-fenced markers, on-leash rules, plus times of operation.
Price: $1.99 on iTunes
---
Discussion