Review: Technics EAH-AZ80 Earbuds are Perfect for Music Lovers
Techlicious editors independently review products. To help support our mission, we may earn affiliate commissions from links contained on this page.
We've tested countless Bluetooth earbuds over the years, and if you're a music lover, Panasonic's recently launched Technics EAH-AZ80 ($299.99) are the ones to get. In our head-to-head testing against Apple AirPods Pro ($249.00), our noise-canceling favorites the Bose QuietComfort II ($299.00), and numerous other models, the EAH-AZ80s delivered the richest, clearest sound quality, providing musical details no other buds could match.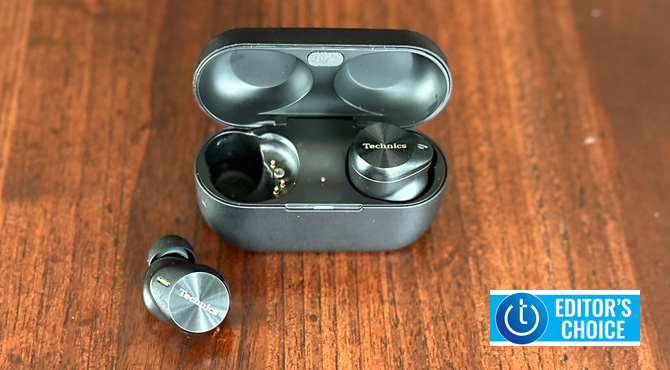 Along with the great sound, the EAH-AZ80 are also quite comfortable for all-day wear. I've been using them as my regular buds for over a month for phone calls, web conferencing, and music, with no complaints about ear fatigue. And with multipoint for up to three devices, going back and forth between using my phone and laptop was seamless.
The main downside is that the EAH-AZ80 don't offer the strongest noise-canceling performance. In that regard, the Bose QuietComfort II easily steal the show. But with some eartip fiddling, you can get the Panasonics in line with the rest of the pack.
+ Pros

– Cons

Fantastic sound quality on music and calls
Very comfortable to wear
Excellent battery life

Active noise canceling could be better
On the pricier end
Sound quality
The Technics brand has always been about audio excellence, and they didn't hold back with these earbuds. I tested the EAH-AZ80 across a variety of musical genres – rock, jazz, classical, folksy-type stuff – and head-to-head against popular earbud models from Apple, Bose, Jabra, and Anker Soundcore. Against every challenger, the EAH-AZ80 came out on top.
While every earbud we tested sounded at least fine, the Technics brought out nuances in the music that were simply absent elsewhere. On Chavela Vargas' La Llorona, the soulful longing of her voice came through in every sung verse and each breath in between. The Apple Airpod Pros and Bose QCs sounded flat by comparison. And the clarity was delivered across the frequency range, including at the low end, where many other buds become muddy. The EAH-AZ80s easily covered Mongolian heavy metal band The Hu's Yuve Yuve Yu's high-pitched horsehead fiddles, as well as the thundering bass line from the drums and electric guitars.
The EAZ-AZ80s were great out of the box, but if you want to tweak things to your liking, the Technics Audio Control app has a handful of preset sound modes and a 5-band equalizer for custom settings.
The sound quality was just as good on phone and web calls. Everything sounded loud and clear on my end, and the eight microphones did the same for those on the other end, as well.
Noise cancelation
Given the incredible audio quality, the noise cancelation was a disappointment. I used the Technics on two 3-hour flights, and they barely canceled any of the roar of the jet engines, no matter how I fiddled with the settings in the Technics Audio Control app. Back in the office, I did more testing against New York City street noise and with various noise generators, as well as asking my co-founder, Suzanne Kantra, to join the testing with a second pair of EAH-AZ80s to make sure it wasn't something unique to my ears or the review pair I was using. But in every case, the Technics couldn't come close to the incredible performance of the Bose QuietComfort II or even match my Anker Soundcore Life P3, which are decent buds sold for around $70.
After a bit of eartip trial and error, I found that using larger eartips than I was used to made a decent improvement on the noise canceling without impacting the comfort. However, this is more due to improving the passive canceling simply by better blocking my ear canal than the active canceling of the buds themselves. Under normal use, this should be fine, but this isn't the pair for frequent use in noisy environments.
In addition to standard noise cancellation, you can choose Ambient mode to allow outside noise in or Attention mode, which amplifies outside voices to hear airport announcements and the like. I found Attention mode provided too much amplification and, given that there isn't a huge amount of noise cancellation, unnecessary to hear outside voices, such as announcements in my airplane travels.
Features
The Technics EAH-AZ80 are laden with a solid set of convenience and customization features. Three-device multipoint lets you connect to your laptop, tablet, and computer simultaneously – helpful if you need to switch between listening to music on your computer and calls on both a work and personal phone. The buds can also be worn independently if you want to keep one ear free.
Using the Technical Audio Control app, you can find missing earbuds either by having them emit a beep (requires you to keep auto power off deactivated) or via the last location when they were connected to your phone, as long as your phone's GPS is on.
The touch sensor controls for both buds can be customized, as well. You can independently assign single, double, and triple taps and touch and hold for each bud.
The buds are IPX4 water resistant, which will protect against rain and sweat.
Comfort
Despite the somewhat bulbous, fully in-ear style, the EAH-AZ80s are some of the most comfortable buds I've worn. I've used them for hours on end for music and conference calls and never experienced any ear fatigue. The buds come with seven sizes of earpieces (versus the S/M/L from many competitors), so everyone should be able to find the correct match to make the earbuds fit properly. The way the EAH-AZ80s sit in the case makes them easy to grab onto for removal.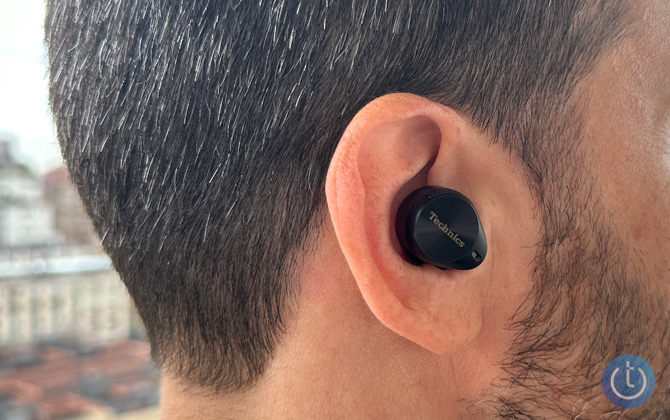 Battery life and charging
Battery life on the EAH-AZ80s is excellent. The buds are rated for seven hours of continuous playback with noise cancelation on and can be recharged in two hours. In addition, the charging case is rated to supply an additional 17 hours of playback time. I found the rated times to be in-line with my testing – it was pretty rare that I ever got to the point where I was even close to running out of juice. You can recharge the charging case via a USB-C cable or wireless Qi charging.
The bottom line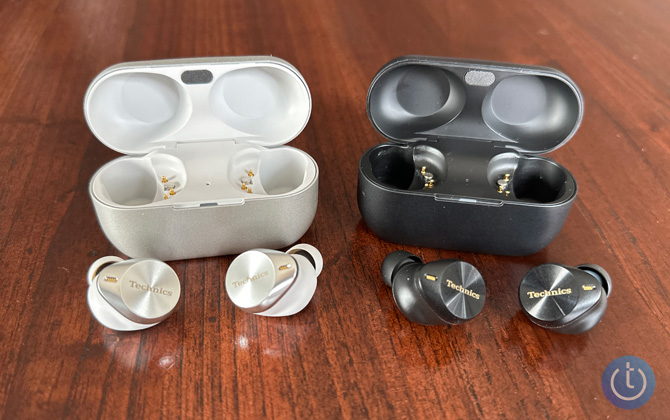 With terrific sound quality, a high degree of comfort, and plenty of features, the Technics EAH-AZ80 are easy to recommend. Despite the options at my disposal, they quickly became my preferred pair for my work and personal use. The one area I would have liked to see better performance is in the noise cancelation, though this mostly was an issue for plane travel, which isn't something I do frequently enough to drive my decision.
Retailing at $299.99 puts the EAH-AZ80 in direct competition with high-end models from Bose, Apple, Sony, and others. For music lovers, the Technics are the way to go.


[Image credit: Techlicious]
Josh Kirschner is the co-founder of Techlicious and has been covering consumer tech for more than a decade. Josh started his first company while still in college, a consumer electronics retailer focused on students. His writing has been featured in Today.com, NBC News and Time.
Discussion