Review of the Anker Eufy HomeVac S11 Infinity Stick Vac
Techlicious editors independently review products. To help support our mission, we may earn affiliate commissions from links contained on this page.
When it comes to stick vacs, you get what you pay for. And for $199.99 on Amazon (on sale from $299.99), you get an entry-level stick vac in the Anker Eufy HomeVac S11 Infinity.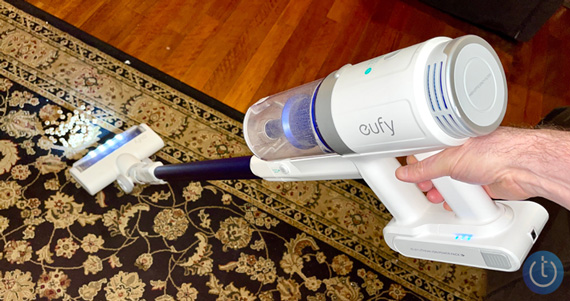 Over the last year, I've been testing more than half a dozen stick vacs — Anker Eufy HomeVac S11 Infinity ($299), Dyson V15 Detect ($699), LG CordZero A9 Ultimate ($599), Miele TriFlex HX1 ($499), Proscenic P10 Pro ($199), Raycop Omni Air ($299), Roborock H7 ($499), Tineco Pure One S12 ($499). As with all cheaper stick vacs, you don't get the suction power of the higher-end stick vacs such as the Dyson V15 Detect (read my review) and Miele Triflex HX1 (read my review). In fact, the Eufy HomeVac S11 delivers lower than average suction and run time. Plus, larger items tend to not get stuck in the tube and redeposited on the floor when you turn off the vac. The S11 does have a front LED light and a second swappable battery, both of which are often not found at the sub-$300 price point, however they are not enough for me to recommend it. Here's why.
Setting up the Eufy HomeVac S11
Inside the box of the Eufy HomeVac S11, you'll find a second battery, a floor brush, a 2-in-1 combination, a long crevice tool, a soft roller brush and a wall mount dock. The dock can hold three attachments once you manually add a pair of clip-on wings.
Using the Eufy HomeVac S11
The Eufy HomeVac S11 is among the lighter stick vacs I've used at about 5.5 pounds and it has a front LED that lights up the floor to illuminate what needs to be cleaned. However, you have to hold the S11's trigger for as long as you are vacuuming, which can be tiring for longer vacuuming sessions.
You get three cleaning modes: "max" (8 minutes of battery life), the default "mid" (25 minutes), and "low" (40 minutes). Given these relatively shorter-than-average battery times, you could spend the entire eight-minute "max" power life to effectively clean half a 20 x 12 carpeted room, which is why the second included battery is essential. Unfortunately, you can only charge the batteries one at a time; additional batteries are $79.99, and come with a separate chargers.
The Eufy lacks a status LCD display; when you cycle through the cleaning modes you have to listen for the sound change to know which mode you're in, and you'll have to count the number of consecutive blinking lights to discern remaining battery life or any vac hardware problems, such as over-heating or motor fault.
You'll need the max suction setting for most major vacuuming. While dust and hair were easily sucked up, the S11 had problem with larger particles. In its default "mid" suction mode, it took me multiple passes to suck up sand and paper shreds than other pricier vacs. The S11 simply spit many spilt Cheerios across the room instead picking them up.
Once vacuumed, larger particles often didn't get sucked up all the way into the S11's large 650 milliliter dust bin, so when I release its trigger, some particles trickled out back onto the floor. I had to remember to keep my finger on the trigger for a few seconds after completing my vacuuming to make sure everything is safely sucked up inside. I also was left with flotsam and jetsam that didn't get sucked inside on the top of the roller head that fell back onto my rug. If you aren't sure everything you vacuum made it up the tube and into its dustbin, you'll leave a trail of pieces behind you as you carry it to the trash can for emptying.
Once at trash can, I snapped off the roller head, and the rest of the paper exploded out of the open tube, ditto when I popped off the primary connecting tube. The roller was easily removed to cut off any hair with a pair of scissors.
The bottom line
Pros
Cons
Inexpensive
Lightweight
Second swappable battery included
Front LED light
Below average suction
No LCD status display
Below average vacuuming time
I wouldn't recommend the Eufy HomeVac S11 as your primary floor cleaning tool. Considering its short maximum run life and below-average suction power, the S11 is best considered as a second room stick vac, something to keep in a bedroom, home office, or kitchen, for instance, for simple, quick clean ups. I'd recommend spending a bit more and investing in a stick vac that can be used as a primary vacuum cleaner, like our top pick, the entry-level Miele Triflex HX1 (currently on sale on Amazon for $479.99).


[Image credit: Stewart Wolpin/Techlicious]
Stewart Wolpin has been writing about consumer electronics for more than 35 years, including news, reviews, analysis and history, and has attended and covered nearly 50 Consumer Electronic Shows and around a dozen IFA shows in Berlin. For the Consumer Technology Association (CTA), he is an elector for and writes the official biographies of the annual CTA Hall of Fame inductees and is the keeper of the industry's official history.
Discussion