We may earn commissions when you buy from links on our site. Why you can trust us.

Best Android Phone Under $50 (AT&T)
The Pantech Discover wins our award for Best Android Smartphone with a sharp display, fast performance and long battery life.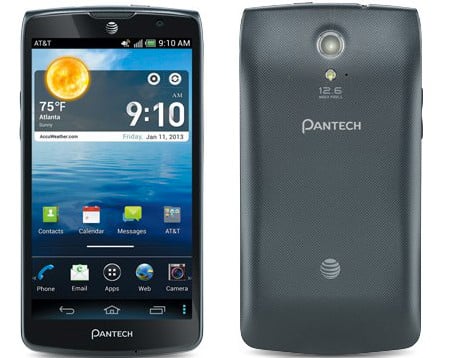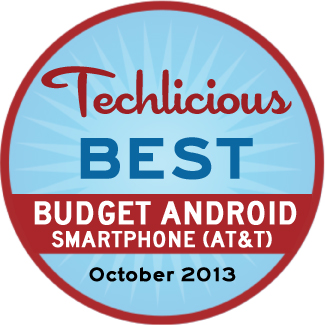 Flagship Android phones like the Galaxy S4 and the Moto X get most of the attention from consumers and reviewers like myself, but high-end smartphones aren't the only worthy models in existence. Shoppers on a budget don't have to settle for a low-value, cheaply made phone.
Of the hundreds of smartphones I've reviewed, very few that come in at $50 or less have impressed me. The Pantech Discover is one that did. Available on AT&T, this phone has all of the qualities you should look for even when shopping for a more expensive smartphone: large, bright display, speedy performance, long battery life and great audio. That's why it's my pick for best budget Android phone for AT&T.
The best for less
The Discover's long list of good qualities starts with its overall design. The back's contours look as great as they feel. Between the curves and the texture, the Discover sits comfortably in your palm without slipping.
The speakers are immediately noticeable and represent the best part of the Discover's design. Not only do they they look cool, but they actually sound good. Audio quality on small devices is never the best, but aside from the HTC One, the Discover produces some of the best sound I've heard on a smartphone. The speaker placement means sound won't get muffled if you place the phone on a table or your leg while taking speakerphone calls or listening to music.
The Discover's 4.8-inch display is bright with popping colors and decent viewing angles. The 1280 x 720 resolution means that text is crisp even at small sizes and you can use this phone to watch HD content. Though the display is on the bigger side, the phone itself doesn't feel overly large or awkward.
The hardware driving the Discover meets specs similar to last year's phones, just a bit more powerful. The dual-core processor and 1GB of RAM are fast enough for almost any app in the Google Play store with the exception of high-end games. With 16GB of internal storage plus a slot for a microSD card, there is plenty of room for apps plus media.
The Discover is LTE-capable and falls back on HSPA+ 4G when not in LTE range. Also on board: a/b/g/n Wi-Fi, Bluetooth 4.0, NFC, GPS and mobile hotspot capabilities. You won't have to worry about battery life, as this phone will last up to 15 hours — longer with power-saving tweaks.
More megapixels don't always mean a better camera. The 12.6 megapixels on the Discover may seem impressive when compared to the Samsung Galaxy S III's 8 megapixels, but the picture quality is actually about the same. Images are good enough for sharing online, though not crisp enough for printing.
The biggest drawback to the Discover is that it runs Android 4.1 Jelly Bean, which is now two versions behind the current release. Even if it doesn't get any further updates, you still get a full feature set. Pantech added a skin/user interface over Android that makes the phone easier to use if you're unfamiliar with Android or aren't very tech-savvy.
Solid reviews for the Discover
Despite the Discover's being the kind of budget phone they try to steer consumers away from, many reviewers quite like this phone. Alex Colon of PCMag had praise for the design, saying "You'd never guess this is an inexpensive phone by looking at it." He concluded by saying the Discover is "truly comparable with much more expensive smartphones."
Engadget's Brad Molen agrees that the phone is very comfortable and likes that it "bucks the trend of the stereotypical slab, making it a visually arresting device to behold." He reports that while the Discover's display isn't as bright as the display on the One X, it bests the Galaxy S III. "We also like the decent viewing angles and natural-looking colors," he adds. Most reviews note that the rear camera isn't the best; Molen points out that the feature is "the weakest link in every Pantech phone we've ever reviewed."
While Android Central's Andrew Martonik isn't a fan of the display, he does say that the raw hardware quality "beats your average mid-range phone, and even blows the Galaxy S3 out of the water ... You're getting a good bang for your buck." Jessica Dolcourt at CNet agrees: "If you're looking at high value for a good deal, you'd be silly to pass up the Discover.
AT&T Android alternatives
There aren't many Android phones available on AT&T for $50 or less on contract. The top contender is the LG Optimus G, now at $50 as well. This phone doesn't wow with looks, instead impressing with speed, performance, a beautiful, high-quality display and a good user experience. The 4.7-inch screen isn't so big it makes the phone feel like a tablet, and overall the device is light and comfortable to hold.
You'll get good pictures from the Optimus G's 8-megapixel camera and the robust app that goes with it. Put that together with long battery life and you have an impressive phone for not much money.
The reason the Optimus G isn't my top choice is that it's an older model. This is last year's phone, whereas the Discover takes advantage of the lower cost of recent hardware.
The HTC One VX is also attractive, running just $1 with contract. It's beautifully made with a bright display that's a bit smaller (4.5 inches) for those who prefer a smaller phone. And it boasts long battery life. Unfortunately, the battery is sealed in, so you can't change it yourself, and phone batteries often stop being able to hold as much of a charge over time. The HTC One VX's overall performance isn't as speedy or robust as the Discover's.
High-end performance, budget price
The Pantech Discover doesn't feel, look, or act like a budget phone, even though it only costs $50 on contract with AT&T. In fact, its great speakers and audio quality put it ahead of several more expensive phones in the multimedia department. If you're looking for a budget Android phone through AT&T, this is the best choice.
Pantech Discover


---
Discussion