Best Android Phone Under $50 (Sprint)
Techlicious editors independently review products. To help support our mission, we may earn affiliate commissions from links contained on this page.
The LG Optimus G wins our award for Best Android Smartphone from Sprint with a rich display, impressive speed and loads of extra features.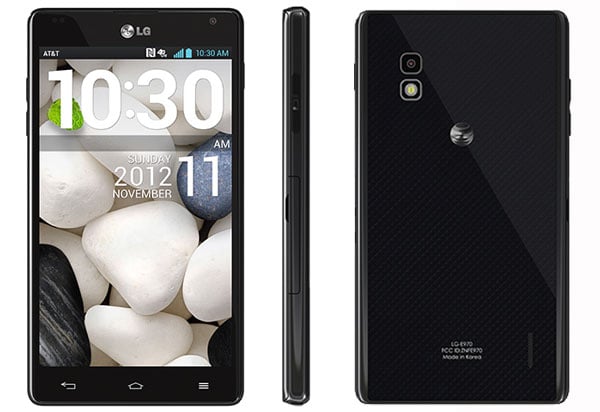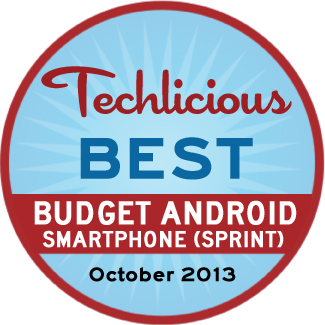 LG has been making Android phones as long as most of the other big players, yet only recently has the company introduced one that didn't elicit more than a "meh" from reviewers and consumers alike. After dozens of underwhelming LG smartphones, the Optimus G is a refreshing surprise.
This phone might not wow you with looks, but it will impress with speed, performance, a beautiful, quality display, and a good user experience. Released last year, the Optimus G is now available for free on Sprint with a two-year contract. I had no trouble recommending it at the full price back in January — and for nothing down, it's a great deal.
Best on a budget
A blocky, angular design makes the Optimus G look less holdable than it actually is. The edges have a comfortable, rounded curve to them, so the phone doesn't feel like a slab in your hand. It helps that LG minimized the bezel around the 4.7-inch screen so the phone doesn't come off like a phablet. Overall, the device is light and comfortable to hold.
The display's 1280 x 768 resolution means text is crisp even when fonts are small, and HD videos look great. It's bright with wide viewing angles, so you'll get the same experience no matter how you hold the phone.
The 13-megapixel camera takes good outdoor shots but struggles indoors and in low or mixed light. The camera app contains a wealth of settings and functions to help make pictures even better, especially if you know what you're doing.
The Optimus G is filled with tweaks to the stock apps that come with all Android phones. Like Samsung and HTC, LG created a skin/user interface that sits on top of Android 4.1 Jelly Bean and adds extra features. LG's skin is a little overloaded, as if the company went with a kitchen sink approach to features. Some of the additions make Android easier to use, while others just get in the way.
Though this is a year-old phone, the Optimus G's performance remains good enough to carry most users through a two-year contract. A quad-core processor and 2GB of RAM run the show. That means the phone is more than fast enough to handle basic Android apps and makes a good platform for high-end games. You'll have plenty of room for them with 32GB of internal storage.
The Optimus G is 4G LTE-capable. Sprint's LTE coverage isn't as widespread as the other major nationwide carriers. If you don't live in an LTE area, the phone falls back on 3G. Other wireless connections: b/g/n Wi-Fi, Bluetooth 4.0, GPS, NFC and mobile hotspot capabilities. The battery can last all day with medium to heavy usage without any power-saving tweaks.
Solid reviews for the Optimus G
The Optimus G garnered a ton of praise when it first launched. PCMag's Alex Colon called it a "beautiful, powerful phone" with a great display that makes it "a good device for media playback." He dinged the phone for some overheating issues and lack of a microSD slot.
Myriam Joire of Engadget didn't dig the aesthetics, but did say that the Optimus G's build quality is "superb — it's like holding on to a solid block of technology." CNet noted that the Optimus G is "pleasant-looking and functional" but won't be caught "pushing boundaries, defining your personality, or wowing you with standout machining."
Joire also loved the "top-notch" display, calling it "bright and crisp, with deep blacks and rich colors." "This beautiful screen did not disappoint," noted CNet, "giving bright and crisp edges and vivid, appealing color."
Looks aside, "under the hood is where the Optimus G really shines," Joire says. "[It's] a performance beast."
Overall opinions are mixed on the user interface. CNet felt that LG did a good job injecting functionality "without imposing too much of its own personality," but "it's not as sleek and elegant as Google's vision of the OS." Engadget says the UI is "intuitive, customizable and offers a full range of settings."
The Optimus G's 13-megapixel camera is better overall than the 8-megapixel camera on the AT&T version of the phone. Both Engadget and CNet agree that low-light performance is "generally excellent."
User reviews for the Optimus G on GDGT.com are very high, with most owners citing the display and performance as highs and the camera and battery life so-so.
Android alternatives at Sprint
At $50 or less, the Optimus G's biggest competitor for your affection is another year-old phone: the one-cent Samsung Galaxy S III. This phone's 4.8-inch display is beautiful, and the size offers a nice balance between a big screen and one-hand usability. The dual-core performance is speedy enough for most non-game apps, but it's just not as powerful or future-proof as the Optimus G.
Samsung's additions to Android's features make the operating system easier to use and feel more well thought-out than LG's. Its 8-megapixel camera isn't quite as good as the Optimus G's camera. A small but important advantage on the S III's side: This is such a popular phone that you won't have trouble finding accessories and cases for it.
If you're shopping for an inexpensive phone for a tween or teen, consider the $100 on contract Kyocera Torque. While not as inexpensive as the Optimus G, it's a good choice for young ones who aren't always careful with electronic devices. Parents can avoid the pain and tears of cracked screens or waterlogged ports with this rugged phone, which can withstand impact, water submersion and dust like a pro. In fact, Kyocera brags that the Torque is tough enough for outdoor adventurers, too. It doesn't have the fanciest display, nor is it super fast. It does offer great call quality and battery life.
Good then, even better now
I was a fan of the LG Optimus G when it cost $200 on contract. Now that it's free, it's a much better deal. The performance is good enough that it will still run power-hungry apps well two years down the line. That's why it's my pick for best budget Android phone for Sprint.
LG Optimus G


Discussion