Review of the LG G3
Techlicious editors independently review products. To help support our mission, we may earn affiliate commissions from links contained on this page.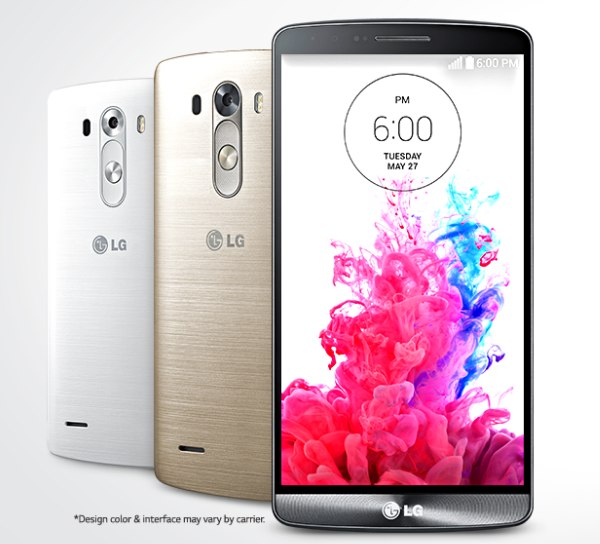 It wasn't that long ago that LG's Android phones were considered to be less than desirable devices. But in the past few years the company has improved its image by releasing one great phone after another, each one building on the lessons learned from the last.
What did LG learn from last year's G2 model that informed the creation of the new G3? The biggest one: Simplicity. LG took a long, hard look at the user interface, or skin, they designed for Android and overhauled the look and the functionality. And on the outside, it's even slimmer and more comfortable to hold. Plus, the LG G3 is just downright good-looking.
There are a few missteps, though, such as LG's insistence on putting the power and volume buttons on the back of the device. This choice, while innovative, doesn't always work out. At least LG is going for something unique.
Overall, the LG G3 is an attractive phone that performs well, takes good pictures, feels good in the hand, and is easy to use, even if you're new to Android. It's definitely competition for the Samsung Galaxy S5 and the HTC One M8.
Note: our review unit was the Korean version of the LG G3, which differs slightly from the US models. When the American versions are available for testing we'll update this review.
How it feels in the hand
The LG G3's 5.5 inch display is larger than other smartphones in its class: the Samsung Galaxy S5's is 5.1, the HTC One M8's is 5.0. In overall size the G3 isn't too much larger than either of those phones thanks to a very thin bezel on the left and right sides. It's even a few millimeters smaller than the Galaxy Note 2, which has the same size display.
It's still a phone not easily used one-handed, especially if your hands are small. The faux metal back, while attractive, is slippery and doesn't inspire confidence that the phone won't slip away while trying to hold and use it with the same hand.
The back curves just enough to make the G3 comfortable to hold; the edges don't bite into the palm. This phone is as nice to hold as it is to look at.
It's biggest drawback is that the power and volume buttons are on the back. This has become LG's signature design, but it doesn't work on all phones. Holding it is awkward with the index finger resting on the power button. It's not as natural or even as comfortable as on the larger LG G Flex.
Display and sound
What's more impressive than LG fitting a 5.5-inch screen into a phone that feels relatively slim? The number of pixels packed in the display. You might not really need a 2560 x 1440 resolution (538 ppi) on a smartphone, but we admit the effect is quite striking. Everything is crisp and colors are beautiful--they pop without looking over saturated or false. Viewing angles aren't as wide as we'd like; you'll notice a little color distortion when playing tilting games like Temple Run 2 or when the phone is sitting on a desk a few inches away.
The high pixel density makes HD content look really good. There just isn't much content out there made for this resolution on this size screen. The high resolution means a few apps in the Google Play store aren't compatible with the phone right now. This may get resolved soon given that other phone makers are bound to follow suit and add QHD displays to their flagship devices.
The tiny speaker slit on the back pumps more volume than we expected given the size. It doesn't come close to the quality of the HTC One M8, of course. Even with headphones in the audio quality is lackluster. Call quality and speakerphone on the G3 are good despite this.
Performance and battery life
Even with such a high resolution display, the quad-core processor inside kept things smooth and fast during our testing. Whether playing graphics-intense games or swiping between screens or loading websites, the G3 never stuttered.
Unfortunately the screen does take a bit of a toll in one area: battery life. However, that doesn't mean you'll be left hanging. You'll easily be able to get a full day of use. The G3 barely lasted a whole day with heavy usage and only made it 12 hours with conservative use. The Korean model is not tweaked to work specifically with an American carrier's network. We've found with other overseas phones that battery life improved once we tested the models sold by US carriers.
Front and rear cameras
The G3's 13MP camera boasts laser-assisted autofocus and a simple, yet powerful app. Autofocus is pretty fast as long as the subject is fairly close. And the shutter is speedy, too. In a reversal on previous LG camera apps, the G3's is pretty barebones. There are now only four modes including Auto and no way for serious shutterbugs to dig deep into manual settings. That's fine since most people aren't trying to take professional level photographs with a smartphone.
The picture quality is pretty good, about on par with the Galaxy S5. Most of the images lack deep contrast and in less than ideal lighting I had trouble getting a crisp picture out of the G3, even with the magic focus option turned on. But out in sunlight even faraway details are discernible.
The rear camera is capable of recording 4K video, which will please those with 4K TVs to watch it on. This is more of a future-proofing feature, though. Most will be fine sticking with the 1080p and 720p options.
The front-facing camera, simply called Selfie, is a 2.1MP affair with larger megapixels meant to take in more light. The result is that selfie pics lack definition and can look as if someone applied an artistic Photoshop filter. Though the lens is fairly wide-angle, don't count on getting a crisp shot of things far away in the background.
Android, navigation, and keyboard
LG's UI skin over Android 4.4 Kit Kat now has a simple, flat style and doesn't aggressively change Android's feel or functionality. The result is a very clean looking UI that still has some useful elements that stock Android lacks (toggles for wireless radios in the Notification shade, for instance) and a distinctly LG personality.
LG has simplified or eliminated many of the features and apps found on previous phones, such as the G2, to good effect. Among the welcome additions are Smart Tips--novice friendly explanations of key features--and Smart Notice--predictive recommendations and reminders based on how you use your phone. We also like the new LG Health. Like Samsung's S Health, it tracks activity and exercise and provides an overview by day, week, or month. With this, you don't need an extra fitness tracking device to count steps.
We usually replace whatever keyboard is pre-loaded on Android phones with Swiftkey or another favorite app, but the G3's keyboard is actually worth using. The predictive text is on point and quickly learns your common words and phrases. There are a ton of options in the settings for personalizing the keyboard, including changing the size and adding a number row to take advantage of the extra screen space a 5.5-inch display offers. You can also customize the arrangement of the bottom row of keys. This is one of the best pre-loaded keyboards we've seen on any Android phone.
Storage
The back of the LG G3 comes off so you can get at the battery, SIM, and microSD card slots. In Korea the base G3 has 16GB of internal storage and 2GB of RAM. However, the base US version has 32GB of internal storage and 2GB of RAM (on T-Mobile). The SD slot takes cards up to 128GB.
Price and availability
AT&T customers can buy the G3 for $199.99 with a new 2-year contract or for $579.99. Sprint customers can get the G3 for $0 down and $25 per month for 2 years or $99.99 with a new 2-year contract. T-Mobile customers can buy it at the full, non-subsidized price of $598.80 or for $0 down and $24.95 per month for 24 months. And Verizon customers can get the G3 for $199.99 with a new 2-year contract, pay $29.99 per month for 20 months or pay $599.99.
Should you (eventually) buy it?
Fans of big screen phones should be all over the LG G3. LG managed to fit a large, high-res display in a compact and comfortable body. If you're a two-handed smartphone user, the size shouldn't be a problem for you. Those who need something that works well in one hand should skip this one.
The G3 makes a good phone for first-time Android owners since the user interface is geared toward simplicity and guidance. Speedy performance, decent cameras, and a killer display are all big points in this phone's favor.
The battery life is a little shorter compared to other phones, but not other phones of this size. and we don't know if the US models will have this problem or not. If we find that the American model lasts longer on a charge then that removes one of the phone's biggest flaws.
As to the awkward placement of the power and volume buttons on the back there are a few things that mitigate that. Such as the ability to turn the phone on and off by knocking on the screen. Still, it will take getting used to and time for your hand to adjust. If the LG G3's other pros are important to you, then this con is a minor one.
Verdict: Recommended
Updated with battery life information based on U.S. handset.
Discussion