Review of the HTC One (Sprint)
Techlicious editors independently review products. To help support our mission, we may earn affiliate commissions from links contained on this page.
HTC One review summary
With its simple moniker and beautiful design, the HTC One is a stylish and capable phone that's worthy of consideration. HTC goes far to make the phone more about what you want to do, with little customizations that make the phone easier to use. Unless, that is, you're already very used to the Android experience; then, you'll need to relearn a few things. Ultimately, though, HTC achieves its goal: An experience that's distinguished from competing Android phones, and one that's attractive and intuitive in its own right.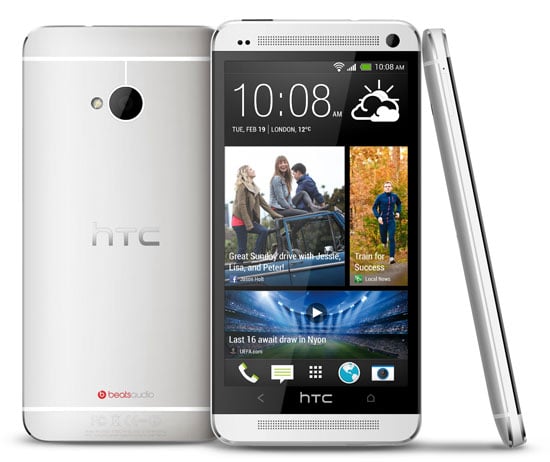 How it feels in the hand
The HTC One represents some of the best, most solid design available on a phone today. The phone's back has a smooth, matte aluminum finish, with stylish accents and beveled edges along its gently curved sides. Even the way Corning Gorilla Glass tapers around the edge of the display gives this phone a more high-end feel than other phones, with their plastic or polycarbonate back covers.

I wasn't a fan of the power/sleep button, located along the top edge at left. That button is too flat and its location is a bit awkward for my (admittedly) small hand to reach comfortably while holding the phone one-handed. I much prefer the location of the Apple iPhone 5's power button, which is towards the top on the right edge.
The volume rocker is also flat, practically flush with the phone's edges, just like the power button. But I like how the volume rocker has a stylish pattern cut design, which means you can more easily locate the buttons by feel.
Display & sound
The 4.7-inch, display looks lovely. The 1920 by 1080 pixel display packs 468 pixels per inch, which tops the iPhone 5's 326 ppi and the Samsung Galaxy S4's 441 ppi (the GS4 has the same resolution as the HTC One, but uses a larger, 5-inch display). The display is also optically laminated, which provides greater clarity and contrast. I found text to be sharp and images bright, with accurate colors. On a tricky test photo, whites looked bright, skin tones natural and a purple outfit was rendered as purple, without the blue cast many other phones lean towards.
The only thing on the phone that impressed even more than the display was the audio output. HTC has true stereo speakers, with one speaker running along the top of the display and the other along the bottom. On some test tracks, the audio output sounded terrific, with more nuance and detail than I've heard on other phones. The credit for the great audio is split between the front-firing dual speakers, and the inclusion of Beats Audio. By firing towards the front, the audio hits you full-on, unlike on other phones where the speaker ports out the back--not a good plan if you have the phone resting on a table–or out the bottom of the phone (as on Apple's iPhone).
I did notice that call quality was mixed. The people I called with the HTC One reported clear sound, but on my end, the sound was slightly muffled. Not so much so that I couldn't understand them, but enough so that it merits being mentioned. The speakerphone, on the other hand, was clear.
Web browsing & network
The HTC One I tested supports Sprint's 4G LTE networks, but it my San Francisco neighborhood, LTE is not available. Network speed was as expected for Sprint's network, and my expectation is that speeds for LTE would be within the normal range. HTC also offers an LTE version of the phone through AT&T and T-Mobile.
The phone has Bluetooth 4.0, NFC and Wi-Fi 802.11 a/ac/b/g/n to support a variety of wireless connections. And if you don't want to use wireless to connect to your HDTV, there's also the Micro-USB port, which handles HDMI via an MHL (mobile high-definition video link) cable.
Camera & video recording
HTC dubs its camera as "UltraPixel," even though its actual spec is just 4.1 megapixels. If you're comparing specs to say the Samsung Galaxy S 4 with its 13 megapixel camera, you may take pause at that 4.1 megapixels. HTC stated rationale is its desire to focus on light capture ability (which is better using larger, albeit fewer, pixels on the sensor) over maximum resolution. The drawbacks are that you can't crop your photos as tightly and you might see some artifacts if you enlarge to 100 percent, but otherwise you'll be fine.
The images we captured were crisp with true colors in daylight, though with a little noise; and the camera handled well in low light. Low light photos benefit from optical image stabilization, a maximum aperture of f/2.0, and a maximum ISO setting of 1600. I also liked how quickly the camera focused and readjusted exposure as I moved between different lighting environments. Likewise, video quality was good, with quick exposure adjustments and good low-light capabilities.
Niftier still were all of the built-in photo features. Of particular note is a new feature called Zoe, which captures up to 20 full resolution photos and HD video together, so you can pick your favorite images, and not have to decide between doing video or stills. HTC supplies HTC Share, for sharing Zoe images and photos (albeit lower-resolution versions of those photos) via a web link that's available for up to 180 days. You can even create a collection of images, videos and add GPS location information, then share the link via social media.
Keyboard & navigation
The HTC One has Android 4.1.2 Jelly Bean loaded, along with HTC's latest version of its Sense interface, Sense 5.0. The phone's 1.7-GHz quad-core Qualcomm Snapdragon 600 processor handily sped through my array of tasks, including opening high-resolution images, watching high-definition video and playing graphics-intensive games.
It's worth noting that the phone reviewed here was still considered a pre-production phone, though l encountered little to suggest that was case beyond some visual glitches and benchmark numbers that were a smidge slower than I'd expected. Still, the phone impressed when viewing benchmark graphics (from Futuremark's 3DMark and GL Benchmark 2.7); graphics appeared more smooth than on, say a Samsung Galaxy Note II, when viewed side-by-side.
Sadly, the HTC keyboard could stand some improvement. I liked the big pop-over letters when I pressed a key, but it felt a bit cramped, somehow, despite being on a 4.7-inch display. Also, the keyboard still lacks such expected conveniences as placing a space after a word when you select it from the suggestion list, as was noted as an issue in our HTC Droid DNA review.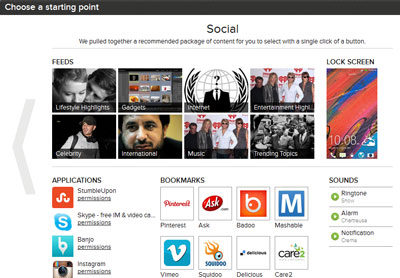 BlinkFeed is HTC's latest customization within its Sense 5.0 interface. The BlinkFeed interface becomes your default homescreen, and has tiles, replete with continually updating news feeds and social media, chosen from among 11 categories and 15 sites of your choice. During the Web setup, you can even choose from 20 apps per category to jumpstart your phone—a handy way to download multiple apps in one swoop.
Speaking of which, the HTC One's new web-assisted setup should appeal to consumers who are getting ramped up on their first smartphone. From the convenience of your computer, you can set up BlinkFeed preferences, and pick apps, ringtones, and wallpaper—all from the convenience of a computer screen—before sending them to the phone.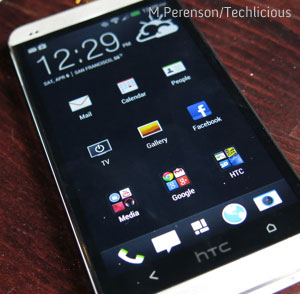 If you're already an Android user, though, some of HTC's new interface tweaks may take some time to get used. For example, the HTC One lacks a dedicated button for accessing the most recently accessed apps. I also found myself continually tapping the HTC logo thinking that was a home or menu button (it wasn't).
Also new to the interface is the swipe-left concept, as seen in the BlackBerry Z10 introduced earlier this year. For example, in the phone app, you now swipe left to get to call history, and swipe to the right to scroll through contacts, and more. And the app tray, as HTC calls its version of an app menu, is new, with the ability to add folders and to order apps however you wish. Icons and text look clean, and are larger than on comparably sized phones. You can even put a folder of apps onto the lock screen, a nifty and unique convenience.
Storage
As with other HTC phones, the HTC One has no MicroSD card slot. Instead, you're stuck with the space you buy. The Sprint version I tested has 32GB of storage (of which about 23GB is available for use). AT&T will get the exclusive on a 64GB version, but that will cost $100 more. If you plan to max out your phone's media capabilities, you'll likely miss the flexibility offered by a MicroSD card.
Battery life
Sprint says the 2300 mAh battery on the HTC One should last about 19 hours of talk time. I found the battery life to be on par with other leading devices under normal mixed usage, getting through a full day without recharging.
Pricing and availability
The HTC One is available on April 19th from Sprint, for $199.99 with a two-year customer agreement (or $99.99 for new Sprint customers), and is available for pre-order now. AT&T will sell the HTC One for the same price for the 32GB model, and $299.99 for the 64GB model. T-Mobile's new no-contract plans translate into a $99 down payment, with an additional 24 payments of $20, for a total price of $579.
UPDATE 4/28/13: Discount pricing for the HTC One is now available from online sellers. Amazon is offering the AT&T 32GB version for $149.99 and the 32GB Sprint version for $99.99;
Should you buy it?
The HTC One is a well-designed phone with a broad appeal, and it ranks among the best Android phones you can buy today. It will certainly face a challenge from the upcoming Samsung Galaxy S4—also coming out this month, and with a larger, 5.0-inch display—but the HTC One's swanky design, terrific display and full-sounding audio should keep it high on your list of models to consider. Those new to an Android smartphone may appreciate the HTC One's simplified Sense interface, and its guided PC-based setup, two features that distinguish the HTC experience from other Android phones. On the other hand, those same features may frustrate Android power users used to a pure Google experience, or even the Samsung variant of Android. The one concern I had was with its muffled call quality, something that was noticeable as compared to competing phones.
If the HTC One matches your budget, it's a great choice, particularly for those new to smartphones. But if you're looking for a large display, the upcoming Galaxy S4 will deliver that, and do so in the same footprint—and at a higher price for the same storage capacity as the HTC One.
Rating: Highly Recommended
Detailed Specs
Band/Modes: CDMA, LTE 700/850/AWS/1900 MHz (AT&T), 1700/AWS/1900MHz (T-Mobile), 1900MHz (Sprint) , GSM/GPRS/EDGE 850MHz, 900MHz, 1800MHz, 1900MHz
OS: Android 4.1.2 Jellybean
Weight: 5.04 oz
Dimensions: 5.41 x 2.69 x 0.37 inches
Battery: 2300 mAh
Display: 4.7" 1080p Super LCD3 (1920 x 1080), 468 ppi
Video: 1080p
Camera: Rear-facing 4.0 megapixel, f/2.0 lens, Auto Focus, LED flash, HDR, optical image stabilization
Front-facing Camera: 2.1 megapixel
Mobile hotspot: Yes
Processor: 1.7GHz Quad Core Qualcomm Snapdragon 600
Memory: 2GB RAM, 32GB onboard storage
Discussion