Review of the Samsung Galaxy Camera
Techlicious editors independently review products. To help support our mission, we may earn affiliate commissions from links contained on this page.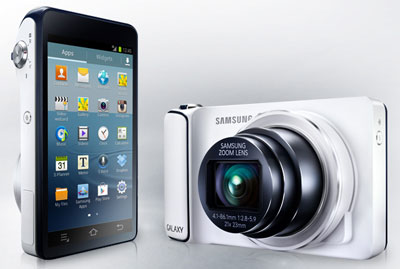 In the past three years, the quality of smartphone cameras has gone up exponentially thanks to better sensors, lenses and apps. People love taking pictures on their phones not only because it's convenient, but because they can edit or add filters then share photos instantly without connecting to a computer. For many, owning a smartphone means no longer needing a separate camera for everyday use or even vacations.

As good as phone cameras are, they still can't match the quality of high-end point-and-shoots with bigger lenses and sensors. This category of cameras has also undergone some improvements recently with the rise of models bearing Wi-Fi connectivity, offering some of the functionality found in smartphones, though limited and without the ease and versatility. Samsung, a leader in connected camera offerings, aims to solve this problem with the Galaxy Camera.
The $499 Galaxy Camera melds a high-end smartphone with a high-end point-and-shoot to make one pretty slick device. You get the Android operating system, Wi-Fi and even optional AT&T mobile data. However, convergence devices don't always work out. Combining two devices into one sometimes results in a product that can't do either thing well. At this price, the Galaxy Camera can't afford to be mediocre.
Is it a good camera? Is it a good mini-tablet? In this review I'll explore both parts.
Camera
Physical controls
The Galaxy looks like your average point-and-shoot from the front, but turn it around and the first big difference becomes apparent. Instead of having a small 3-inch or so LCD, the entire back is taken up by a 4.8-inch screen. This is the same size display as the Galaxy S III. There are no physical controls except for the shutter button/zoom slider and the pop-up flash button on the side. Everything else is accessible via the screen.
This will throw many users, but Samsung designed the default camera app to make controls easy to access and use, so the learning curve should be short.
Taking pictures
The camera app is simple but not basic. Icons on the right side of the screen make it easy to switch from Auto mode to a pre-set scene (Night, Fireworks, Panorama, etc.). Photographers with more know-how can switch to advanced controls: Program, Aperture, Shutter Speed and Manual.
The Galaxy Camera sports a large, 16MP sensor and a 23mm–483mm zoom lens capable of 21x optical zoom. With a steady hand, zoomed images and videos remain crisp and detailed.
In Auto mode, the camera adjusts to different shooting conditions quickly. In good light, I rarely had to fiddle with settings to get a nice shot. Colors balanced automatically in most situations, though I did wish for more control over white balance.
The two-step shutter button focused quickly, as did double tapping the display. Tapping offers an extra benefit in that you can change the focus from the center of the frame. If you don't want to use the shutter button (I found it awkward in portrait mode) there's an icon on screen that's easily reachable with a thumb.
Most pictures taken in Auto came out crisp and colorful. However, the shutter speed here isn't the fastest. Since the Galaxy is light and my hand none too steady, this resulted in pictures that aren't as crisp as I like. Good thing it's possible to adjust shutter speed and other settings.
Scene modes also benefit photographers who want more control but aren't quite ready to graduate from Auto. The Night mode impressed me particularly, as I was able to capture light-filled images even in unevenly-lit areas, such as a public park. I rarely used the pop-up flash. Sometimes bright light sources overwhelmed the sensor, resulting in glowing blobs instead of distinct lights. Again, with more fine control it's possible to eliminate this problem.
Overall, the Galaxy Camera's pictures are about on par with cameras that have similar specs, such as the Samsung WB850, but costs around the same as high-quality mirrorless compact cameras like the Sony NEX line or the Samsung NX1000. This would be a problem if the Galaxy Camera was merely a souped-up point-and-shoot. However, it's much more than that.
Taking videos
HD video recording is also available with options for 720p or 1080p at 30 fps plus slow motion capture at 120 fps (standard definition only). Videos came out really well, even when I used the zoom function. The image stabilization is good – the videos below would be much shakier without it – and the microphone picked up and balanced the audio around me better than I anticipated.
Android Phone
Now we come to the other aspect: Android. The Galaxy isn't the first camera to run on the Android operating system, but the implementation here is much better than past efforts. Instead of shoehorning Android into a camera's operations, the operating system works pretty much the way it does on a smartphone.
Samsung made a few tweaks due to the camera-first purpose of the device. It boots into the camera app instead of starting on the Home screen. And the default camera app icon is a permanent fixture on all Home screens, sitting on the lower left.
Otherwise, this is Android as you expect it, complete with the Play Store. You get access to any compatible app, including your favorite camera apps. Instagram comes pre-loaded, but there are plenty more to choose from. Plus social networks, cloud file services and even chat and VoIP. The quad-core processor inside can handle pretty much anything.
Because it's a Samsung device, it has the user interface layer TouchWiz over the underlying Android 4.1 Jelly Bean OS. The company also packed in the photo sharing and enhancing services they first debuted on the Galaxy S line of devices. These allow owners to share photos instantly with a select group of friends, choose the best shot out of many (or the best face in a group shot), and even capture a picture with voice commands. There are decent, if simple, photo and video editing apps pre-loaded as well.
Web browsing and network
Obviously, Android is nothing without connectivity. Like many of Samsung's recent cameras, the Galaxy is Wi-Fi capable, meaning it can connect to wireless routers or to other wireless devices via Wi-Fi Direct. Other protocols include Bluetooth and AllShare.
And then there's the 4G.
Yes, the Galaxy Camera has a SIM card slot and, in the U. S., works on AT&T's 4G network, thus accounting for a big chunk of the $499 asking price. The camera is sold unsubsidized, meaning you aren't locked into a 2-year contract with AT&T or even under any obligation to buy and activate the 4G service (just as it is with the iPad). Either way, you're still paying for the 4G radio inside.
There are benefits to having readily-accessible data on a camera. You can upload and share pictures almost wherever you are, regardless of the availability of a Wi-Fi router. Just like a smartphone, you can get email, map data and other information at any time.
The drawbacks are significant, though. AT&T's data plans are limited to just three tiers: $14.99/month for 250MB (easily exceeded if you take a lot of pictures). $30 for 3GB, and $50/month for 5GB. This is on top of whatever you're paying for your phone since the Galaxy Camera isn't yet eligible for the shared plans. Also, AT&T's "4G" is actually HSPA, which is just above 3G speeds, and not by much—Wi-Fi is faster. You don't get access to the lightning fast 4G LTE network.
Mobile data also impacts battery life, just as it does on a phone. I found that the camera could last several days with light usage, partly because it has a deeper sleep mode than phones. After a certain time on idle it will hibernate to conserve battery. But when on, the more I used the 4G the faster the battery drained.
There are some times when having mobile data is useful, but in most situations it's better to connect to available Wi-Fi or to a mobile hotspot (either a MiFi-like device or the one on your smartphone). This won't cost you any extra and is just as effective.
Since the Galaxy Camera does come with 4G capability, you may wonder if it's possible or plausible to use it instead of a smartphone. Especially if you don't make many calls and prefer to text or email, instead.
This device is data only, so it won't get a phone number or be able to send or accept traditional texts. However, you can still make calls using Voice Over IP services like Skype and sign up for free texting from Google Voice or something similar. It's not the most practical, but it can be done. The biggest barrier is in the design.
How it feels in the hand
Design-wise, I found the Galaxy comfortable to hold and carry as a camera. With the battery in, it weighs about 12 ounces—not the lightest, but not too heavy. It's a little too big to carry in a pocket (unless you have big, deep pockets). I wish it came with strap loops on both sides like larger cameras, but at least there's one loop lock so it's possible to hang from a wrist or neck hands-free.
When there's no camera app active, the lens folds up. Still, it's 35mm thick, even then. It's a little awkward to hold for Android usage, though I did find it comfortable to rest my finger between the grip and lens and hold it that way. Again, not the most practical, but not impossible.
The one worry I had while using the camera was the display on the back. After years of doing what I can to protect the front of my smartphone I felt nervous about setting the Galaxy screen down on a table, though it is protected from scratches by Gorilla Glass. Other than this, the Super LCD screen is one of the best aspects of the device. It's bright enough that sunlight doesn't make it unviewable and pixel-dense enough to preview photos accurately and read text without issue.
The battery is removable, but you don't have to do so to charge the camera. The micro USB port on the side will juice it up as well as connect to a computer. Other than this there are just two more ports. The micro HDMI port on the bottom is for connecting to HD monitors or TVs. There's also a headphone/mic jack on the side.
Pricing and availability
The Galaxy Camera is available at AT&T for $499.99.
Should you buy it
Let's break it down. As a camera, the Galaxy has a nice zoom lens and large sensor that produces good but not great images. Owners have access to a decent Auto mode plus a variety of manual controls. All things that signify a camera worth owning.
It also offers the full Android experience, which includes some pretty powerful camera apps and sharing services. That's on top of almost any other app ranging from social networks to games.
Connectivity is key here, with Wi-Fi, Bluetooth, AllShare, and mobile data at your disposal.
The asking price would be high if only the camera aspect were under consideration. With the additional functionality, you almost reach true value. I say "almost" because I wish Samsung made a Wi-Fi only version of this phone for people who don't need the included 4G. It would shave off some of the cost. However, for a device with all of these components in, the price is understandable.
If the concept of a true Android phone excites you, the Galaxy Camera is an excellent choice. If you're just looking for a good camera and the Android elements are a give or take, check out Samsung's NX1000, which is now available for the same price.
Discussion