Review of the Samsung Galaxy S Blaze 4G (T-Mobile)
Techlicious editors independently review products. To help support our mission, we may earn affiliate commissions from links contained on this page.
The Samsung Galaxy S Blaze 4G is a mid-priced phone with a handful of high-end features, including a 1.5GHz dual core processor for snappy navigation and compatibility with T-Mobile's fastest network (HSPA+42). Those who find the latest batch of super-sized displays too bulky will be very pleased with its 4-inch (well, 3.97-inch, technically) display.
All in, it's a very good device that makes it onto our highly recommended list. But it's not without some flaws. Read on to find out more.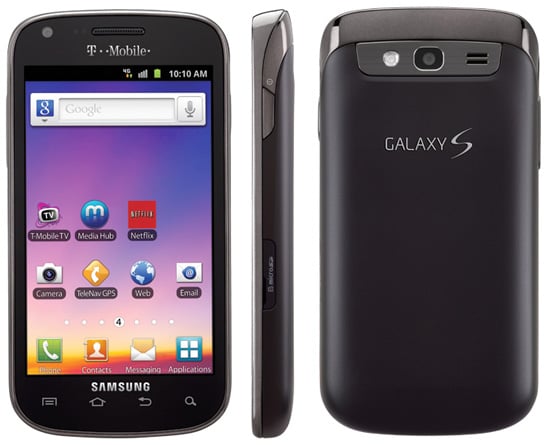 How it feels in the hand
The trend in smartphones has clearly been to bigger displays, capped off with Samsung's massive 5.3-inch Galaxy Note. The Galaxy S Blaze 4G refreshingly bucks that trend with a 4-inch display that many feel (myself among them) is the perfect balance between screen size and comfort. Samsung also wisely avoided the slick plastic of previous Galaxy S models in favor of a grippy textured back panel. And at 4.5 ounces, it's light, too.
The volume rocker on the top left side is easy to access, as is the power button on the right. Though having them opposite each other makes it too easy to accidentally push one when you while steadying the phone to push the other.
Display & Sound
The display on the Galaxy S Blaze 4G isn't breaking any new ground. It's essentially the same 4-inch 800x480 Super AMOLED display that was on the Galaxy S 4G that launched over a year ago. But that's not a knock against it. The display is bright, with vibrant colors crisp text. Though media junkies will appreciate the 4.3-inch display of devices like the HTC Sensation and Samsung Galaxy S II.
The speakerphone on the Blaze 4G did a fine job and call quality and volume was very good.
Web browsing & mobile hotspot
The biggest selling point of the Galaxy S Blaze 4G is its compatibility with T-Mobile's HSPA+42 network. While you'll never see the 42Mbps theoretical top speed, the Blaze 4G did deliver the fastest data speeds by far I've experienced with T-Mobile. In New York City, I consistently received download speeds in the 6-10Mbps range, with uploads of 2-3Mbps. Reviewers in other areas report speeds of 20Mbps or more — that's very impressive and nearly on par with Verizon's LTE network.
All that speed naturally makes for very snappy web browsing and video streaming.
The Blaze 4G can act as a mobile hotspot for your other devices and also offers Wi-Fi calling, enabling you to receive and make calls via a Wi-Fi connection in areas with poor cellular coverage.
Camera & video recording
The Galaxy S Blaze 4G continues the trend of excellent cameras from Samsung. Even though it is "only" 5MP, pictures were detailed, with accurate colors and limited noise. The touch to focus feature also helps ensure you're getting the best shot.
My one big complaint with the camera is the lag time between pressing the shutter button and taking a shot. The Blaze 4G can take more than a second to focus and capture your subject. Not so cool for objects in perpetual motion, like my kids. Pre-focusing speeds up that time considerably.
Video was underwhelming. There was a lack of detail, even at 720p, and artifacts, such as blotchiness in solid color areas. At least colors were accurate, if slightly muted, and there was no stuttering.
Keyboard & Navigation
The Blaze 4G runs Android 2.3.6 Gingerbread, which is disappointing now that Android 4.0 has been out for a few months. T-Mobile says an update is coming, but with no date, I prefer not to hold my breath.
With a 1.5GHz dual core processor, navigation on the Blaze 4G was seamless and apps popped open quickly. There is clearly more than enough power for the typical user, especially considering that media and game enthusiasts will likely opt for models with larger screen sizes.
The keyboard is well spaced and the Blaze 4G comes pre-loaded with Swype. But I did miss having a 4.3-inch display when it came time to pound out messages.
What is overall very smooth navigation is marred by the incredible amount of bloatware apps T-Mobile loads on the phone, none of which can be removed. The list includes 411 & More, VIP Bonus Apps, Game Base, Highlight, Lookout Security, MobileLife Contacts, MobileLife Family Organizer, Slacker, Pro Apps, T-Mobile Mall, T-Mobile Name ID, T-Mobile TV, T-Mobile Video Chat, Talk, TeleNav GPS, Yahoo Finance, Yahoo News, Yelp, Zinio. Some of these apps can be useful, like Lookout Security, others I can't figure out what the heck they do. But it should be up to users whether to keep them or not.
Another disturbing issue I had was receiving advertising spam in the notification bar from T-Mobile's Web2Go service. Other T-Mobile customers have been reporting the same experience. According to a T-Mobile spokesperson, these notifications were "not intentional", though I'm still waiting for an explanation of why they are occurring. UPDATE 4/1/12: T-Mobile says, "During a recent software update, a message to promote T-Mobile's free VIP Zone was mistakenly sent to certain customers and appeared on the notification bar for some Android devices. After T-Mobile was made aware of this mistake, the company stopped the notifications. T-Mobile apologizes for the inconvenience this may have caused customers."
Storage
The Galaxy S Blaze 4G only has 1.4GB of onboard memory available, plus an included 4GB microSD card (expandable to 32 GB). That's not enough for media addicts; Samsung must be assuming (probably correctly) that those folks will naturally gravitate to the larger screen devices.
Battery life
Battery life on the Blaze 4G was fine, yet not outstanding. It would last me through the day under normal usage, but would be pretty close to dead by the next morning. Given it's 1750mAh battery and smaller screen size, I was hoping for more. I suspect the battery life may be harmed by the 1.5 GHz processor, which would be a shame. This isn't a device intended for gamers, and I suspect most owners would be much happier with a marginally slower 1.2GHz or even 1GHz processor and more battery life.
Pricing and availability
The Galaxy S Blaze 4G is available for $119.99 from T-Mobile with a new, two-year customer agreement. If past experience holds true, we'll soon see even lower prices on Amazon Wireless.
Should you buy it?
The Galaxy S Blaze 4G has a lot going for it—near perfect ergonomics, beautiful display, very fast network speeds and a very nice camera. And at $119.99, there's no question it's a solid device that is an excellent choice for many purchasers.
I really wish they had stepped back the processor in favor of more battery life and sped up that camera. You can decide how important those issues are to you.
If you plan to use it heavily for video watching, gaming and extensive web browsing, you may be happy stepping up to a 4.3-inch phone, like our highly recommended HTC Sensation 4G or waiting for the new HTC One S, coming soon.
The final conclusion: the Galaxy S Blaze 4G makes our highly recommended list for T-Mobile.
Rating: Highly Recommended
Detailed Specs
Talk and Standby Time: Up to 7 hours talk time, up to 9.6 days standby
Band/Modes: GSM 850/900/1800/1900 MHz
OS: Android 2.3.6 Gingerbread
Weight: 4.5 oz
Dimensions: 4.79 x 2.48 x 0.44 inches
Battery: 1750 mAh
Display: 3.97" Super AMOLED (800 x 480)
Video: 720p
Camera: Rear-facing 5.0 megapixel, Auto Focus, LED flash
Front-facing Camera: 1.3 megapixel
Mobile hotspot: Up to 5 devices
Processor: 1.5GHz Dual Core
Memory: 1GB RAM, 1.4GB available onboard storage and 4GB microSD card (expandable to 32GB)
Discussion