We may earn commissions when you buy from links on our site. Why you can trust us.

Review of the Roborock H7 Stick Vac
Over the last year, I've been testing more than half a dozen stick vacs — Anker Eufy HomeVac S11 Infinity ($299), Dyson V15 Detect ($699), LG CordZero A9 Ultimate ($599), Miele TriFlex HX1 ($499), Proscenic P10 Pro ($199), Raycop Omni Air ($299), Roborock H7 ($499), Tineco Pure One S12 ($499). At its current sale price of $359 on Walmart, the Roborock H7 is a reasonable alternative to our top cordless stick vacuum pick, the entry-level Miele Triflex HX1, and a highly recommended alternative to the far pricier Dyson V15 Detect and LG CordZero Ultimate.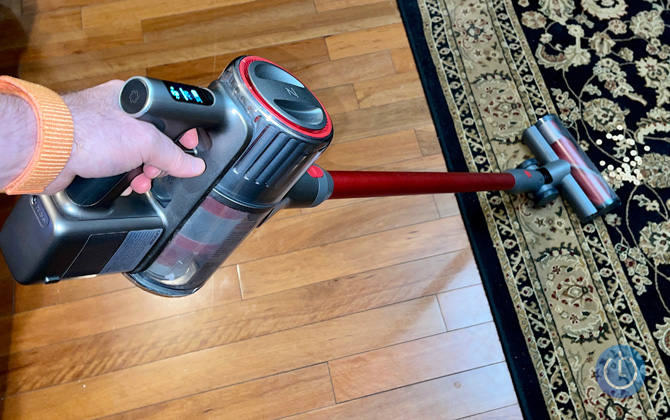 But at its regular price of $499, the choice between the Roborock H7 and the entry-level $499 Miele Triflex HX1 is an easy one, regardless of the H7's virtues – of which it offers plenty. The Roborock offers above-average suction, is far lighter than the Miele, and runs longer on a single charge. It is compatible with disposable dust bags, its magnetic mounting bracket makes it easy to store and swap attachments, and it can be equipped with an optional mop head. But the Miele simply supplies more suction. The H7 also lacks the Miele's modular flexibility, wider brush roller, swappable battery, independent standing capability, and easier maintenance.
Pros
Lightweight
Magnetic attachments
Cons
No swappable battery
Easily jams with larger particles
Difficult to clean roller and filter
No front LED light
The bottom line is that at $359 or even $399, the H7 is a great stick vac buy. Not at $499.99. Here's why.
Setting up the Roborock H7
The Roborock H7's most distinctive and helpful logistical feature is how it deals with its attachments – they're magnetic. Not only do they easily stick to the wall mount, but they can also be stuck onto any magnetic surface. So, if you need an attachment only for the kitchen, you can stick it to the refrigerator or, for an office, to a filing cabinet. Attachments stay where they're stuck, yet they're also easy to remove for use. Attachments that are included:
multi-surface brush
motorized mini brush
crevice tool
dusting brush
flex tube (to help access hard-to-reach areas with the crevice or dusting tools)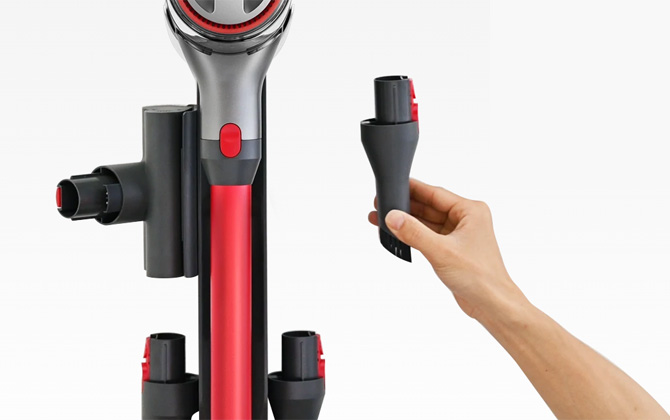 Otherwise, the H7 is rather average in its other logistical accouterments. However, at 3.2 pounds, it's less than half the operational weight of the Miele or Dyson, yet a smidge heavier than its predecessor, the Roborock H6. There's no battery charger – the AC cable simply jacks right into the top of the H7.
The H7's 16.9-ounce (0.5 liter) capacity dustbin is average for the stick vacs I tested. For those who don't like constantly cleaning, Roborock has included two disposable dust bags, and you can buy more (six dust bags for $18.89 on Amazon).
Using the Roborock H7
The H7 operates via a two-way trigger. It can run on sustained mode – you hold it to power it – or, if you tap the small thumb-accessible "sustain" button, the H7 runs without holding down the trigger. A small monochrome LCD displays its handy and unique child lock status, battery life percentage remaining, and three icons indicating the run mode. A physical "mode" button within thumb reach allows easy vacuuming speed mode shifts.
During testing, I evaluated the H7 for how well it handled a thick pile oriental rug with flour (as a stand-in for dust), sand, long and short human hair, pet hair (rabbit), shredded paper, and Cheerios – singularly and mixed together. As noted, the H7 provides above-average suction, but it sometimes pushed sand behind the brush head at the lower speeds, requiring an extra pass that the Miele or Dyson didn't, and shredded paper tended to jam it. But you are unusually warned in small print that "[f]lour, construction dust, and other fine particles should only be vacuumed in small amounts."
Like many stick vacs, it helps if you keep the H7 running for a few seconds after you've finished vacuuming an area to make sure everything gets sucked up through the wand and into its dustbin. When you release the H7's trigger immediately after cleaning, just-suctioned particles often tumble right back out onto the floor again or out of the wand when you swap cleaning attachments.
Maintaining the Roborock H7
The dustbin opens and empties with an easy lever push. And if you use the optional dust bag, you can just pull it out and discard.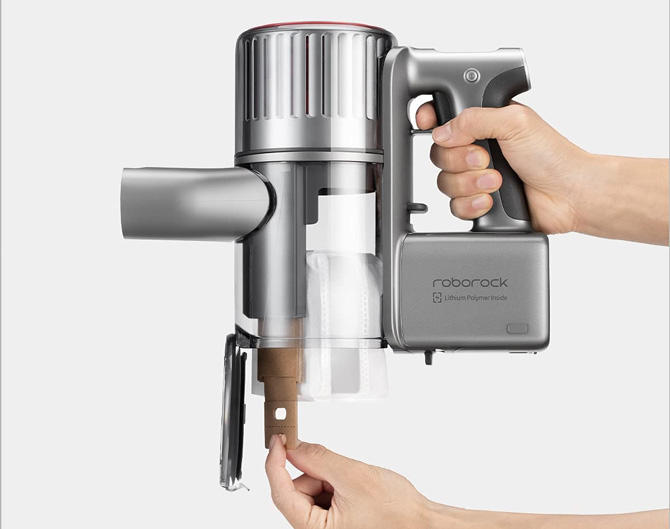 But two issues make cleaning the H7 a bit annoying. First, to get at the front filter, you must remove the dustbin then manually unscrew its interior "multi cyclone" assembly, which will be filthy. Worse, for some reason, the H7 doesn't have a removable roller, which makes it maddeningly frustrating to remove long hair. Of course, if no one in your abode has long hair, you'll have few roller clearing worries. But we'd hope in an updated version that Roborock fixes this flaw.
Roborock H7 battery life
Thanks to its more powerful lithium polymer battery, rather than the lithium-ion cells found on other stick vacs, you get 90 minutes of vacuuming life on a single charge on "eco" mode, which you'll really only use on bare floors. Roborock didn't supply battery life in its default "high" mode but I found it to be around 45 minutes, still far longer than other stick vac cells, and 10 minutes in "max" mode, which is a smidge above average. The battery recharges in an above-average 2.5 hours.
But, unlike other current stick vacs, the lithium polymer power cell in the H7 isn't swappable or even removable, which eliminates its usage time advantage. It's dead easy to simply swap batteries on other vacs, and the Miele dual batteries provide a combined 120 minutes of cleaning time in its eco mode, around an hour at its default standard speed. Plus, Roborock says the H7's battery will fall to around 85% capacity after around 600 recharges, which means its single-charge usage time advantage will dissipate after around three years of use. You might have to toss the whole unit when the battery life becomes too short to be functional (although, in fairness, that make take five years or more).
The bottom line
As long as you can buy the Roborock H7 for $359 or even $399, I consider it a high-value stick vac with its above-average suction and run time, magnetic attachments, and disposable dust bags. But at its regular $499, I'd opt instead for the Miele Triflex HX1.

[Image credit: Roborock, Stewart Wolpin/Techlicious]
Stewart Wolpin has been writing about consumer electronics for more than 35 years, including news, reviews, analysis and history, and has attended and covered nearly 50 Consumer Electronic Shows and around a dozen IFA shows in Berlin. For the Consumer Technology Association (CTA), he is an elector for and writes the official biographies of the annual CTA Hall of Fame inductees and is the keeper of the industry's official history.
---
Discussion