Samsung Freestyle 2: A Portable Projector with Big Ambitions
Techlicious editors independently review products. To help support our mission, we may earn affiliate commissions from links contained on this page.
If you want a truly wall-sized, cinematic experience at home, you can shell out $4,000 (or more!) for a 98-inch LCD TV and then pay for giant wall mounts and professional installation. Or, you can just pay $800 for a soup can-sized projector that you can set up anywhere in minutes to create a 100-inch picture. Case in point is Samsung's $799.99 Freestyle 2, a top-flight 1080p HD projector that comes with all the smart TV features one would expect from a traditional TV, plus improved sound, streaming games, and the ability to create massive, double-wide pictures—all in a package you can toss in a bag and take with you.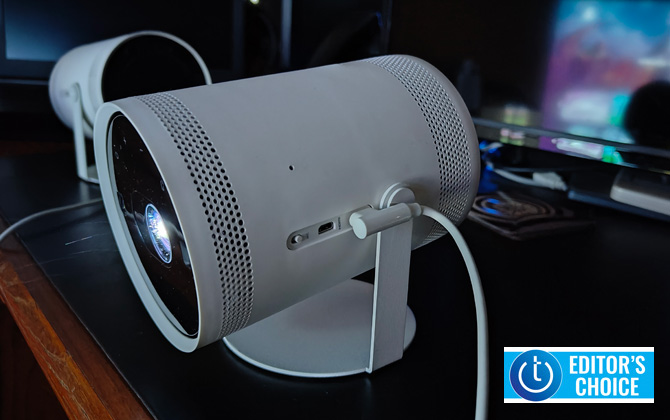 When we went hands-on with the original Freestyle in 2022, we found it to be both "a serious display device" and "pure fun without being a toy." As the name implies, Samsung's FreeStyle 2 is the company's second-generation portable projector. For this iteration, Samsung has beefed up its performance so that it launches streaming video apps in seconds and switches between video sources seamlessly. It also delivers a better picture overall and includes new features, such as a solar-powered remote control, a gaming hub section for playing Xbox games without a separate console, and a feature called edge blending that lets you combine the pictures from two FreeStyle 2 projectors for a whoppingly wide picture.
+ Pros

– Cons

Big, bright picture
Very good sound for a portable projector
Solar-powered remote
Easy to set up and get going
Can combine two FreeStyle 2 for extra-large picture

Sound could use more bass
External speaker may be necessary for loud environments
Awkward placement of power button
Design and setup
Designed like a miniature, free-standing spotlight, the Samsung FreeStyle 2 has a built-in stand that allows you to rotate it 180 degrees in order to aim it straight at a wall or at various angles, including straight up at a ceiling (for those languorous, lying-in-bed movie nights). It is solidly built, and its white exterior makes it an inconspicuous addition to my living room. It does not have a built-in battery, although an external battery can be added (Samsung offers a $189.99 battery option that acts as a stand).
On the front is a lens cover you can leave on to turn the projector into a mood light or pop off to reveal the lens and a few manual controls, including the power button. Ergonomically, I found the power button to be poorly situated because owners should avoid looking directly at the projector's light. A safer spot for the manual controls would have been on the back of the projector. However, most of the time, you'll use the included remote control or Smart Things smartphone app to operate the projector, so this is a minor issue for me.
Setting up the projector could not be simpler. Just plug it in, aim it at a blank wall or screen, and power it on. The FreeStyle 2 automatically sizes and focuses the image. It even levels the picture by itself and does automatic keystoning (the latter eliminates picture distortion that can make the image look like a trapezoid in geometry class).
Picture performance
Samsung improved the performance of the FreeStyle 2, making the user interface more responsive and the 1080p picture crisper overall. Furthermore, while projectors still require a dark or dimly lit room for optimal performance, I found the Samsung FreeStyle 2's brightness quite impressive and much better than less expensive portable models I've tested, such as the $549 Anker Nebula Mars II Pro, which only delivers a 720p picture and not nearly the sound volume of the FreeStyle.
For convenience, the Samsung FreeStyle 2 has three preset video modes: dynamic, standard, and movie mode. I found the best mode for color fidelity and contrast was the movie mode, but you can also manually adjust picture settings, including brightness, contrast, sharpness, tint, and color. If you want to go deeper, there are extensive expert picture settings where you can tweak the white balance, gamma, and color space settings. For professionals, there's also a smart calibration setting that requires a separate device.
In movie mode, I found the Samsung FreeStyle 2's 100-inch picture was a pleasure to watch. Movies looked truly cinematic and film-like. Colors were generally faithful to their intended hues, and the contrast was good without going to extremes (which can make the picture look flat and artificial). Shadowy elements were still visible and yet bright areas didn't bleed into other parts of the picture. Of course, when compared to a 4K LCD TV, a perceptive viewer will note that in verdant jungle scenes, greens can look slightly yellowish on the projector's image, but such compromises are to be expected for the bigger picture.
If you have a Samsung smartphone, the FreeStyle projector can be controlled using the Smart Things app. Part of that includes an on-screen remote control on the phone, but the major new feature is something called "smart edge blending." This is the ability to combine the image from two FreeStyle 2 projectors to create one gargantuan picture. With the phone and two projectors on the same Wi-Fi network, it takes about a minute for the app to recognize both projectors and start the alignment process. The projectors shoot icons on the wall that you have to align by physically moving the two projectors. (I had to place the projectors on a table about 2 feet apart from one another.)
Once that's accomplished, you take a picture of the projector's image on the wall with your smartphone. The software detects the position of eight displayed icons on the wall (or screen), and then the software magically stitches the two images together (in either wide landscape mode or vertical portrait mode). This can be easy – or tricky – to set up, depending on how precise you are.
In one room, I had trouble getting the smartphone to recognize all eight icons. It turns out the projectors' pictures have to be pretty closely aligned to begin with (and I was somewhat lackadaisical about this in the beginning). All the icons on the wall or screen also have to be clearly visible without any distortions, such as appearing in a corner or at the edge of the screen.
Once I got the hang of it, however, I found the edge blended mode addictive. It maintains the original aspect ratio of whatever video source material you're using, but you can pinch and zoom it on your smartphone screen to get the super-wide picture on your wall. For example, when I zoomed in to fill more of the screen with the video of Coldplay's Clocks it worked extremely well, almost doubling the width of the image without appreciable distortion. You can also get a super-wide slide show of your own still pictures going for a party or family gathering.
One side note: combining two FreeStyle 2 projectors to create a bigger picture also effectively doubles the sound output because it emanates from both projectors. I kicked on Deep Purple's Highway Star for some long-haired heavy metal and found it boosted the volume – but still didn't incur my neighbor's wrath.
Sound performance
Overall, the soup-can-sized chassis of the Samsung FreeStyle 2 does enable a bigger sound than what you'll experience from most portable projectors. That makes the projector more suitable for larger audiences, say, for sporting events or parties. But don't expect surround sound system decibel levels. At 80 percent volume, the FreeStyle still only produced about 65 to 70 dB of sound pressure, so it's not going to power your next rave. On the other hand, you can easily connect an external Bluetooth speaker to the projector if you find you need more volume.
As for sound quality, the Samsung FreeStyle 2 exhibits some of the same shortcomings found in most big-screen TVs. Playing a welter of music videos, I found the projector produced a sound dominated by mid to high-range notes. In other words, there's very little low-end bass but lots of vocals on Aha's Take On Me (although it was still a little thin on the high notes). There are also preset sound modes: standard, adaptive, and amplify. The last proved effective for improving the audibility of movie and TV dialog.
Smart features
The Samsung FreeStyle 2 includes the company's standard support for all the major streaming apps, from Netflix to Disney+. So, you won't go wanting for things to watch. And the system works with Amazon's Alexa for voice control or Samsung's voice assistant called Bixby. I found both very helpful for finding shows and switching between video sources. You can even set up Alexa to work when the projector's screen is turned off. (You can also manually switch off the projector's microphone if you're concerned about your privacy.)
Samsung is also touting a new feature for players it calls its game hub. This effectively allows you to play video games on the set without the need to plug in an external console. I was able to access Xbox games, for example, via my existing account (a prerequisite). All you need to do is pair up a game controller. The FreeStyle 2 works with several different wireless controllers, including the Xbox Wireless Controller and Sony PlayStation DualSense.
Finally, there is a screensaver or mood setting that Samsung calls "ambient mode." It allows you to choose a video or animated sequence to effectively decorate your space with either your own photos or canned images and animations. You can choose a panoramic shot of the Rockies, for example, that makes it look as if you're looking out a window or an animation of a fireplace or twinkling Christmas lights. There are also some animated kaleidoscopic images if you're looking for a hypnotic effect.
Remote control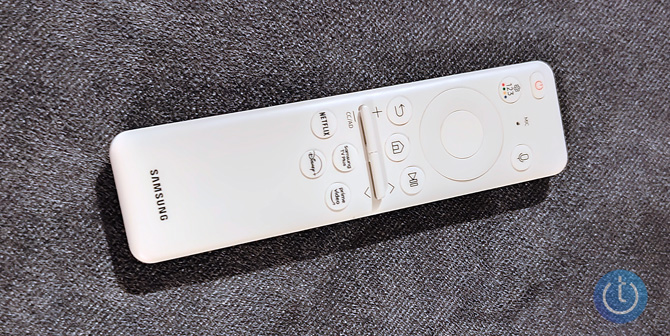 Since the Samsung FreeStyle 2 is considered to be a premium TV, Samsung has included a premium remote control with the projector: its latest solar-powered remote. The remote features a diminutive solar array on the back so that, when not in use, you can place the remote buttons-side down, and it will trickle charge the controller's battery using the ambient light in your room. (No, you don't need to put it in a window, like ripening tomatoes.) The remote does not have dedicated numerical buttons, but there are dedicated buttons for launching Netflix, Disney+, Amazon Prime Video, and Samsung's own aggregation of streaming online programming.
The Bottom line
The Samsung FreeStyle 2 ($799.99) definitely sits at the upper end of portable projectors. There are compact projectors from the likes of Anker and Xgimi available for half the list price of the Samsung FreeStyle 2, but they have major disadvantages. They cannot be aimed at various angles using a built-in stand like the FreeStyle 2, they generally offer lower-resolution 720p pictures, and they deliver inferior sound. That makes the Samsung FreeStyle 2 a better option for movies or games where a big, bright picture with sound to match is paramount. And for businesses – or serious party planners – the blended edge feature makes the FreeStyle 2 an irresistible accessory.


[Image credit: John R. Quain/Techlicious]
John R. Quain has been covering science and technology for over 20 years. His work has appeared in Rolling Stone, PC Magazine, Esquire, and U.S. News & World Report. He was the on-air technology contributor to the CBS News Up to the Minute television show for 17 years and is a regular contributor to The New York Times.
Discussion