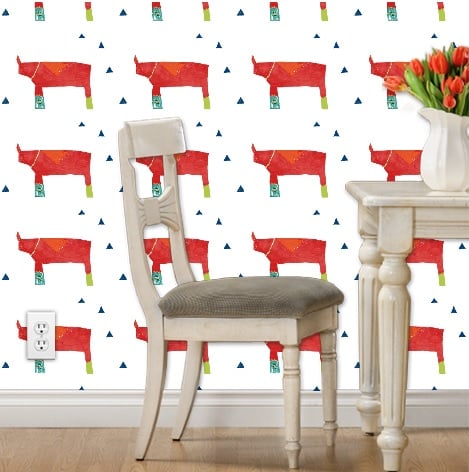 When everyone else's abode seems more of the moment than yours, it's time for an attitude adjustment — of your walls, not your outlook. Wall art lets you make sweeping style changes without an extensive investment or commitment.
Peel-and-stick wall art is an inexpensive, easy-to-remove alternative to traditional wallpaper — easy enough on the budget and walls that you can change it out every couple of years as your design tastes evolve. Online providers can create custom wall decals, murals and wallpaper in any style, fabric, color scheme and photo variety imaginable.
Before you hit the purchase button on one of these websites, make sure you're using the best photos for the job. Choose an image for your custom wall art with these four things in mind:
1. Select an image you actually own
All reputable custom wall art sites abide by copyright laws and ask you to confirm that you're the owner of any images you submit for printing. If you're not the owner of an image (say, a family friend took the photo), make sure you get their permission in writing to reproduce the work.
2. Check the resolution
Always consider the resolution of the digital file you want to print. Some custom wall art sites recommend an image resolution of at least 75 dots per inch (dpi). But to play it safe, more is always better. If you're going with an image that you want to enlarge, we recommend selecting an image that is 150 to 300 dpi, the same standards used at a professional printing house. To check the resolution of an image, right click on it and review its properties in the details tab.
3. Pick the right colors
Selecting a high-resolution image isn't the only thing to consider. You should review the colors as well. Custom websites print in either sRGB, RGB or CMYK, which are color models used in printing. Review each site's production standards and convert your image to the site's preference to ensure the colors come out correctly. For example, the shadows in your RGB image may look black on your computer screen, but if the image isn't converted to CMYK, those shadows will look like a murky yellow or brown. You can use a free file converter, like http://www.rgb2cmyk.org/.
4. Purchase only a small sample to start
Before you blow your entire budget on a custom design, buy a sample or swatch of the pattern, since the onscreen preview may vary from the actual item.

For the kids' bedrooms
RoomMatesDecor.com thinks of the young at heart when it comes to personalized wall decals. Create your own decals and murals or incorporate popular characters from your children's favorite films into the designs. The gang from Universal's Minions can announce it's "Jordan's Room."
Create a family chore chart with family members' names, or design a decal from scratch using any combination of colors, shapes, clip art or monogram details.
For the specialty room (family, game or trophy)
Shutterfly.com lets you create more than photo books and business cards these days. Upload any photo to have it cropped into a silhouetted, life-sized wall decal you can peel and stick anywhere.
So go ahead and print that photo of your little leaguer hitting a home run; we're sure it'll be your child's favorite bedroom addition. (Just make sure you select a full-length photo; no waist-high photos are allowed.)
Printing starts at $59.99 for a 36-by-27-inch wall decal.
For inexpensive posters
SnapBoxPrints.com is a great solution if you're looking for a sticker poster at a cheap price. Its custom peel-and-stick posters come in 25 different sizes, making it easy to mix and match photos for a unique wall design. And if you've got a few interesting snapshots on Facebook or Instagram, SnapBoxPrints.com even lets you upload and print photos directly from your social media albums.
You can crop, adjust saturation, contrast and brightness or add a filter or text. The posters are printed on linen substrate, so there's no vinyl odor.
Posters start at 75 cents for a 4-by-4-inch design, while a 36-by-54-inch poster is $69.99.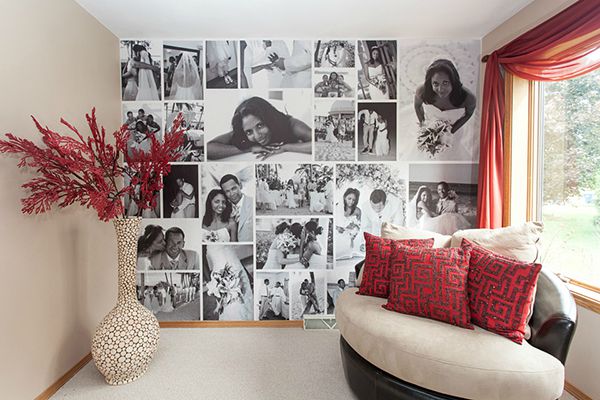 For a photo collage
WeMontage.com lets you upload an entire photo album and rearrange images into a simple collage template that varies depending on the size you select.
Since the collage theme in intuitive, customization is limited to adjusting the photo margins, white space and background color. Make sure you're images are properly cropped before adding them to the online album.
A 3-by-2-foot poster starts at $59.99.
For an Etsy-inspired design
Spoonflower.com features a large collection of patterns from independent fabric designers. Think of it as an Etsy for fabrics.
Designs feature funky, geeky and popular designs from unicorns and marshmallows to monsters and Nintendo 64 controllers. Or, print your own custom wallpaper, fabrics or gift wrap using its simple upload feature.
After you upload an image, preview how it will look repeated on the roll and customize its layout, spacing and dimensions. Spoonflower prints with eco-friendly, water-based inks on natural and synthetic fiber textiles.
A 2-by-1-foot roll starts at $60.
For specialty paper
DesignYourWall.com offers a solution similar to other customizable sites but with an upgrade: Get your design printed on Mylar and foil for a metallic effect or printed on grass cloth or wood contact paper for a rustic effect.
DesignYourWall will match Pantone color swatches if you're looking for a perfect color match. So if you've recently painted your living room and want a customized accent wall to precisely match, this is the site you're looking for.
The only downside is you can't preview your design onscreen like on other websites, but you can communicate with a designer after you submit your artwork to ensure it looks exactly how you want it to.
Wall art sites like these keep the expense and commitment of updating your style light and easy. If your personal space is feeling dated, stick on a new look that's all your own.
[Images via Spoonflower, RoomMateDecor and WeMontage]