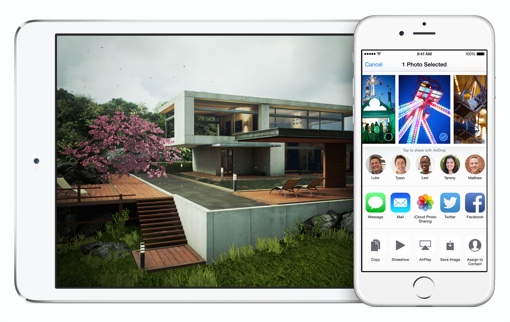 Whether you've got a new iPhone 6 or you're happy holding on to your iPhone 5 or 5S, Apple's mobile operating system update iOS 8 is great. There are a ton of useful new features like Family Sharing, Swipe-to-respond Notifications and the data aggregating Health app. But not everything about the update is sunshine and gumdrops – there are some annoying new features too.
Thankfully, many of these annoyances are just new default settings. You can switch a lot of these defaults back to the way they were in iOS 7, and without much effort. Here are five of the most common complaints people have with Apple's mobile operating system update, and the five best ways to fix or work around them.
Turn off Handoffs
If you have an Apple iPad, iPod touch or MacBook that uses your Apple ID, you may start to automatically get phone calls on all these devices. You can easily turn this off on some or all of them if you choose. Just enter into each individual gadget's Settings menu, tap FaceTime and then turn off iPhone Cellular Calls.
Hide Recent Contacts
Personally, I like the upper row of friends and family pictures that come up when I double tap my home button. It provides easy access to your Favorites and those you've contacted recently. But if you don't want people snooping on you've been calling and texting recently or you prefer the old iOS 7 version without those circular pictures, you can shut it off from the Settings menu. Just tap Mail, Contacts, Calendars; then tap Show in App Switcher (under Contacts). Turn off both toggles.
Deleting Your Photos No Longer Actually Deletes Them
The Photos app in iOS 8 now comes with a Recently Deleted folder, which houses the snapshots you've chosen to delete for 30 days before they're completely deleted from your device. This is nice to save you from accidentally deleting important photos, but terrible if there's a photo you want deleted completely and immediately. Once you delete a snapshot from your main folder, be sure you also go into the Recently Deleted folder to Select it and then Delete it for good.
Stop Voice and Video Messages from Self Destructing
Sending and receiving short audio messages via iMessage is a lot of fun, but due to file size restraints, those items are quickly auto-deleted from your phone. You can change this to save those messages indefinitely by default, if you'd like. Enter your phone's Settings, tap Messages and then tap Settings. Tap Keep Messages, then change the Audio Messages and Video Expiration time to never.
But before you do, I'd urge you to strongly consider signing up for free cloud storage from a secondary provider to iCloud. I like the 30 GB free allotment currently offered by Microsoft OneDrive. It's the best way to keep all that media, plus your own personal photos and videos, saved indefinitely without needing to pay for more iCloud storage or pay more for a phone with a larger drive.
Turn off Predictive Text
I found the new Predictive Text feature to be a lot of fun in the first few hours of iOS 8, but its novelty wore off quick when it proved more distracting than useful. Thankfully, it's easily turned off. Enter your settings app, tap General, then tap Keyboard. Toggle Predictive off, and the deed is done.