You receive a personalized email from a recruiter claiming to be filling a senior level executive position and you could be the perfect candidate – too good to be true? It probably is. There are a variety of fake job and recruiting scams going around that offer no opportunities except to separate interested candidates from their cash.
How the job recruiting scam works
There are multiple flavors of the scam, but the general process is the same. You get a personalized email from a "recruiter" filling a senior level spot. The email will suggest that they got your name through a referral and that you have just the credentials they're looking for (even though they haven't interviewed you or gotten any information from you yet). In some cases, the scam may originate on legitimate job sites like Indeed.com. Here is an example of an email I received in November, 2018 (note that it is nearly identical to emails others received with a different recruiter and company name):
Hello Josh,

I hope this message finds you well. I am reaching out to see if you would be interested in exploring new opportunities. I am senior executive recruiter at ProRecruiting Solutions Inc. and our client has retained us to fill various senior level positions in one of their recent acquisitions. I was referred to you by an outside talent sourcing firm and based on your previous experience I think you are a very credible candidate.

If you are interested in learning more, please reply back to this email with an updated copy of your resume and I will connect you with the recruiter leading this project and schedule an introductory call.

P.S: We are a retained search firm and get paid by the employer. You will not be asked to share any confidential information or pay any fees.

Best Regards,

David Miller
Senior Executive Recruiter
ProRecruiting Solutions Inc.
http://www.prorecruitingsolutions.com
1450 Broadway 7th floor,
New York, NY 10018, USA
If you research the company, you may find a well-constructed website listing their credentials, recruiting team, etc. But don't be fooled. Anyone can set up a fake website. The ProRecruiting Solutions website claims the company has been in business since 2007, yet the site only went live in August, 2018, a couple of months before I received the email (both the site and phone number are no longer active, but you can see an archived version here). To help support the myth, should you choose to research the company further, they even put out a press release touting their growth (also in August).
Some recruiting scams will go so far as to create fake LinkedIn profiles of their executives, which can be spotted because they have few connections (real recruiters generally have 500+) or endorsements. In the case of ProRecruiting Solutions, I could find no professional information about the supposed principals, which is a big red flag for a recruiter.
The email also has suspicious indications, which you can find if you're more technically inclined. While the From address is david@prorecruitingsolutions.com, the email was sent via Sendy.co, a newsletter app that "makes it possible for you to send authenticated bulk emails at an insanely low price". Unlike many other newsletter services, Sendy is self-hosted, so a scammer would not need to provide credentials for an account with a hosted service, like ConstantContact or Mailchimp, who would also be quick to kick anyone off the service they suspected of sending spam emails.
Version 1 - the resume review scam
Once you respond back to the email with your interest, the scam will go one of two ways. In one version, the recruiter will claim there is a "problem" with your resume and ask you to upload it to a purported resume review site. These sites charge a fee of around $10 to review your resume, at which point they will tell you why your resume needs to be redesigned to work with company applicant tracking systems and show off your skills, which they will be happy to do for an extra $150 and up. If you go for the resume service (or choose to opt out), the recruiter will then sadly inform you that the job you were supposedly in line for has fallen through.
Version 2 - the pay for interview scam
The second version of the job scam, perpetrated by one of the largest recruiting scam operators, has cost consumers hundreds of thousands of dollars annually. In a complaint filed by the FTC, after the job candidate responded to a fake recruiting email sent by the defendants (who were operating under a variety of aliases, including Worldwide Executive Job Search Solutions LLC, WWEJSS, Seven Figure Careers, 7FigRecruiters, 7FC, Finnburg Switzer, ResumeterPro, Creating Job Opportunity, Confidential Jobs Only, CJOnly, and CJO Private Equity, PrivateEquityHeadhunters.com LLC, PE Headhunters, Private Equity Headhunters, and PEHHS.COM LLC, all owned and operated by Craig Chrest), they were included on an email string that had the name of the hiring company and the hiring partner's name and email. Candidates who researched the company (usually a supposed VC or private equity firm called Agile Capital, Rock Hill Capital, or Sienna Ventures) found a website (also fake) confirming the information.
And then scammers set the hook. According to the FTC, "…to move forward with job placement services or to land an interview, the defendants required consumers to sign a contract and pay an advance recruiting fee of between $1,200 and $2,500. Consumers then got a purported job interview by phone with the hiring partner of the company – often identified as Agile Capital, Rock Hill Capital, or Sienna Ventures."
As with the resume scam, once the interview was done, the job disappeared due to a "change in the company's business plans or hiring needs." And if you considered complaining about this treatment to anyone, the contract you signed contained non-disclosure language that threatened a penalty of 10x the recruiting fee (up to $25,000, in this case) if you discussed what occurred.
Thankfully, these guys have finally been shut down by the FTC, but others may be operating using the same tactics.
Version 3 - the advance check payment scam
This scam seems to be originating out of job boards, such as Indeed.com. After you apply for a position on the site (often one that offers a suspiciously high salary and benefits), you get an email congratulating you on being hired for all the details on your fabulous new job. They even arrange to send you a large check for your first month of work, which you happily deposit into your bank account. The only catch is that they ask you to send them money orders (or even iTunes gift cards!) so that they can purchase uniforms or other equipment that you need for your job. Or, the check includes money for the clients you'll be working with, so they ask you to wire funds to the accounts for those client. Shortly thereafter, you get a notice from your bank that the check you deposited is fraudulent – there is no money, your account gets frozen, you owe bounced check fees and whatever money you sent to the company or "clients" is gone forever.
How to avoid falling for a job recruiting scam
I spoke with Don Zinn, Vice President, Executive Search at boutique recruiting firm StevenDouglas, to get his take on what is legitimate for recruiters to ask of candidates and how you can recognize when you may be getting scammed. And, together, we developed these tips for recognizing when a job pitch may not be on the up-and-up.
Recruiters should never be asking for money. Period. Paying a referral fee is not a legitimate practice at all – the client always pays the fee.
No one is going to tell you you're perfect for a job or put you in touch with a company without interviewing you first. If it sounds too good to be true, it probably is.
Ask the recruiter "What do they know about the client? What do they know about the opportunity? What is the time frame for hiring?" If they can't give you clear answers, something isn't right.
Recruiters should never ask you to sign a contract or non-disclosure agreement (NDA) before an interview. And if they ask you for your social security number or banking account information, run the other way.
Research the recruiters. Do you have connections in common on LinkedIn? Do they have a detailed professional profile other than on their own site? If you Google them, are you finding complaints on scam warning sites?
Zinn says that even if the recruiter is legitimate, "There is no barrier to entry to be a recruiter. You should be picky and choosy about who you work with. You don't want people who are going to take your resume and send it to 300 people – especially if you are working. Tell the recruiter before they send your resume to anyone, you want to know who they are sending it to."
And I'll just leave you with Zinn's advice above, "If it sounds too good to be true, it probably is."
Author's Note 8/14/19: I just received an email with identical text as in the article above, yet from a different name and recruiting company (see below). If you go to the TQ Recruitment website About page, the pictures of the supposed team are identical to the photos of the team on another recruiting site, FS Recruiting, but with completely different names.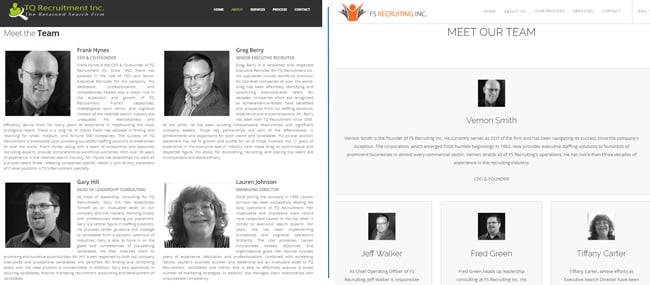 Also, the contact phone number for TQ Recruitment 877-373-2279 (not in service) is the same as that listed for a now de-active website for a TB Recruiting. Complaints about TB Recruiting go back to at least 2017.
If you receive a similar recruiting email, please post in comments below to help people identify the company and recruiter names being used in these scams.
Hello Josh,

I hope this message finds you well. I am reaching out to see if you would be interested in exploring new opportunities. I am Senior Executive Recruiter of TQ Recruitment Inc. and our client has retained us to fill various C-level positions in one of their recent acquisitions. I was referred to you by an outside talent sourcing firm and based on your previous experience I think you are a very credible candidate.

If you are interested in learning more, please reply back to this email with an updated copy of your resume and I will connect you with the recruiter leading this project and schedule an introductory call.

P.S: We are a retained search firm and get paid by the employer. You will not be asked to share any confidential information or pay any fees

Best Regards,

Greg Berry
Senior Executive Recruiter

TQ Recruitment Inc.
www.tqrecruitment.com
54 W 21st St Suite- 260 - 4th Floor
New York, NY 10010
[Image credit: job interview via BigStockPhoto]