If you delete an iMessage from another iPhone user or a text message from an Android user by mistake and want to recover it later, you're in luck. With iOS 16, Apple included the ability to undelete iMessages and regular text messages. Deleted messages still disappear from your list of messages, but you can recover them for up to 30 days if you know where to look.
Only text messages sent or received after you update to iOS 16 can be recovered. So make sure your iPhone is updated to iOS 16 (check out our story How to Update an Old iPhone for step-by-step instructions).
Once you have updated to iOS 16, your iPhone's Messages app will have a "Recently Deleted" folder. The location of the folder depends on whether you're using Message Filtering – either iOS's option to "Filter Unknown Senders" or a spam text message filtering app. If you have filtering turned on, you'll see "Filters" in the upper left corner when viewing your list of conversations in the Messages app. If you don't have filtering turned on, you'll see "Edit" in the upper left corner.

If you see "Filters," tap it, and you will see your "Recently Deleted" folder. Open it.
If you see "Edit," tap it, and you will see a menu with "Show Recently Deleted" as an option. Select it.
Once you open your Recently Deleted folder, you will see a list of all your deleted conversations. However, you can't see the individual messages in the conversation, just the number of messages deleted. When you select a conversation, your options are to recover all messages in the conversation or none.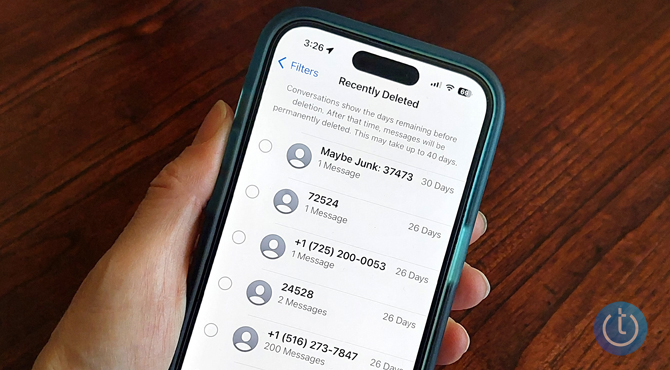 [Image credit: Suzanne Kantra/Techlicious]
For the past 20+ years, Techlicious founder Suzanne Kantra has been exploring and writing about the world's most exciting and important science and technology issues. Prior to Techlicious, Suzanne was the Technology Editor for Martha Stewart Living Omnimedia and the Senior Technology Editor for Popular Science. Suzanne has been featured on CNN, CBS, and NBC.