When the AirTag first debuted in 2021, they were meant to be personal item trackers for things like your keys or gym bag. As designed, only one person could track an AirTag, making it impossible for multiple people in your family or among your friends to find a tagged item, like a TV remote, that you all share. Now, with iOS 17, you can share your AirTags and other Find My-compatible items with others, opening up a world of new usage possibilities.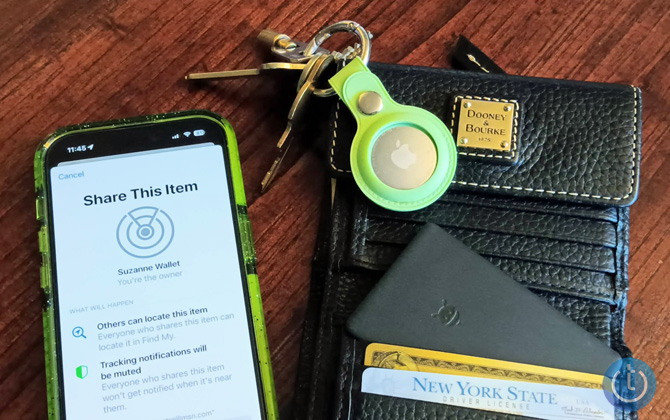 I'm excited about the possibilities of AirTag sharing. For instance, it would solve a lot of problems if everyone in my household could find the Siri remote for our Apple TV (you can put an AirTag in a remote control case). And I'd like to see where my brother stored the rucksack we share for hiking expeditions.
Now, if someone wants to borrow something I've tagged, they won't have the annoyance of their iPhone telling them an unknown AirTag is traveling with them. And, if I want to stop sharing an AirTag, I can always remove them, and they won't be able to see the AirTag anymore.
Keep in mind that when you share an AirTag with another person, you can both see the location of the AirTag and the location of the person carrying it. While you need to accept an invitation from someone to share an AirTag, you won't receive notifications that an unknown AirTag is traveling with you for that AirTag after you accept the invite. So don't unquestioningly accept AirTag sharing invitations unless you trust the person.
How to share an AirTag
AirTag sharing only works with iOS 17; both people need to have iOS 17 installed. (If you're unsure if your iPhone can be upgraded, check out our story on how to update an old iPhone.) You can share AirTags and Find My compatible devices, like the Pebblebee Card and Clip, and the Chipolo ONE Spot and CARD Spot.
Open the Find My app on your iPhone.
Switch to the Items tab at the bottom of the app screen.
Tap the name of your AirTag or the item it is attached to.

Swipe up to reveal more of the menu, and you will see the Share This AirTag (or Share This Item) option. Tap the Add Person button.
The next screen tells you what will happen when you share the item. Tap the Continue button to proceed.
Select a person in your Contacts list with whom you want to share your AirTag location. (People whose contact information is saved to an Apple ID will appear in blue, giving you an indication that you may be able to share with them.) If they are eligible, they will appear in the To field at the top. You can share your AirTag with up to five contacts at a time. So, if you want, you can add more members.

The invitees will appear as 'Pending' in the list and, upon accepting your request, will have permission to locate the shared AirTag under their Find My app's "Items Shared With Me" view.
The individuals you share with will have all the same capabilities of finding the AirTag as you. They can play a sound on the device if it is within range and trace it if it's in proximity. If, at any point, you want to stop sharing your AirTag, you can easily revoke sharing the location.
Open the Find My app on your iPhone.
Switch to the Items tab at the bottom of the app screen.
Tap the name of your AirTag or the item it is attached to.
Select the person's name.
Tap Remove.
While there are some limitations to AirTag sharing, I recommend trying this feature for tracking communal property.
[Image credit: Techlicious]
As a lifelong tech enthusiast, Hemant Saxena is always looking for the latest gadgets that intersect with his hobbies. For more than a decade, he has been writing about consumer gadgets, popular apps, and social media tips for publications, including Windows Club and Techmate Tricks.