There's no need to pay to watch movies and TV shows with so many free choices out there. You can find everything from blockbuster movies to popular TV series, dating from the 1930s through current releases.
Many services have their own specialty (e.g., TV shows, documentaries, vintage and classic movies), which may lead you to a few obscure, hard-to-find titles. (As with all video services, the availability of movies and shows changes from month to month, so the examples that follow were on the services at the time of publication.) And, you're bound to find movies and shows that bring back memories -- perfect for re-watching with friends and introducing to your kids.
You won't find just-released movies for free and you may not be able to watch all episodes of a current TV show to binge through. Often, you'll need to watch commercials, and you won't be watching in 4K UHD, though the following services all have high-quality streams.
Intrigued? Try these free movie and TV streaming services. (And check out our guide to setting up streaming services on your TV.)
Crackle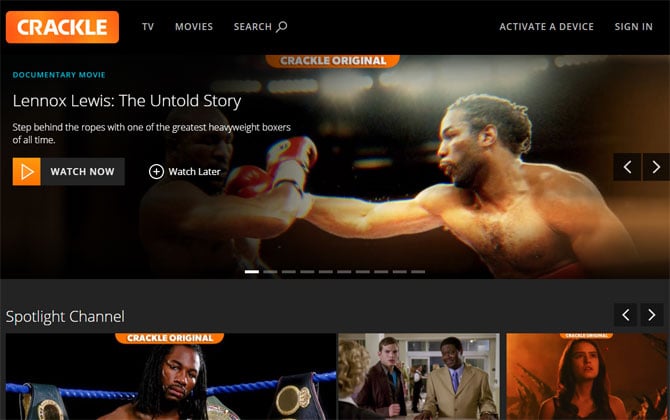 Crackle enjoys the benefits of having Sony Pictures Entertainment as a parent company, like the ability to dip into Sony's catalog of movies and TV shows. So the free streaming site boasts a good collection of older movies, TV series, and anime/cartoons. You'll find movies like The Ring, Coneheads, and The Legend of Zorro. TV shows include Charlie's Angels, Bewitched, Dilbert, Wibbly Pig and The Tick.
Supported devices include iOS and Android devices, Apple TV, Amazon Fire TV, Roku, Chromecast, Android TV, Playstation 4, Xbox One, and LG, Samsung, and Vizio TVs.
Pluto TV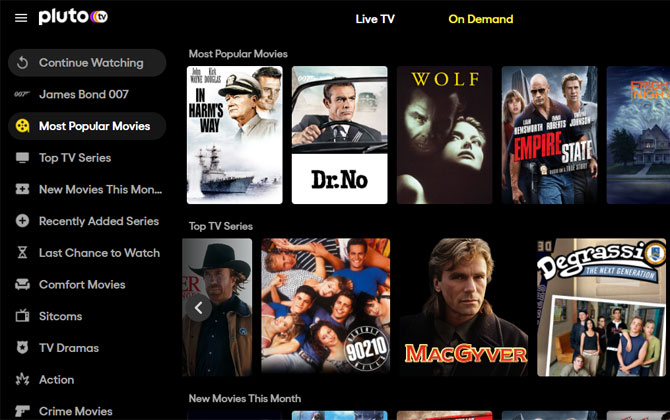 Pluto TV is a full-fledge free cable replacement service, which also offers movies and TV show on demand. Not only are there older shows and movies, you'll also find current shows and they're always swapping in new content, like the whole batch of James Bond movies featured right now.
On-demand shows on hand include Degrassi The Next Generation, Hell's Kitchen, Discovery Channel's American Chopper, Animal Planet's River Monsters, and Total Wipeout. There are also streaming channels, which include Nick and Nick Jr., SciFi, People TV, Fox Sports, Comedy Central, CNN, CBSN, Cheddar News and more. Movies include Octopussy, Silence of the Lambs, The Big Short, Capote, and Charlotte's Web.
You can watch for free on iOS and Android devices as well as Roku, Apple TV, Amazon Fire TV, Android TV, Chromecast, Smart TVs (Samsung, Sony and Vizio), and your computer.
Kanopy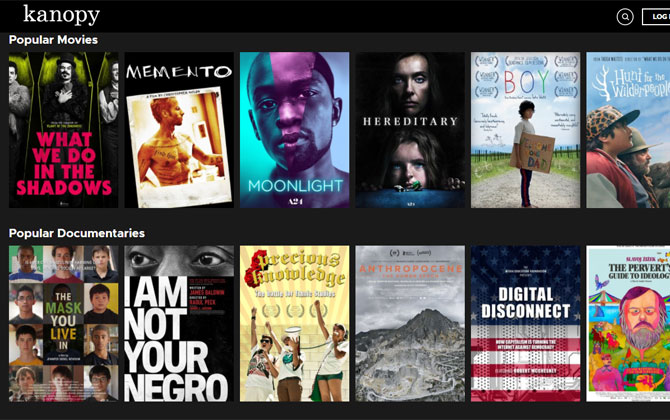 Kanopy markets its content as "thoughtful entertainment" and its collection as "the world's finest cinema." As far as diversity, it's hard to compete with Kanopy's. It's got everything from movies to documentaries to "The Great Courses" educational videos.
This streaming service was created for public libraries, educational institutions and universities all over the world. It also claims to stream more than 26,000 films, many of them obscure titles you'd be hard-pressed to find anywhere else. And as long as you have a public library membership or belong to an educational institution that has a partnership with Kanopy, you have access to all of them.
Examples of movies on the site are foreign films like Breathless, The 400 Blows and The Girl with the Dragon Tattoo, thrillers like Memento, black comedies like The Little Shop of Horrors, and documentaries such as Steve Jobs: The Man in the Machine, The Central Park Five, and The Kids Are Alright. There's also Kanopy Kids, which curates title for young viewers. Kids titles include Cinderella, Franklin and the Turtle Lake Treasure, and Anne of Green Gables.
You can stream Kanopy content on iOS and Android devices, Apple TV, Roku, Amazon Fire TV and Chromecast.
Popcornflix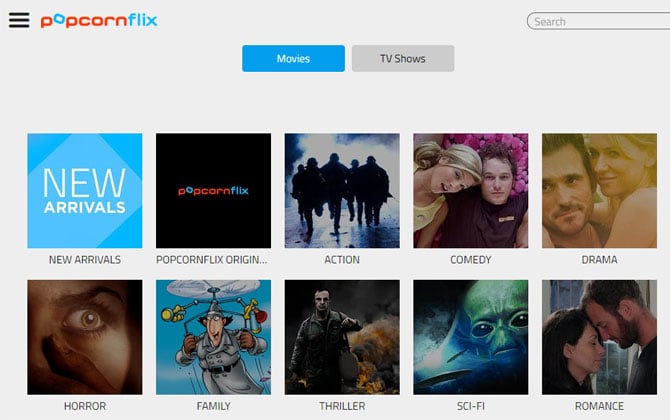 True to its name, Popcornflix is all about the movies — more than 1,500 of them. It's a treasure trove of enjoyable, if lesser-known or older, films. If you need a break from motion pictures, Popcornflix also has some TV series and webisodes on its roster. All for free.
Star Trek VIII - First Contact, Bad News Bears, Night of the Living Dead, and The Golden Child are some of the most popular titles it offers currently. Or you can dip into TV shows, like Unsolved Mysteries, 21 Jump Street, Kitchen Nightmares, Road to Race Day, and 3rd Rock from the Sun.
Popcornflix relies on ad support to offer free viewing, but you won't have to sign up for a membership to watch anything.
Supported devices include Apple TV, Roku, Xbox, Amazon Fire TV and iOS and Android devices.
Tubi TV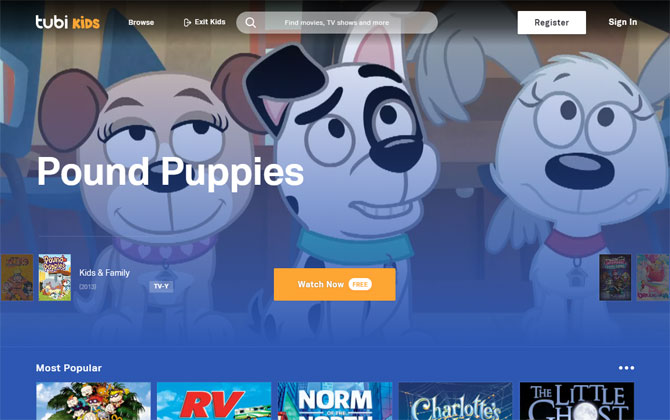 It takes less than a second to sign up for a Tubi TV account. In exchange, you get completely free access to over 20,000 movies from big film/entertainment companies Paramount Pictures, Metro-Goldwyn-Mayer, Starz, and Lionsgate. Tubi TV boasts blockbusters, award-winning or nominated films, indie flicks and classics.
Kick-Ass, The Mask of Zorro, Tarzan, and One Punch Man are some of the titles currently on offer. Excellent documentaries and popular TV shows are also available: Hell's Kitchen, Duck Dynasty, Anger Management, and 3rd Rock from the Sun are among many on the list. To compete with Netflix, Tubi has a category called Not on Netflix, which includes movies and shows like Unsolved Mysteries, Cloverfield, The Bachelor, and Face/Off. There's also separate Tubi Kids section with popular shows, like Pound Puppies, Baby Shark, and LEGO Ninjago, and movies, including Charlotte's Web, Free Birds, and Tarzan.
To provide free viewing, Tubi relies on ads, investments and content partnerships. Outside the US, it also serves Mexico and Canada.
Besides iOS and Android devices, Tubi is also available on Apple TV, Roku, Amazon Fire TV, TiVo, Chromecast, Smart TVs (Samsung, Sony and Vizio) and gaming consoles.
The Roku Channel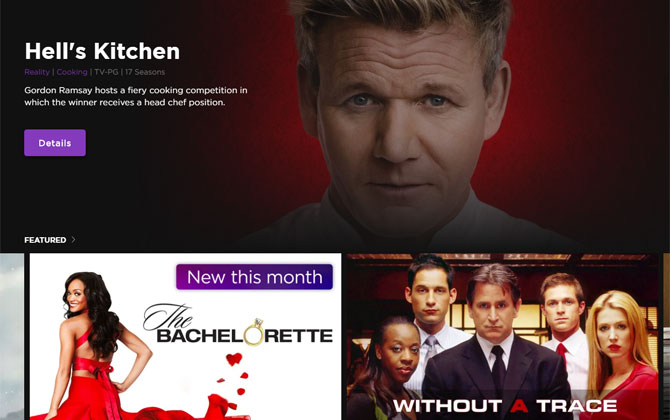 Roku Channel is another good ad-supported streaming service. It's subscription- and login-free and its content comes complimentary with your Roku device.
Thanks to its strong partnerships with studios and content publishers, this service offers 10,000 plus Hollywood movies and shows. Popular films include Halloween, The Sisterhood of the Traveling Pants, Veronica Mars, The Iron Giant, and Cloverfield. There are also TVs shows, like Kitchen Nightmares, Duck Dynasty, Fit to Fat to Fit, and Cold Case Files. and To keep its viewers updated on new content, Roku routinely releases new stuff.
The service is available on iOS and Android devices, laptops, and, of course, Roku devices.
IMDv TV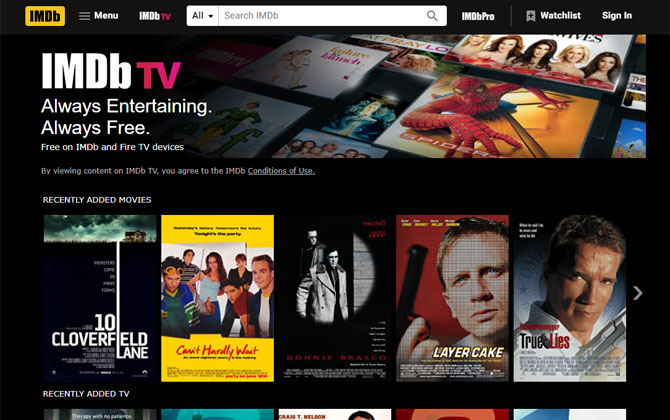 IMDb, the online database of information regarding movies and TV shows, offers a small but impressive list of top Hollywood movies and TV shows through its IMDb TV service. You'll need to create an account, but that account also lets you rate films and create a Watchlist for movies you want to watch later.
Only a small portion of the movies and show listed on IMDb are available for free, but they're easy to find in the IMDb TV section. Current titles include The Hurt Locker, The Hand That Rocks the Cradle, Crimson Tide, Get Smart, and Kung Fu Panda. TV shows include Schitt$ Creek, Cold Case Files, Lost, and Desperate Housewives. Movies and shows are ad-supported, but the ads aren't too intrusive.
The service is available on iOS and Android devices, laptops, and, Fire TV devices.
Top Documentary Films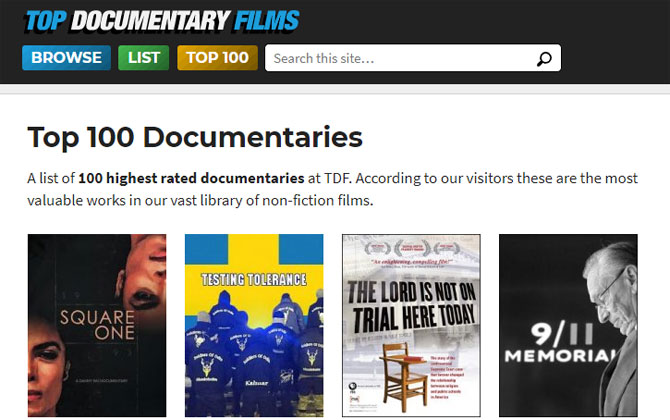 Top Documentary Films is a great resource for folks who enjoy documentary-type movies and shows. It showcases the work of independent documentary filmmakers — more than 3,000 videos in 24 categories, including Nature, Mystery, Science, Military and War, Health, and Performing Arts. Current great features include 9/11 Memorial, Thorium: An Energy Solution, and Chasing Coral.
Top Documentary Films does not host any of the content on its own site. It embeds it from other sites, including YouTube, Vimeo and Daily Motion. And, you don't need to create an account to watch.
The service is only available through web browsers on iOS and Android devices, as well as computers.
Classic Cinema Online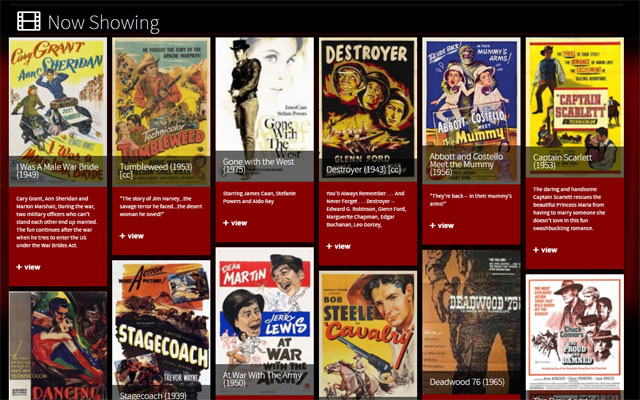 While we're on the subject of specialized streaming services, we need to talk about Classic Cinema Online. This site offers viewers old, classic and even silent movies for free and without membership or registration.
The modest library spans several genres including animated, comedy, drama, Western, sci-fi and musical. Even some episodes of old TV shows are available. Current movies and shows in the showcase include Abbot and Costello Meet The Invisible Man, Gulliver's Travels, Citizen Kane, Curly Top, and Roy Rogers and The Arizona Kid.
Classic Cinema Online is only available through web browsers on iOS and Android devices, as well as computers.
To set up these streaming services on your TV, check out our guide to the best streaming devices.
Updated on 10/20/2020
[Image credit: family watching TV via BigStockPhoto, Crackle, Kanopy, Popcornflix, Tube TV, Roku, Pluto TV, IMDb, Classic Cinema Online]