Updated August 21, 2009 with instructional video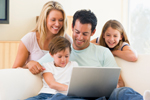 Think of all of the devices you have hooked up to your wireless home network—computers, a printer, TiVo, a game system. Now think about reconnecting them all to a new wireless router. Does the thought make you wince? It shouldn't. The time it takes is well worth it.
There are two reasons why you'd want to upgrade your wireless Wi-Fi router: speed and range. 802.11n, the latest Wi-Fi standard, delivers the highest speeds currently available, plus far greater range than older 802.11 b and 802.11g routers. So you will get a great connection, throughout your house and even into your yard or patio. And you don't have to worry about compatibility, all types of Wi-Fi devices work with wireless n routers.
Installing your new router isn't nearly as daunting as you might think. Here's what you will need to begin: Your main PC or Mac, your modem from your cable, DSL or FiOS provider, your new router, and an Ethernet cable (one is usually included in the box).
The first thing you should do is install the software that comes with the router. This ensures that when you start connecting everything, it all works correctly. After you put the disc in your computer, follow the screen prompts.
The next step is to make sure you change the router's name from the factory default to a name you choose. Most software will allow you to do this during setup. Creating a unique name is especially important if you live in a densely populated area, so you can easily identify which router is yours when connecting wireless devices.
Finally, you'll want to enable the router's built-in security. Again, using the included software, follow the onscreen prompts to turn on security and set the security key.
You can choose from WEP, or Wired Equivalency Privacy, and WPA, or Wi-Fi Protected Access. Use WEP if you have older wireless products connecting to your network. If everything you use is more up to date and supports WPA, though, choose WPA, which is the most secure option.
Make sure you make a note of your key or passcode for installing new wireless devices. And if you use the same type of security (WEP or WPA), router name and security key as your old wireless network, most of your wireless devices should find your new router automatically.
If they don't, try restarting them and then manually reconnecting them to the network, if necessary. To connect a device manually, you'll need the name of your network, the type of security, your security key and the instruction manual for your device. If you don't have the manual, you can usually find it on the device manufacturer's website or retrevo.com. If not, then look for the "set up" or "settings" option on your device, and then look for "network" or "wireless set up" and follow the instructions.
Setting up a new router for your home network should put an end to those frustrating weak signals and provide you with a much greater range for your network. And although it requires a little bit of your time, it's actually quite simple.