The Samsung Galaxy S9 was just announced, so it's time to talk about trading in your old phone to pick up the latest model. Once new phones are released, the value of your old smartphone will plummet… so if you want to sell your current phone to fund the purchase of the latest model, you should do it soon.
Tech buyback site Decluttr reports that you can sell your phone for 25% more by trading it in before the latest models — like the Galaxy S9 — are released. And if you are picking up an S9, don't plan to hop to a new phone too quickly after that: the phone is predicted to drop in value by at least 50% within a month. Unfortunately, that's the price you pay to have the latest, greatest technology.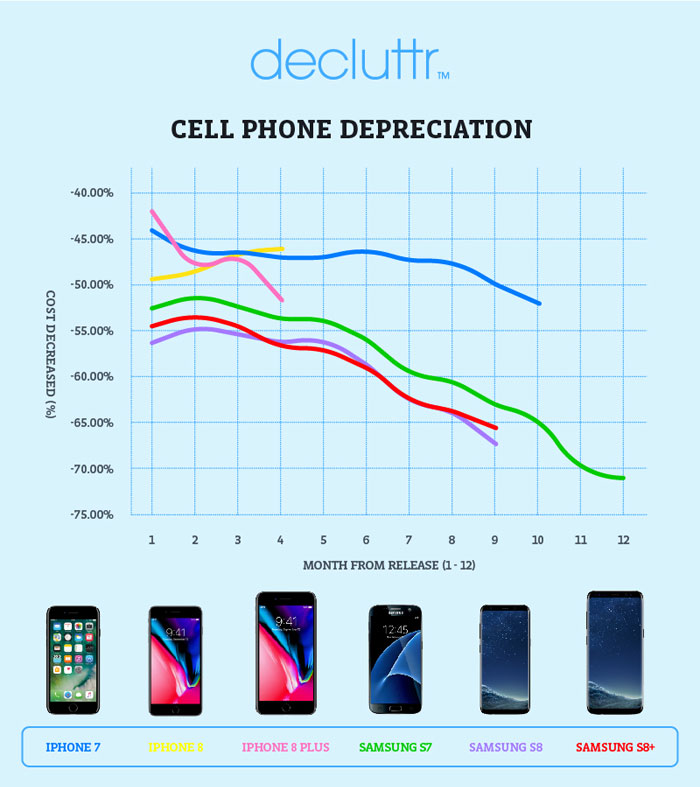 But what's bad for used phone sellers is good for used phone buyers. That kind of rapid depreciation means modest prices for flagship phones when they first appear on the used market. And used buyers will find even better bargains if they shop for a phone a couple of years old when a new phone is launching. Those are the phones that are most likely to be replaced when a new phone launches, and if you don't need top-of-the-line you'll find them at great prices.
If you're looking to sell, however, here's what you need to know — and how to get the most cash.
How to sell your smartphone
First, remember that you have to own your phone in order to sell it. With many of us paying for our phones in installments, you may find that your phone isn't actually yours. That means you can't sell it until you pay off the balance, at least — and if you have a contract, you'll need to see it to the end or pay an early termination fee. Check with your carrier before you try to sell your smartphone.
Once you know your phone is yours to sell, the process is simple. Most trade-in sites ask you some questions about your item's condition and then quote you a price. You then have a certain amount of time to send that item in, usually with a pre-paid shipping label (and sometimes packaging) provided by the site. The service will evaluate your phone and send your payment.
But while the selling part is easy, finding the right site to sell on can take a bit of work. There are tons of online trade-in services, each offering their own price. Many of these sales sites will lock in a price for a period of time (up to a month), as long as your item matches up to your description. (Items that are in worse condition than you describe them won't get the original price quote, so don't overestimate the value of your smartphone.) That lets you lock in the best price but hold off from sending in your phone until you have your new one in-hand. While you're looking for a place to sell, check how long you have to send in your phone — the longer the time period, the better.
For convenience, trading-in with your carrier usually can't be beat. It's typically as simple as walking in and handing over your phone. If you've had your phone long enough that you're eligible for an upgrade, you may not need to do more than setting up a new payment plan. The advantage to going to your carrier is that it's immediate: you won't go a minute without your phone. The disadvantage, however, is that these programs usually offer the worst value for your old phone.
If you're interested in picking up the new Galaxy S9, Samsung also offers a convenient trade-in program. Just pre-order your new phone and set up an exchange for the old one at the same time. Recent model phones — including the Galaxy S8, iPhone 8 and iPhone X — will net you $350 off your Galaxy S9 pre-order. If you go back to a phone that's a couple of years old — which is when most of us upgrade our phones — you'll be down to about $150. That's not bad, but also not as good as you'll get from a phone reseller.
Where can I get the most cash for my smartphone?
The average smartphone is two and a half years old when it's traded in for a new model, so let's look at what phones in that age range sell for at major trade in-services. While these prices are accurate as of the time of this printing, they'll change quickly as we get closer to the Galaxy S9 launch date — and the condition, color, accessories and other factors can have a drastic impact on your phone's value. For all prices, we checked the cost for a phone in good condition, in black, with the lowest level of storage for the model — but you'll want to check prices for your specific phone before you decide where to sell it.
Decluttr
Decluttr buys all kinds of tech, as well as DVDs, games and even LEGO — which can be a boon if you have lots of stuff sitting around that you'll like to get rid of to help fund your new smartphone. Decluttr pays in cash (via check, PayPal or direct deposit) the day after your items arrive and offers are good for 28 days.
• iPhone 7: $295
• Google Pixel: $181
• Galaxy S7: $141
Glyde
Glyde is an auction-style site focuses on selling smartphones and tablets but doesn't sell everything (for example, the Google Pixel isn't available to buy or sell on the site). Glyde will help you set fair market price to make sure your item sells quickly and sends you a shipping kit when it does. The time it takes your phone to sell and ship will determine when you get paid: money will show up in your Glyde account three days after the item is received, and you can move it from there to your bank account.
• iPhone 7: $265
• Google Pixel: N/A
• Galaxy S7: $161
NextWorth
With good prices, a simple sales process, free shipping, a 30-day price lock and payment within a week, NextWorth is a solid pick as long as it accepts your device. The service takes many, but not all, smartphones and tablets.
• iPhone 7: $227
• Google Pixel: $189
• Galaxy S7: $120
Usell
Selling is simple, prices are pretty good, and you have a 30-day window to send in your phone. Usell accepts a broader range of devices than NextWorth, and could be worth considering if you're trading in more than just your smartphone. Once your phone is received, payment is sent by PayPal or check within five days.
• iPhone 7: $224
• Google Pixel: $158
• Galaxy S7: $121
Amazon
Amazon will take almost anything it sells as a trade-in, which makes it a reasonable option if you're cleaning out bookshelves and that dusty old DVD cabinet. You'll be paid with an Amazon gift card, which you'll get within 10 days of your item arriving. Payment via gift card isn't necessarily the best (you can't buy a new phone from your carrier with an Amazon gift card), but if you're sure you'll spend the card it's not a bad deal. Amazon's price quotes are good for seven days, so be sure to send in items snappily.
• iPhone 7: $210
• Google Pixel: $135
• Galaxy S7: $125
eBay Quick Sale
Using Ebay Quick Sale, you can sell off your phone without the hassle of a standard eBay auction. Just list your phone's condition, send it in, and eBay does the selling. You'll get less cash than you would with a standard auction, but you don't have to do anything but send in your phone and wait for payment by PayPal within 10 business days. One big advantage to eBay is that you can sell almost anything (though not always with Quick Sale), letting you do some electronics housecleaning for cash. Quick Sale offers are only good for 10 days, though, so send your items in fast once you've received a quote.
• iPhone 7: $203 for Quick Sale, $310 for auction
• Google Pixel: Not available for Quick Sale, $225 for auction
• Galaxy S7: $106 for Quick Sale, $196 for auction
Gazelle
Gazelle focuses on electronics and accepts most smartphones. It doesn't offer the most cash — it was the lowest when we checked, but that could change as prices fluctuate — but it does offer a 30-day lock-in period. You'll be paid by check, PayPal or Amazon gift card within five days of your items arrive.
• iPhone 7: $180
• Google Pixel: $100
• Galaxy S7: $110
What to do before selling your phone
Before sending your phone off for trade in, you want to be sure all of your data is backed up so you don't lose anything. If you have your new phone in hand before you need to send in the old one, make sure you're able to restore your data and settings to your new phone first. This will help avoid headaches if you run into any problems and need something off your old phone — because when you send it in, it's gone for good.
Once you've backed up, it's time to erase everything. While many trade-in companies will wipe your phone when it arrives, it's best to do so yourself to be sure your personal data doesn't fall into anyone else's hands. Read our tips on what to delete before selling your iPhone and how to completely wipe your Android phone.
Now all that's left is to follow the trade-in instructions to send in your smartphone — and wait to collect the cash.
[Image credit: receiving cash via BigStockPhoto, Decluttr]