Q: I have been doing some research looking for the best P&S digital camera with wide angle range for shooting interior photos for my real estate business. It will be in low light situations, but would like to be able to incorporate as much of a room in one shot without having to sync photos together.
I have been using my Galaxy 3S, but need more range. I have talked to Best Buy…but never gotten a clear answer.
Want to stay in the $300 range and want something compact that I can carry around easily. Any suggestions?
- Jacki
A: Real Estate photos can really test the limits of a camera. You'll want wide-angle, for shooting both interior shots and the exterior of the house and surrounding property. At the same time, a strong zoom will come in handy for capturing archetectural details (or defects) along the upper stories and roof line. Lighting is also a challenge, as you know, since house interior lighting is rarely set up with a photo shoot in mind.
The best solution is a solid DSLR or ILC (like our recommended best DSLR under $800, the Nikon D5200) with wide-angle and zoom lenses, plus a specialized lighting kit. But all that gear can easily run you well over $1,000 and gets pretty bulky to carry around.
Fortunately, the new crop of "super-zoom" point-and-shoots will do almost as good a job as a DSLR for far less money. And they'll fit in your bag.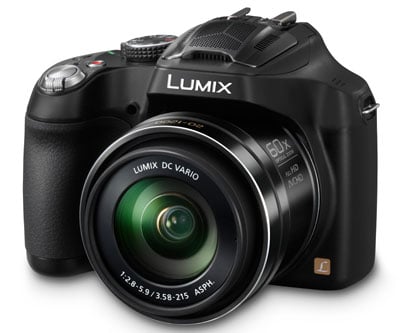 My recommendation in this case is to go with the Panasonic DMC-FZ70. It has a super wide-angle lens (20mm equivalent)—that's the widest I know of in a consumer point-and-shoot—and an incredible 60x optical zoom (1200mm equivalent). The FZ70 also has a fast f2.8 lens and optical image stabilization that will help out quite a bit in poor lighting. Its 16MP sensor will provide more than enough resolution should you need to crop your images later.
The only drawback is that it's not as compact as some of the other point-and-shoot cameras out there. But you should be really happy with the performance.
And for $314.99 on both Panasonic.com and Amazon, you get a lot of bang for your buck—that's an equation any real estate agent would appreciate.
- Suzanne