Emergency Tech to Ride Out the Next Storm
Are you ready for hurricane season? Forecasters are warning about the possibility of a very active season. Typically the peak of the season runs from mid-August through October and those who are still recovering and re-building following last year's Superstorm Sandy know all too well how important it is to be prepared.
You'll want to stay on top of the weather in your area as well as find ways to communicate when the power goes out, taking the Wi-Fi with it. Luckily, technology can help with that.
Storm-ready gadgets
Severe weather alarms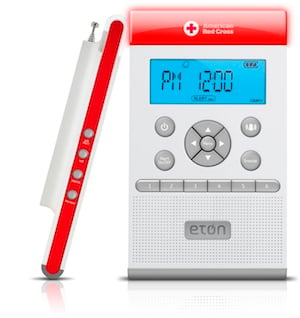 ZoneGuard is a wireless weather alert radio system that notifies you with flashing lights and blaring sounds when there's severe weather alert in your area. It uses specific area message encoding (S.A.M.E.) technology. You simply enter your S.A.M.E. county code and when you need to know something the integrated AM/FM digital radio can keep you informed, even if your Internet, power or phone lines are down.
If you're worried about not hearing the alarm, consider the The ZoneGuard+. It comes with two wireless remote modules that you can place in other rooms around the house.
Both versions run off AC or can be powered with AA batteries if the power goes out.
Price: ZoneGuard is $35 on Amazon and $39 on shopetoncorp.com, ZoneGuard+ is $80 on Amazon and shopetoncorp.com
Mobile phone charger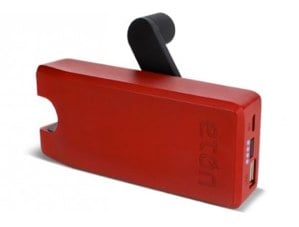 There's nothing that makes you quite as nervous as watching your phone battery deplete during a storm. You want to know you can communicate with the outside world, or just check in with family. The Eton BoostTurbine 2000 is a battery pack that can recharge your smartphone on the go. It also has a Micro-USB port so you can charge just about any devices, including tablets (though it won't fully charge something as large as a tablet.)
What we love about it is if you don't have power to charge it back up, simply use the hand crank to produce more power. Eton says one minute of cranking can generate enough power for a short phone call or a few important texts.
Price: $50 on Amazon and $60 on shopetoncorp.com
Multi-use flashlight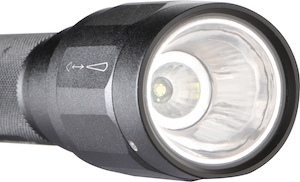 You know it's important to keep candles and flashlights nearby during a storm, but did you know LED flashlights actually shine brighter than regular flashlights? The Pelican ProGear 2380 LED flashlight has slide-beam technology which means you can change from spotlight to flood light in an instant so you can check on the house or the yard in the dark.
It runs off two AA batteries and a built-in battery level indicator lets you know if you're ready for the storm. Of course we think it's always a good idea to have spare batteries around.
Price: $60 on pelicanprogear.com
Emergency back up mobile phone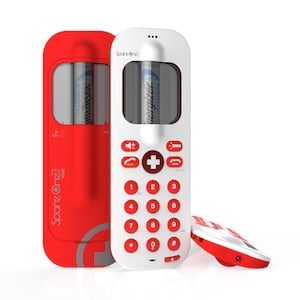 Along with your spare batteries and spare water, you might want to have a spare phone. SpareOne Plus is an updated version of a popular emergency phone that runs on AA batteries. When you pack it away unused, the battery will last for up to 15 years, or will power 10 hours of talk time.
We like that it has a dedicated 911 call button that can be used with or without a SIM card. The Plus version also includes a panic siren and an SOS torch light.
Users can sign up for an (additional cost) location and alert service.
Price: $80 on Amazon and spareone.com
Messaging via Social Media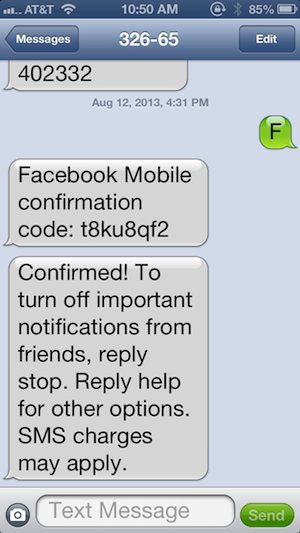 Here's a little secret. When you lose power, and along with it access to the Internet, you can still access Facebook and Twitter to let people know how you're doing. As long as your phone has juice and cel service, you can send a status update via SMS, or text messaging.
For both of these social networks, you need to set this up in advance, so now would be a great time to do this.
For Facebook, go to the Account Settings at the top right of your home page and go to Mobile. Find the "Activate Text Messaging" tab, select your country and follow the instructions. I had to text the letter "F" to Facebook at 32665 to set this up. Make sure you receive a text confirmation back to ensure you've set this service up.
For Twitter find the Mobile tab under your Settings, put in your mobile number and then activate Twitter text messaging. You'll have to send and receive a text message letting you know the service is active. Once you've done this, you can enable text notifications for other actions as well, such as replies or direct messages. In an emergency, you can text your update right to your Twitter account.
Storm Tracking Apps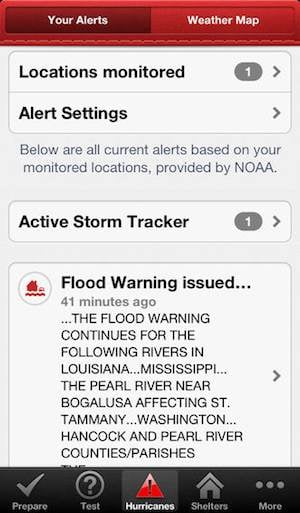 If you have a smartphone, you can easily keep track of storms and the paths they take with the American Red Cross Hurricane app. It tracks the path of the weather, gives directions to shelters and allows you to use your phone as a flashlight. It's not just for when a hurricane hits, either. It's packed with tips and instructions on how to prepare in advance and advises on flood and tornado warnings as well.
Price: Free on iTunes and Google Play.
Want more information about the current hurricane forming? The Hurricane Tracker app uses data from the National Hurricane Center, NOAA Weather Radio and more to provide comprehensive and exhaustive information on the current severe weather forming. It even includes storm histories, animated maps and "model watch" to predict upcoming storms.
Price: $2.99 on iTunes.
Finally, make sure to sign up with your town's emergency notification system. During Sandy, I received numerous text messages from our town letting us know about warnings and hazards. Other towns alerted residents to where they could go to charge their devices or fill gas cans. Local information is a necessity during a storm so sign up for these services now. Google your town's name followed my "ens alerts", "ems alerts" or "text alerts" to find instructions on how to sign up in your area.
Discussion