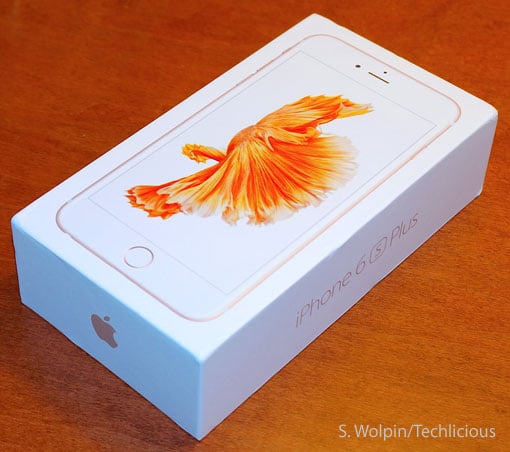 As easy as Apple says setting up a new iPhone – well, it ain't that easy. With every new operating system update comes a host of new features and options, all adding layers of complications.
On its first day of availability, we went through setting up a new iPhone 6s. Here's the 12-step program for the initial Apple set-up and getting your phone working just the way you want it.
For the sake of this list, we're assuming you're updating from an older iPhone. If you're switching from an Android phone, check out Apple's Move to iOS app in the Google Play store. And ignore the lousy app rating – the score of this app has been unnaturally dragged down by Android lovers/Apple haters.
1. Replace Your SIM Card
Your phone connects to your carrier's network via a SIM card, which is placed in a tray in the right side on the iPhone 6s. Depending on where you got your new iPhone, you may need to transfer the SIM card from your old iPhone to your new iPhone. Two things: First, starting with the iPhone 5, Apple went with a smaller "nano" SIM card, so the "micro" SIM card from your iPhone 4 or 4s will be too big for your new phone (here's a list of which SIM card will fit with which Apple device). Contact your carrier to get a new card, if one wasn't already included. Second, you'll need a safety pin or small unwound paper clip to push in the pinhole to pop the SIM card tray out. Be careful: both the tray and the new nano SIM card are REALLY tiny. Perform the switch over a clear counter or table top to avoid misplacing either piece.
2. Backup Your Old Phone
Before you do anything else, connect the phone you're replacing to your PC and open iTunes. Once in iTunes, tap on the icon for your phone (top left of your screen) and perform a backup to your PC, which will be faster than using WiFi.
3. Restore Backup
Disconnect your old iPhone and connect your NEW iPhone to iTunes (no, you likely won't have to charge your new phone. Apple usually charges the new phones at the factory; ours had around 85 percent battery life when we got it), then click on Restore Backup. How long your restoration will take will depend on how much data you had on your old phone. Even with more than 10,000 music tracks, our Backup Restore took only around 30 minutes.
4. New Security
Apple has made it harder for the nefarious to get into your phone by expanding the security code from four to six digits. Infuriatingly, you'll also be prompted to input your Apple ID multiple times – for the general ID, for FaceTime, for iTunes – for reasons we haven't been able to discern, even after a chat with Apple support. Once you turn on the Keychain in Settings > iCloud (scroll to the bottom of the list of apps).
5. Don't Upgrade to iOS 9.0.1 – yet
Your new iPhone will come with iOS 9 pre-installed, but Apple has already released a minor upgrade that you'll be promoted to download and install during setup. Skip this update – it'll make you start set-up all over again. Once you get your new phone running, you can go back into Settings > General > Software Update (second item, just under About) to upgrade.
6. Taking Your Fingerprints
If you're upgrading from an iPhone 5 or older, you'll find your new iPhone wants to take your fingerprints during setup. Using your fingerprint – what Apple calls Touch ID – means not having to input that now-longer six-digit code every time you want to unlock your phone and not having to type in your Apple ID each time you want to make an Apple Pay or iTunes purchase.
During set-up, you'll be prompted to place one of your fingers on the Home button, which doubles as a fingerprint sensor – I use my thumb. Wait for the iPhone to tell you to "Lift Your Finger" and "Place Your Finger" – this will make the process faster and less confusing. After your iPhone set-up is complete, you can add additional fingerprints. My wife and I each put our thumbprint into each of our phones so we both have access.
7. Hey Siri, it's me
Siri, of course, is Apple's sometimes wiseass and sometimes not always helpful personal assistant – although she's supposedly new and improved in iOS 9. With the new iPhone 6s, you can now simply say "Hey, Siri" from the lock screen to get her attention. Apparently, this might allow illicit access from someone who absconds with your phone. First, Apple has tried to minimize this risk by having you voice-train your iPhone – during set-up, you have to repeat "Hey, Siri" several times, then a couple of phrases ("Hey Siri, it's me," and "Hey Siri, what's the weather like?") to presumably limit who can access her. Or, if you're truly paranoid, go into Settings > Touch ID & Passcode and scroll down to turn off access to certain items, including Siri, from the lock screen. Check out our guide to making Siri work better.
8. Apple Pay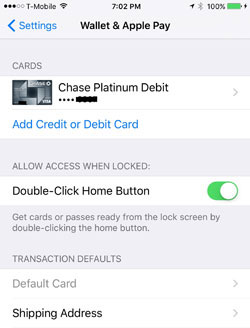 If you're new to the Apple 6 or 6s, you'll be new to Apple's pay-by-phone system. Since we had Apple Pay already, we only needed to input our card's 3-digit security number to move the account to the new phone, so we're not sure if you'll be prompted to add a card to Apple Pay during the initial setup. Our advice – skip Apple Pay setup until after the phone is operational. The process is relatively painless – you just use the phone's camera to capture the information on your card (it's kind of cool, actually), but you probably just want to get your phone working.
Additional Set-up Tips
Once your iPhone tells you it's ready to go, you'll still have some setting up to do so your iPhone runs smoothly. Continuing with our numbered items:
9. Downloading Un-Restored Apps
For some reason, while all my music transferred to my new phone, not all my apps did, which also flummoxed the Apple support person I called. Bottom line, I had to go to the App Store app and Updates (the far right-hand choice along the bottom), choose All at the top, then tap the little cloud next to each app I wanted restored to my new iPhone.
10. Automatic App Updates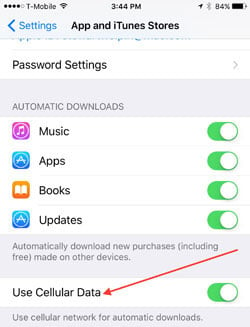 Since Apple apps are all carefully curated to remove unwanted malware and spyware, there's no reason to manually update apps as you do on an Android phone. That's why Apple let's you automatically update apps in the background – but you have some choices to make. Go to Settings > Apps and iTunes Stores and turn on Updates for Automatic Downloads. If you have a small data plan, make sure you toggle Use Cellular Data to off.
Go to Settings-General-Background App Refresh – it should be at the bottom of the first screen you see – and choose the apps you want automatically updated.
11. Background App Refresh
iPhone can automatically update your apps in the background, when they're not actively running. If your data plan is minimal, you may not want your apps to automatically update unless you're actively using them. To turn off background app refresh, go to Settings > General > Background App Refresh (9 items down) to turn on or off background app refresh for all apps, or allow access for each app on a case by case basis.
12. Wi-Fi or Cellular App Connectivity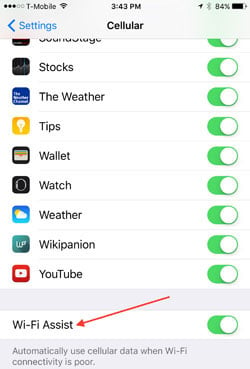 You also have an option about how your apps connect to the Internet when you're actively using them. Go to Settings > Cellular (4 items down) and scroll down to see a list of apps. Turning on an app allows it to connect via cellular, turning it off means that app will connect only via Wi-Fi. For instance, you don't want to inadvertently start watching a movie on Netflix when there's no Wi-Fi and burn through your monthly data allotment in two hours.
Sometimes the Wi-Fi connection isn't what it ought to be so, at the bottom of the list, you can choose to let a cellular connection help out Wi-Fi for those apps you really need to have access to the net. If you have a limited data plan, you'll want to be careful here. You may find yourself burning through data quickly at home, when you think you're just using Wi-Fi.
iPhone is filled with features and options to customize your new phone. For instance, you can turn on a low-power mode to ensure your phone doesn't poop out just when you need to make an emergency call, or you can turn on a Do Not Disturb" mode to keep your phone quiet when it's on the nightstand and you're trying to sleep. Check out or guide to making your smartphone smarter and take the time to explore the many settings in "Settings" to discover everything your iPhone can do.
[Image credit: S. Wolpin/Techlicious]