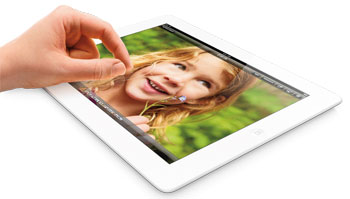 This year's Earth Day may have come and gone, but Apple wants to keep the pro-environment vibe going all year long while putting a little bit of money in your pockets, too. This week, the company announced that it is now accepting iPads as part of its Reuse & Recycling program, offering a storewide gift card for your old unwanted tablet.
To be eligible for trade-in credit, your device will need to pass a stringent set of standards. Current generation devices like the iPad Air are not eligible for credit, nor are discontinued devices like the first-generation iPad. Devices with cracked screens are similarly ineligible for trade. Further, as an anti-theft measure, your tablet cannot be jailbroken and Find My iPhone must not be disabled.
Apple will continue to accept broken, older and other devices not eligible for trade-in credit for safe recycling at no charge.
I put details about my own third-generation 16GB iPad into Apple's Reuse & Recycling system, and got a trade-in estimate of $145 for the device. You might be able to find a better deal elsewhere, but with Apple's program, all you have to do is bring your old device (and cables) into the Apple Store.
To learn more about Apple's Reuse & Recycling program, visit the Apple website or stop in to your local Apple Store. To see what other companies may be willing to pay you for your device instead, check out Techlicious's trade-in comparison tool at tradein.techlicious.com.