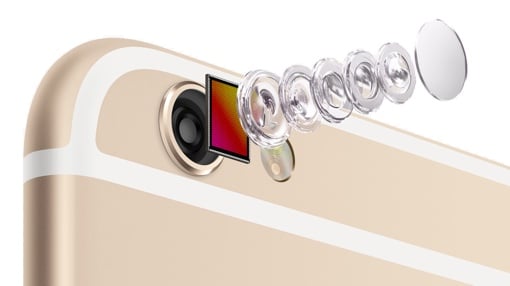 Yesterday, Apple sent out media invitations for a major event in San Francisco to be held on September 9 of this year. It's expected that the company will use the occasion to unveil the new Apple iPhone 6S and iPhone 6S Plus. The company will also highlight the soon-to-be-updated iOS 9 mobile operating system during the event, and possibly discuss other new products as well.
We already know a little bit about what's coming in iOS 9 – Apple has been teasing the features for some time now. We know a lot less about the new iPhones, but the leaks are already starting. Noted Apple blog 9to5Mac says to expect major camera upgrades across the device. Specifically, the rear camera is expected to be upgraded to 12 megapixels, while the front-facing camera is getting a flash for low-light situations. The phones will also come with 2GB of RAM and an upgraded image processor on the new A9 chip, improving pictures even further. And if you like shooting video, the new iPhones will be able to capture all those Little League games and Disneyland trips in 4K resolution.
The new phones will look quite similar to the existing iPhone 6 models, though Apple is expected to add a new rose gold-colored device into the mix. A more durable aluminum will be used for the body, however. The screen, meanwhile, will continue to be made of ionized-glass construction – there's no upgrade to sapphire glass coming this year. Apple is implementing new animated wallpapers in time for the phone's release, so at least what's being displayed on the ionized-glass screen will look fresh and new.
One interesting new feature coming to the new iPhone 6S is a new haptics system called Force Touch that measures the amount of pressure your finger applies to your phone screen. If you're using a sketchpad app, for example, applying more pressure with your finger might mean a wider brush stroke, whereas a feather-like touch would create similarly light strokes on the screen. Force Touch also has a haptic feedback mechanism, meaning your phone can now vibrate slightly when you're typing to give the sensation that you're doing so on a real computer keyboard.
We don't know anything for sure about price and availability yet. If past Apple releases are any guide, however, you can expect the new iPhone to be available in stores (in limited quantities, at first) by the end of September. It's likely the iPhone 6S will start at $649 ($199 with two-year contract), with the larger iPhone 6S Plus running at a $100 premium over that.
In addition to information about the new iPhone 6S models, Apple is also expected to launch a new generation of Apple TV (including Siri, its own app store and possibly a new TV streaming service) along with a new version of its Apple Watch operating system. Be sure to check back in here at Techlicious for more information on these products when we cover the event on September 9, 2015.
[Image credit: Apple]