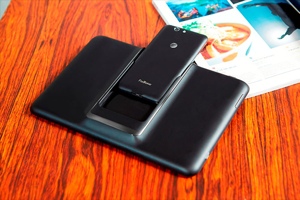 Asus made waves at CES 2014 in Las Vegas on Monday with the news that its PadFone X smartphone and tablet all-in-one, originally shown last year at Mobile World Congress, will be coming to the U.S.
The PadFone X is made up of two key components, a 5-inch Android smartphone and 9-inch Android tablet. When you want a larger tablet experience from the device, the 5-inch phone slides into a dock on the back of the PadFone X's 9-inch tablet component. The PadFone X will seamlessly transition between screens, mirroring what you were doing on the smartphone adjusted automatically for the larger HD screen.
But the tablet itself isn't a hollow shell – it houses a large battery. When your phone is docked, it can draw power from the tablet to recharge its own battery. This, according to Asus, provides "two times longer battery life" for the handset.
Pricing, detailed specs, and availability of the Asus Padfone X have yet to be announced. The device is slated to be an AT&T exclusive.