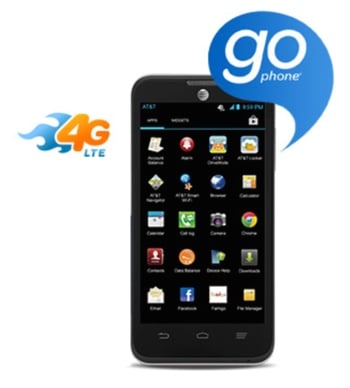 AT&T will be increasing data allowances and enabling free mobile hotspot use on its GoPhone prepaid mobile phone plans later this week, the company announced.
The entry level GoPhone option now offers 500 minutes of talk and 500MB of data for $40. A more expensive plan, which includes unlimited talk and 2.5GB of data, will be available for $60. Existing customers will see their data allowance automatically increased when the new plans go into effect April 25.
A brand new third plan, offering unlimited talk, unlimited International texts to over 100 countries and 1GB of data for $45, will also be available exclusively through Walmart.
GoPhone plans have a lot of extra added value now that they all include WiFi hotspot capability at no extra charge. That's a benefit you don't get from most prepaid plans – both Boost and Virgin charge extra for it. T-Mobile offers plans with tethering, but its prices start higher at $50. The quality of AT&T's wireless network and 4G LTE coverage is arguably superior to the prepaid competition, as well.
You can learn more about the GoPhone service and browse the company's limited selection of compatible devices at the AT&T website. To compare this deal against carriers' best postpaid phone plans and see if prepaid service is for you, check our phone plan price comparison chart.