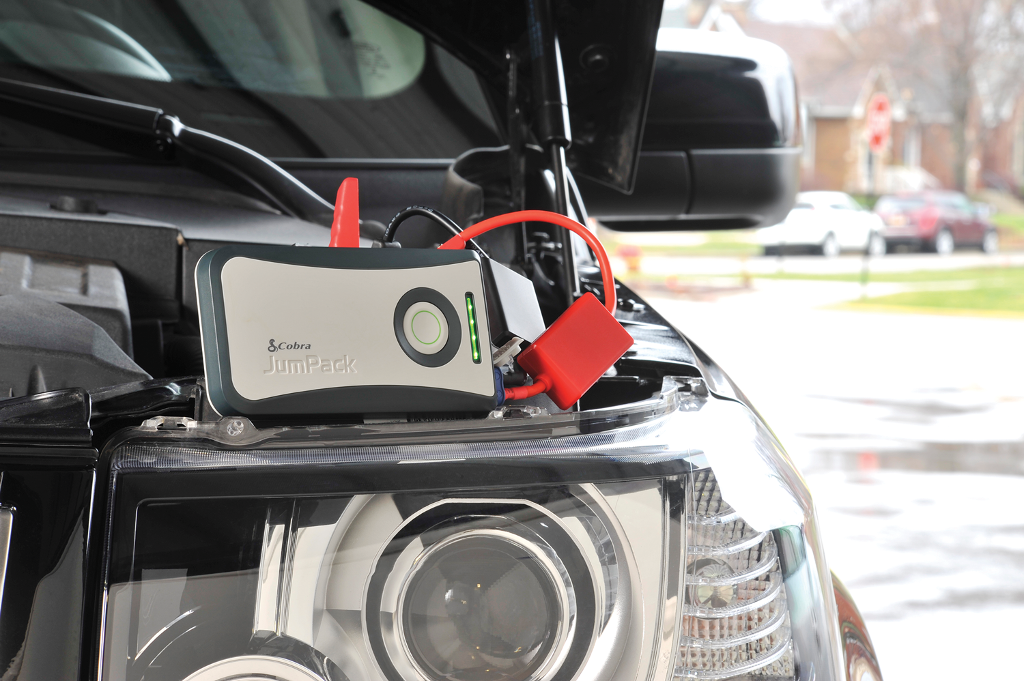 If you've ever been stranded with a dead car battery, you know how handy a portable jump-starter can be. Likewise, a portable battery charger can be invaluable when your phone loses charge. But why carry one of each when all you need is a Cobra JumPack CPP 8000?
The JumPack CPP 8000 is a power bank and jump starter in one. With this sleek device, you don't need to lug around heavy jump-starters or chargers.
The JumPack CPP 8000 weighs 10 ounces and measures 5.5 inches by 2.87 inches by 0.65 inches, about the same size and weight as two iPhone 6s smartphones stacked on top of each other. It won't eat up a lot of space under the seat of your car or in your glove box, and it's lightweight enough to easily carry in a bag for reliable standby power for your phone or tablet. It's the perfect device to bring along when you travel.
The JumPack's high-efficiency Li-Cobalt battery can store 6,000 mAh of power. A 2.4-amp USB port lets you rapidly charge mobile devices such as smartphones and tablets. And thanks to 180-amp cranking current and 360-amp peak current, the JumPack CPP 8000 can jump-start most SUVs, motorcycles, cars and outboard boat engines several times from a single full charge.
Can you rely on it in a pinch? The CPP 8000 stores about 85 to 90 percent of power for up to eight months, so you won't need to recharge it often. The unit is well protected against short circuits, overcharging, reverse polarity and reverse charging.
The JumPack CPP 8000 makes a smart addition to your car safety kit. It would even make an essential addition to your emergency preparedness kit, which usually includes battery-operated gadgets. Or, if you only need the functionality of a portable battery charger, you can consider the myCharge Hub 9000, which we found to be the best in its price range. But, if its price range is still somewhat steep for you, see if you can find anything on our list of the best portable battery chargers under $50.
[Image credit: Cobra Electronics]